Republican candidates' despicably lukewarm criticism of Donald Trump
Only Lindsey Graham had the courage to tell the whole truth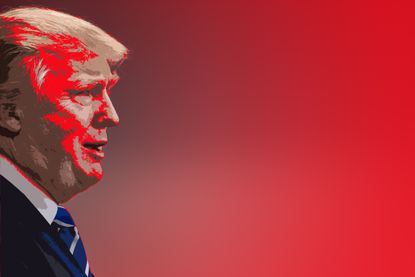 (Image credit: Illustrated | Sean Rayford/Getty Images)
You may remember that a year ago, Jeb Bush was musing on the Republican primary when he said that a winning GOP candidate would have "to be much more uplifting, much more positive, much more willing to... lose the primary to win the general [election] without violating your principles." While the assumption at the time was that Bush was thinking mostly about immigration, it turns out that what we might call Bush's Paradox applies to a whole range of issues.
Right now, the candidates are facing that paradox, in a profound test of their principles. And they're failing.
The proximate cause is Donald Trump, who has moved from being a comical if repellent figure to being truly ghastly and sinister. As Trump has taken his xenophobia and outright hate-mongering to ever-increasing heights, the most stinging rebuke most of his opponents can offer in response is, "Well, I wouldn't go that far."
Subscribe to The Week
Escape your echo chamber. Get the facts behind the news, plus analysis from multiple perspectives.
SUBSCRIBE & SAVE
Sign up for The Week's Free Newsletters
From our morning news briefing to a weekly Good News Newsletter, get the best of The Week delivered directly to your inbox.
From our morning news briefing to a weekly Good News Newsletter, get the best of The Week delivered directly to your inbox.
You might think I'm misrepresenting their statements, downplaying the degree to which they've condemned Trump for his ugly Islamophobic remarks. But if we look closely at what they've said, it's clear that they're being careful not to criticize him too harshly, lest they offend the voters who seem to be flocking to him precisely because he's the one giving fullest expression to their hatred and fear.
But before we get to that, a brief review. Trump's latest bit of demagoguery is a proposal (though I use the term loosely) to prohibit any Muslim from entering the United States — as an immigrant, as a businessperson, even as a tourist. Trump would even apply that to American citizens who had traveled out of the country and want to return. This follows on his extended insistence that "thousands and thousands" of American Muslims celebrated the fall of the World Trade Center, which was notable not just for the fact that it's false, but for its purpose. In harping on this myth, Trump was trying to convince people that other Americans are untrustworthy, suspect, each one a terrorist sympathizer if not an outright terrorist. Add that to his assertion that mosques should be under surveillance and his toying with the idea of the government keeping a list of all Muslims for regular monitoring.
And it isn't like Trump's Islamophobia is unique to him. After the Paris attacks, all the Republican candidates seized on the issue of Syrian refugees to stoke fear of terrorism in the hearts of voters (even though going through the lengthy process of obtaining refugee status is about the most cumbersome and time-consuming way to reach the United States; if the attackers in Paris had wanted to come here, all they would have had to do is buy a plane ticket). Jeb Bush and Ted Cruz both said that we should accept Christian refugees, but not Muslim ones. Ben Carson said that no Muslim should be allowed to be president unless they disavowed their religion.
And how have Trump's opponents reacted to the river of hate that gushes forth every time he steps up to a microphone? With the utmost care. "I disagree with that proposal," Ted Cruz said about excluding Muslims from the United States. "Donald Trump is unhinged. His 'policy' proposals are not serious," said Jeb Bush. "I disagree with Donald Trump's latest proposal," said Marco Rubio. "His habit of making offensive and outlandish statements will not bring Americans together." Chris Christie said that the remarks showed that Trump didn't have enough experience to deal with terrorism. "Unfortunately I think Donald Trump's over reaction is as dangerous as Obama's under reaction," said Carly Fiorina. John Kasich called it "outrageous divisiveness," mustering the strongest condemnation.
What we have there are varying degrees of disagreement, but about the worst any of them can bring themselves to say is that Trump's ideas are nutty. Not that he's a bigot, not that he's using the politics of hate, not that he's falling in line with a sordid history of racism. And certainly none of them are speaking directly to American Muslims — just imagine if they pandered to that community the way they pander to a dozen others whose votes they want.
There is one exception, who should be given all the credit he deserves: Lindsey Graham. Trump, Graham said in a recent appearance on CNN, is "a race-baiting, xenophobic religious bigot. He doesn't represent my party. He doesn't represent the values that the men and women who wear the uniform are fighting for."
Perhaps it's because Graham barely registers in the polls that he feels free to speak plainly about Trump, because those polls also show that there's a substantial audience for what Trump is offering. Republicans give Muslims lower favorability ratings than any other group. One recent poll found that only 49 percent of Iowa Republicans thought Islam should be legal. And ugly anti-Muslim incidents, ranging from harassment to outright hate-crimes, are cropping up all over.
While Trump may not have much support for his specific ideas from other Republicans, the conservative media reinforces the mindset that produces them each and every day. Josh Marshall recently described the discussion of these issues on Fox News as "a whole tapestry of falsehoods, that combined with incitement and hysteria create a mental world in which Donald Trump's mounting volume of racist incitement is just not at all surprising." Fox regularly gives airtime to bigots and xenophobes to spout off about the threat not only from abroad but from American Muslims (though a lot of that shows up on other cable networks as well), rhetoric that is echoed on one conservative talk radio show after another. And don't think Republican politicians don't know who's watching and listening.
So is anyone going to be surprised if next week some heavily armed right-wing terrorist walks into a mosque or a Muslim community center and starts killing as many innocent men, women, and children as he can? After all, he keeps hearing about how they're terrorist sympathizers, how they need to be watched, how they need to be kept out, how they need to suspected and feared and hated.
I don't know how long this ugly period will last, but I do know that history is going to judge those who created it harshly. And those who stepped carefully around a demagogue like Trump, always worried that they might offend his followers? Their cowardice will be remembered too.

Continue reading for free
We hope you're enjoying The Week's refreshingly open-minded journalism.
Subscribed to The Week? Register your account with the same email as your subscription.