Hillary Clinton is the change America needs
On the power of gradual progress, not wishful thinking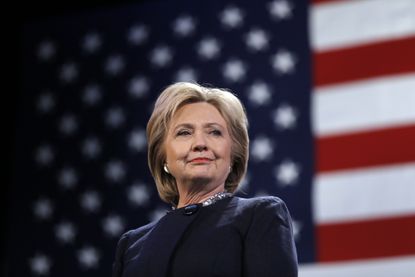 (Image credit: AP Photo/Matt Rourke)
Over the coming weeks and months, Democrats in caucuses and primaries around the country will choose between Hillary Clinton and Bernie Sanders to be the party's nominee. Some are now casting the decision as one between "continuity" and "change," with Clinton representing a continuation of President Obama's agenda and Sanders representing a shift toward the transformational change that escaped Obama.
This binary is completely false.
Ours is a historical era in which continuity and change are one and the same. Obama ended the wars of the George W. Bush administration, normalized relations with Cuba, and prevented the ascent of an Iran armed with nuclear weapons. In the last week alone, his administration declined to renew licenses to coal mining operations on federal lands, declared a ban solitary confinement of minors in federal penitentiaries, and ordered police departments around the country to give back military surplus equipment being misused by law enforcement. And on Tuesday, news came of the White House preparing to issue an executive order that would require any firm doing business with the federal government — virtually all giant corporations — to disclose its campaign contributions.
Subscribe to The Week
Escape your echo chamber. Get the facts behind the news, plus analysis from multiple perspectives.
SUBSCRIBE & SAVE
Sign up for The Week's Free Newsletters
From our morning news briefing to a weekly Good News Newsletter, get the best of The Week delivered directly to your inbox.
From our morning news briefing to a weekly Good News Newsletter, get the best of The Week delivered directly to your inbox.
We need more of the same. We need the unbroken continuation of Obama's domestic and foreign policies to bring about the laws, rules, and regulations that advance progress. It may not be "transformational," but real change is rarely that sexy. It may not feel all kumbaya, but politics almost never does.
Let's remember the Democrats saved the economy, passed the Affordable Care Act, and reformed Wall Street — with nearly unanimous opposition from Congressional Republicans. Since 2010, we have seen more job growth since no one remembers. More Americans have health insurance. And, while it took a while, the Dodd-Frank financial reforms are now being felt.
That's real change.
Yes, wages are not what they used to be, health care is still run by private insurance companies, and Wall Street still rakes in more money than God. But those are not reasons to break the chain of real progress. Change takes continuity.
Consider Bernie Sanders' call for "Medicare for all."
In the hours before the final Democratic debate, Sanders released a plan for creating a single-payer health care system of the kind found in rich European countries that have managed to keep costs down while ensuring the right of all citizens to access to quality health care. Ever since Obama proposed health care reform that kept intact the role of private health insurance companies, the Democratic Party's left wing has demanded nothing short of "Medicare for all."
That's fine. Most left-liberals would prefer that. But it doesn't represent change so much as wishful thinking.
Hillary Clinton was not, during the debate, just wrapping herself in Obama. She was speaking the truth: Democrats can't go back and restart the fight over universal health care because they have no hope of winning. Now is the time, however, for policy reforms addressing rising costs, insurance exchanges, and private profit. Yes, this is change by a thousand tweaks, but it is still change.
Is there a risk in voting for Clinton? Yes, of course. You don't really know what kind of president you're getting until she's elected. But Hillary Clinton may be the exception. She's long been in the public eye. We know her strengths as well as her weaknesses. Most important, we know she can be forced to listen to progressive demands. That cannot be said of Republicans.
I like Bernie Sanders and would support him in another context, and I don't personally like Hillary Clinton. But my dislike isn't as important as my country transcending the long conservative malaise that began before I was born.

Continue reading for free
We hope you're enjoying The Week's refreshingly open-minded journalism.
Subscribed to The Week? Register your account with the same email as your subscription.