How Chris Christie exposed Marco Rubio as an untrustworthy pretender
This was supposed to be Marco's moment. He's blowing it.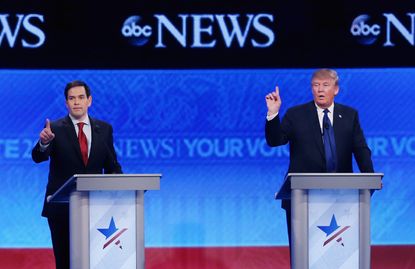 (Image credit: Getty Images)
Sign up to our 10 Things You Need to Know Today newsletter
A free daily digest of the biggest news stories of the day - and the best features from our website
Thank you for signing up to TheWeek. You will receive a verification email shortly.
There was a problem. Please refresh the page and try again.
Marco Rubio was never easy for many of my fellow conservatives to trust. Back in his 2010 Florida Senate race, he was the Tea Party-fueled alternative to Democrat Kendrick Meek and RINO-bot Charlie Crist. Since then, he's changed any number of times, clearly revealing his grand designs on power. With potential like this, who needs integrity?
This dynamic was abundantly clear in Saturday night's GOP debate. Rubio blew it. That conventional wisdom solidified mere minutes after debate's end, and with the New Hampshire primary just days away.
Coming off a strong third-place showing in Iowa, this was supposed to be Rubio's moment. Instead, he came off as an empty vessel that someone had poured some rather uninspiring anti-Obama talking points into. His lousy performance on Saturday could change the whole race. This isn't a partisan spin thing. Established Republicans and Democrats, devoted conservatives and liberals, all began lining up behind the story. Why? Because so few people really trust Rubio.
Subscribe to The Week
Escape your echo chamber. Get the facts behind the news, plus analysis from multiple perspectives.
SUBSCRIBE & SAVE
Sign up for The Week's Free Newsletters
From our morning news briefing to a weekly Good News Newsletter, get the best of The Week delivered directly to your inbox.
From our morning news briefing to a weekly Good News Newsletter, get the best of The Week delivered directly to your inbox.
In case you missed it, here are the key moments, when Chris Christie absolutely eviscerated Rubio for weirdly and mindlessly repeating his same anti-Obama lines even as Christie hammered Rubio for doing nothing but reciting memorized talking points.
Team Rubio can't blame the fact that Rubio's mauling, at the hands of a no-nonsense Christie, was the story of the night, amid a weird debate in which no clear victor emerged. Nor can they blame the fact that Rubio faces intense competition from the rest of the non-insurgent Republican field, whose supporters rightly view New Hampshire as their guys' last real shot at breaking out from the back of the pack.
Instead, the real takeaway was this: Something clear and true was revealed by Rubio's repetitive, canned answer to Christie's charge that he couldn't stop repeating canned answers. The most devastating political attacks, scandals, and gaffes are the ones that reinforce a deeper truth about a politician. There's a reason Hillary Clinton's email scandal sticks — it reinforces the widely held idea that she's secretive and arrogant. Something similar is true of Christie crushing Rubio for his robot-like recitation of anti-Obama rhetoric — it reinforces the widely held idea that Rubio doesn't really believe what he says.
But Rubio did more than than just make Christie's point for him (though he did do that). Rubio also revealed that he hadn't even bothered to prepare for the deeper accusation that he isn't a man of his word.
Christie demonstrated on stage what many people have carried as almost a grudge against Rubio — that he believes he's such a hotshot that he doesn't need to earn voters' trust. Simply by intoning the right phrases with the right pathos, he'll ride to the White House on a crest of faith that, without him, the Republican Party cannot step into the future.
This is why Rubio's Gang of Eight immigration reform dalliance keeps coming up. It's not because virulent anti-immigrant sentiment has gripped the field (or the debate moderators), but because Rubio really believes he can leave his past political commitments in the same dust as the Bush-era GOP. He'll be who he has to be to win — and you want to win, don't you?
The answer to that question among Republican voters is a resounding yes. But the same popular uncertainty and dismay Rubio has seized upon to convince people they should bet yet again on a novice senator with a golden tongue undercuts his brand as the bearer of destiny. Republicans just aren't sure who can beat Hillary Clinton. They're not even convinced Bernie Sanders can't do it. In a race so crazy that anything could happen, Rubio's outsized political talent won't eclipse the deeper question of how exactly he can be counted on.
To be fair, Rubio tried to address this weakness in his characteristically crisp remarks on abortion. He'd rather lose the election, he said, than waffle on life. That moment helped him pivot into a position of safety where he could recover from his first-half bludgeoning. But Rubio should have gone much further, and, coming down to the wire, I won't be surprised if he does.
What does that more aggressively apologetic posture look like? Simple: admitting that America and the GOP are in such poor repair that he did what it took to rise as fast as he could toward the pinnacle of power. However scuffed your boots become, you run toward the fire.
He's young; he's smart; he cares — and even setting aside threats like ISIS, he can see (can't we all?) that America is in a state of emergency. In Congress, dumb machinations are part of the job. Best to get it done fast. He had to run the gauntlet to run for president, and did — with flying colors. Would you prefer a laundry list of lame accomplishments, or an earnest, hardworking talent with as clean a slate as you can hope for? Nobody's perfect, Rubio least of all. But he's ready to do for the country what the old guard can't and the insurgents won't: Pull us together while lifting us up. Like no one else, he's got the chops to serve as our American dreamer-in-chief.
With that vulnerability and honesty, Rubio might regain the trust he lost so early on. The question now is whether, after a debate like Saturday night's, there are enough Republicans around still willing to dream.
Continue reading for free
We hope you're enjoying The Week's refreshingly open-minded journalism.
Subscribed to The Week? Register your account with the same email as your subscription.
Sign up to our 10 Things You Need to Know Today newsletter
A free daily digest of the biggest news stories of the day - and the best features from our website
James Poulos is a contributing editor at National Affairs and the author of The Art of Being Free, out January 17 from St. Martin's Press. He has written on freedom and the politics of the future for publications ranging from The Federalist to Foreign Policy and from Good to Vice. He fronts the band Night Years in Los Angeles, where he lives with his son.