Why a Trump-Sanders debate would be disastrous for Hillary
If it happens, that is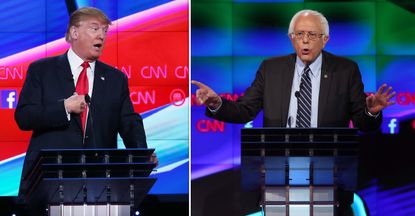 (Image credit: Justin Sullivan/Getty Images, Joe Raedle/Getty Images)
We don't know with any certainty whether Bernie Sanders and Donald Trump will debate each other before the California primary on June 7. In the hours following Trump's positive response to the idea on Jimmy Kimmel Live on Wednesday night and Sanders' rapid-fire acceptance, it looked like a go. But then Trump's handlers (I'm looking at you Paul Manafort) got wind of it, and Team Trump quickly denied it would happen, saying the presumptive GOP nominee was "just kidding." Then Trump went on national TV on Thursday afternoon and said he'd "love" to debate Sanders in a "big arena"... for $10 million (which would go to charity).
That led to this:
What a spectacle it would be if it did indeed happen. But as with all things Trump, who knows what to believe?
Subscribe to The Week
Escape your echo chamber. Get the facts behind the news, plus analysis from multiple perspectives.
SUBSCRIBE & SAVE
Sign up for The Week's Free Newsletters
From our morning news briefing to a weekly Good News Newsletter, get the best of The Week delivered directly to your inbox.
From our morning news briefing to a weekly Good News Newsletter, get the best of The Week delivered directly to your inbox.
You can see why a traditional political operative would flinch at the prospect of a Trump-Sanders debate. Why would the presumptive GOP nominee (who is running unopposed and who just surpassed the number of delegates required to clinch the nomination) agree to debate anyone, let alone the candidate from the other party who's on track to be the runner-up? What's the possible upside for Trump in taking part in such an event?
Well, the upside for Trump would come from the downside for Hillary Clinton, which would be considerable — and maybe even fatal.
The 2016 race has shaped up to be one of the most radically anti-establishment presidential contests in American history. Of the three people still standing, only one of them can plausibly be labeled an establishment figure, and she would be absent from the debate (because she already refused Sanders' request to face off against him one last time). Coming on top of the severe reprimand from the inspector general of the State Department over her use of a private email server while secretary of state, which reinforces her reputation as untrustworthy, Clinton's absence from the debate stage would all at once make her look entitled, aloof, cowardly, and arrogant, while elevating both scrappy anti-establishment candidates.
There's a reason why the Sanders campaign agreed so quickly to the debate. Sanders' only hope to prevail over Clinton at the Democratic convention involves winning California (where he's several points behind in recent polls) and then somehow getting all of the Clinton-pledged superdelegates to flip to him. It's highly implausible, but not impossible.
How can Sanders make it less implausible? By demonstrating in what would be the most widely watched primary debate in American history that he is, in fact, what he continually claims to be: the strongest person to take on Trump in the general election. This impression would be reinforced not only by Clinton's absence from the stage but even more so by the torrents of abuse that both Trump and Sanders would direct at her, unanswered, for the entire length of the event.
But let's assume that the highly implausible didn't happen, Sanders' Hail Mary pass fell short, and Clinton ended up as the Democratic nominee. Wouldn't a Trump-Sanders smackdown in late spring look like ancient history come November? Not necessarily. Instead, it would further complicate the already absurdly complicated calculus of running against Trump in the general election.
If I were Clinton's campaign manager, I'd already be planning to refuse to debate Trump in the fall. Sure, Trump would spew a toxic cloud of misogynistic taunts her way for the decision. But wouldn't that be preferable to standing on a stage opposite a man who accuses her to her face of murdering Vince Foster, enabling her husband's serial infidelities, and who knows what else?
The answer ought to be obvious. Unless, that is, Sanders has already debated Trump, in which case Clinton's refusal would look horrible. Think of how much more potent Trump's attack would be in that case: "Not even Crazy Bernie Sanders was afraid to face me, but Crooked Hillary is terrified! How will she stand up to Kim Jong Un and the Iranian mullahs if she cowers at the prospect of debating me? Pathetic!"
But wait, aren't we getting ahead of ourselves? If Trump debated Sanders, wouldn't the xenophobic billionaire emerge badly weakened by an encounter with the democratic socialist? And wouldn't that redound to Clinton's benefit next fall?
Don't bet on it.
Viewers of a Trump-Sanders debate are just as likely to be presented with contrasting visions of how each of the nation's two major parties might be rebranded as a "worker's party," addressing the concerns of the ordinary voters who feel so alienated from the status quo. In Sanders' vision, the federal government would step in with massive amounts of spending on both old and new social programs. In Trump's vision, protection for old programs would be combined with harsh restrictions on immigration and other forms of economic, political, and even ethnic nationalism.
I don't know for sure which of these options would prove more potent in November if voters were given a choice between them (though I have my suspicions). But I do know that placing them alongside each other on a debate stage would only increase the likelihood that a substantial number of Sanders supporters will shift over to the only available populist option in the general election instead of voting for the candidate of the Washington establishment.
Even without the benefit of a side-by-side comparison, polls on the day of West Virginia's primary showed that 44 percent of Sanders voters in the state would end up opting for Trump in November. The number willing to do that would be much smaller in many other states, but not in all, and a Trump-Sanders debate in the next ten days would only increase it.
All of which is bad news for Clinton, who increasingly looks like she's going to need every single vote she can get.

Continue reading for free
We hope you're enjoying The Week's refreshingly open-minded journalism.
Subscribed to The Week? Register your account with the same email as your subscription.