The false hope of the Trump intellectuals
Many conservative intellectuals are admirably standing firm against Trump. But plenty of others are cozying up to this maladjusted playground bully.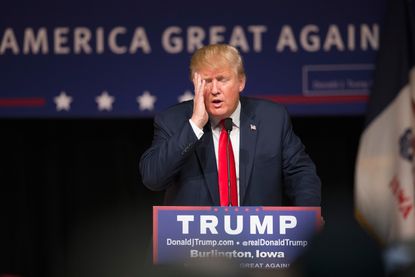 (Image credit: Scott Olson/Getty Images)
When it first began to dawn on political analysts several months ago that Donald Trump had a serious shot of prevailing in the Republican primaries, many predicted that all factions on the political right — from elected politicians to conservative intellectuals — would fall in line behind the eventual nominee, even if he turned out to be a one-man insult-generator with no political experience and the temperament of a maladjusted 12-year-old playground bully.
Though things could certainly change in the five months between now and the November election, it looks like those pundits were at least partially wrong.
Now it's true that aside from a handful of holdouts (Nebraska Sen. Ben Sasse, Michigan Gov. Rick Snyder), Republican officeholders have indeed closed ranks in support of the party's presumptive nominee. Even Paul Ryan is on Team Trump now. But the intellectuals have stood their ground in opposition. David Brooks, Ross Douthat, George Will, Charles Krauthammer, Jennifer Rubin, Bret Stephens, Robert Kagan, Bill Kristol, Peter Wehner, Max Boot, Rich Lowry, Jonah Goldberg, Erick Erickson — the list of conservative writers arrayed against Trump is long.
Subscribe to The Week
Escape your echo chamber. Get the facts behind the news, plus analysis from multiple perspectives.
SUBSCRIBE & SAVE
Sign up for The Week's Free Newsletters
From our morning news briefing to a weekly Good News Newsletter, get the best of The Week delivered directly to your inbox.
From our morning news briefing to a weekly Good News Newsletter, get the best of The Week delivered directly to your inbox.
This divide makes sense. For elected officials, taking a stand against the will of the voters (and now the party itself) is risky. They could lose their power, their perks, and even their jobs. Intellectuals, by contrast, risk very little. No one's career will be placed in jeopardy by opposing the Republican nominee. The only thing they risk losing out on are prestigious positions in a Trump administration, which they would never seek anyway. That's because intellectuals care about ideas. Sure, those who deploy ideas to further political causes are also fond of power, but they see the pursuit of power as a means to the end of advancing their ideas. And most conservative intellectuals quite reasonably believe that advancing their ideas under President Trump would be impossible.
Which isn't to say that steadfast opposition to Trump among conservative intellectuals is unanimous. The latest issue of The Weekly Standard contains a useful rundown of the exceptions. No one named in "Trump's Intellectuals" sounds thrilled about the candidate who prevailed in the primaries, but a number of them are cautiously optimistic or at least willing to give him the benefit of the doubt.
The most interesting and thoughtful by far is Charles Kesler, the editor of the Claremont Review of Books. In a series of quotations from an interview with Fred Barnes and in a substantial essay published in the Spring 2016 issue of the Review (titled "Trump and the Conservative Cause"), Kesler provides philosophical justification for precisely what Republican politicians have been doing in recent weeks: rallying around their party's presumptive nominee. Far from a sign of self-interested careerism, such partisan rank-closing can be justified with reasons, and Kesler is ready and willing to provide them.
Which isn't to say those reasons are persuasive. On the contrary, they strike this moderately liberal anti-Republican as foolhardy. But that doesn't mean they deserve to be dismissed out of hand. With so many intellectuals taking a forceful #NeverTrump stand, there's something interesting and instructive in examining the strongest case for optimism in the face of Trump's takeover of GOP.
The first thing that stands out from Kesler's comments about Trump is how they mix genuine insights with an uncommon lack of concern about the alarming implications of those insights.
Consider Kesler's suggestive analogy between recent Republican presidential candidates and conservative magazines and newspapers.
That is exactly right. Yet Kesler offers it as an uncritical observation, as if the prospect of nominating and electing a president whose sensibility has been shaped by the trash-talking vulgarity and hyperbole of tabloid culture isn't something worth worrying about. For a conservative writer like Kesler, who regularly invokes the Constitution and lambasts modern liberals for disregarding its forms and limits, that is more than a little peculiar.
So is the absence of a sustained discussion of character. In Kesler's essay on Trump, he notes various troubling aspects of the billionaire's personality, disposition, and outlook on the world — his obsession with toughness, his tendency to think government can be run like a business, his lack of even rudimentary ideological constancy. But Kesler also passes over in silence even more distressing traits, like Trump's incessant lying about everything from his stated positions on policy to his business dealings and details of his personal life; his threats and flirtations with incitement to violence; his venomous verbal attacks on the press; his denigrating comments about women; and his willingness to describe the members of entire ethnic groups as criminals and rapists.
As Barnes informs us, Kesler also "denies that Trump is a demagogue."
What accounts for this sanguine appraisal of the man?
Part of it can probably be traced to Kesler's intense antipathy to modern liberalism. Whereas at least some prominent conservative intellectuals (Kagan, Boot, Stephens) have entertained the possibility of supporting Hillary Clinton against Trump in November, it's very hard to imagine that Kesler (or his intellectually formidable colleague William Voegeli, who has penned his own powerful anti-anti-Trump essays in recent months) would ever do so.
Ted Cruz and Marco Rubio might deploy barbed rhetoric against "progressivism," but Kesler and company actually believe that America's constitutional "regime" has been under sustained and damaging attack by progressive ideology since the time of Woodrow Wilson. That's one reason why Kesler dismisses hopes for a #NeverTrump independent challenge to Trump as "quixotic": The stakes are simply too high for conservatives "to wash our hands of this election."
Kesler finds modest grounds for optimism primarily in Trump's choice to place muscular opposition to political correctness at the center of his campaign, which has "proved a brilliant decision."
As an analysis of Trump's appeal, this is valuable. (Though others have noted similar things.) But Kesler isn't simply offering an analysis of Trump. He's making a case for supporting him. And that case is bizarre. Trump's "savvy opposition to P.C.," Kesler claims, might serve as the foundation for a "defense of America" against those on the left who actively engage in "the denigration of America, its history, and principles," as well as "the theological, philosophical, literary, and scientific heritage of the West."
Donald Trump, defender of Western Civilization?
Forgive me if I find this pretty implausible.
I suspect Kesler does as well. In the brief final paragraph of his lengthy essay, Kesler concedes that even more important than bashing political correctness is specifying and defending "what is actually politically and morally correct." And that is something Trump has so far failed to do.
Allow me to venture the prediction that this failure will continue indefinitely, because the man is singularly incapable of anything else. And the reason is rooted in the defects of character about which Kesler seems so strangely unconcerned. In nearly a year on the national stage, Trump has yet to utter a word or make the slightest public gesture that indicates even rudimentary thoughtfulness about politics or morality, let alone about the distinctive greatness of America or the West.
The man is exactly what he appears to be: a shameless, mean-spirited fraud out to grab as much power and attention as he can. In a political culture ripe with narcissists, Trump stands out for the socio-pathological excesses of his self-absorption. Nothing noble will emerge unsullied by association with him.
That holds for the Constitution, America, the West — and conservative intellectuals.

Continue reading for free
We hope you're enjoying The Week's refreshingly open-minded journalism.
Subscribed to The Week? Register your account with the same email as your subscription.