Why the Libertarian ticket is an invaluable experiment for the GOP
Gary Johnson and William Weld are about to test whether a fiscally conservative party can attract voters without an obsession with bedroom politics and social issues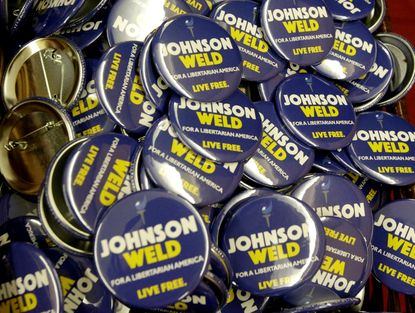 (Image credit: AP Photo/John Raoux)
Maybe the Libertarian Party did the Republicans a favor by nominating two successful former GOP governors, Gary Johnson of New Mexico and William Weld of Massachusetts, for president and vice president, respectively.
Yes, it is likely that the Johnson-Weld ticket will siphon many of its votes from Donald Trump. But it will also help test one of the theories for what has ailed the GOP as it lost the popular vote in five of the last six presidential elections: The idea that a fiscally conservative party can excel at attracting voters once freed of its prurient obsession with bedroom politics and social issues.
Neither Johnson nor Weld is the purest small-l libertarian, although they are both individualists by inclination. But Weld's ideological transgressions are more numerous: He backed gun control and affirmative action in Massachusetts, seemed supportive of the Iraq war, championed a controversial use of eminent domain, signed a letter defending the Patriot Act, and, just this year, endorsed a Republican presidential candidate who argued for the ObamaCare Medicaid expansion by saying God doesn't care about small government.
Subscribe to The Week
Escape your echo chamber. Get the facts behind the news, plus analysis from multiple perspectives.
SUBSCRIBE & SAVE
Sign up for The Week's Free Newsletters
From our morning news briefing to a weekly Good News Newsletter, get the best of The Week delivered directly to your inbox.
From our morning news briefing to a weekly Good News Newsletter, get the best of The Week delivered directly to your inbox.
Johnson didn't pick Weld to rally the Libertarian faithful. Instead the two-time Libertarian Party nominee implored the convention to ratify his choice of Weld for vice president in order to have a greater impact in the general election.
In the 1990s, Weld was the posterchild for the Republican Party's fiscally conservative but socially liberal future. First elected by beating a Democrat who was to his right on some social issues, Weld was staunchly pro-choice, going so far as to say ninth-month abortions were "a price I would pay to have government stay out of the thicket." He fought to remove the pro-life plank from the Republican platform.
Weld was also an early Republican champion of gay rights. He created the Massachusetts Governor's Commission on Gay and Lesbian Youth. He signed an executive order allowing domestic partnerships for state employees at a time when most Democrats still opposed gay marriage, including the Clintons. He defended the court decision that led to same-sex matrimony in the Bay State.
For his trouble, in 1997 Weld was blocked from an ambassadorship by social-conservative stalwart Jesse Helms, who was then chairman of the Senate Foreign Relations Committee. His social liberalism put a ceiling on his ambitions within the party.
At the top of the ticket, Johnson is somewhat to the right of Weld on abortion. But he is still ultimately pro-choice and has similar instincts on gay rights issues. He argued that "these religious freedom laws" proposed by social conservatives "are really just a way to discriminate against gay individuals, the LGBT community."
Want to know what the Republican Party would look like at the national level without the religious right? Johnson and Weld would give us an idea.
Yet there's a competing theory that the Republicans have been held back not by social conservatism but by their relative economic libertarianism. The party's reflexive commitment to free-market ideology leaves it with little to say to working-class Americans in financial distress.
As it happens, Trump tests this theory. He doesn't want to cut Social Security or Medicaid. He would repeal ObamaCare, but whatever he would replace it with would at least have a big enough government role to "not let people die on the streets for lack of health care." He opposes trade and immigration policies he regards as undercutting the wages and employment prospects of American workers.
Whatever one may think of Trump's sincerity as a social conservative, he has worked harder to appeal to evangelicals than budget-cutters or national-security hawks. He maintained his opposition to the Iraq war but moved, however imperfectly, in the direction of the Republican platform on abortion and has vowed to "protect Christianity."
Johnson and Weld promise to protect liberty without having much cultural affinity for the GOP base. Trump says he will defend the material interests of cultural red-staters who fall outside of the top income tax brackets.
It's not a perfect test, of course. Trump is the presumptive Republican nominee. Johnson and Weld represent a small third party. Even a disastrous Trump campaign will likely receive many more votes than a wildly successful Libertarian effort. The playing field between the present and former Republican leaders is hardly even.
But Trump is experimenting with a culturally conservative, populist, and nationalist party some on the right have always wanted, while Johnson and Weld are offering cosmopolitan fiscal conservatism, a version of the Wall Street Journal editorial page's tax cuts without borders.
What the mainstream conservative movement joined together, both the Republican and Libertarian presidential candidates will try and tear asunder in November.

Continue reading for free
We hope you're enjoying The Week's refreshingly open-minded journalism.
Subscribed to The Week? Register your account with the same email as your subscription.