Is #NeverTrump working?
The disgruntled conservatives who have branded themselves #NeverTrump have been treated as a punchline. But now...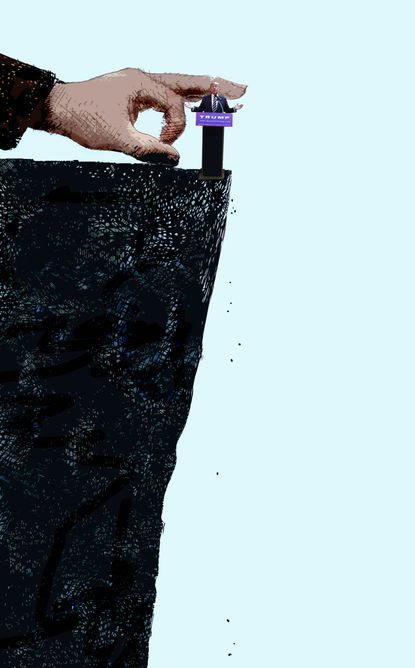 (Image credit: Photo Illustration | Images courtesy Bill Pugliano/Getty Images, Gary Waters / Alamy Stock Photo)
The disgruntled conservatives who have branded themselves #NeverTrump have been treated as a punchline for months now.
First, they could not settle on a Republican alternative to Donald Trump in the primaries, allowing Trump to begin marching to victory. Then, many of the politicians who had previously taken up the banner of #NeverTrump began to endorse Trump in a way that made you question their sanity. Marco Rubio stands out in particular for quickly moving from #NeverTrump leader to endorsing Trump while saying Trump cannot be trusted with America's nuclear arsenal.
Next, the #NeverTrump forces went trolling for a third-party candidate, to save the honor of conservatism and help the down-ballot Republican races in 2016. They came up with a war veteran and writer from National Review, who quickly declined the chance to run. Even the suggestion seemed to confirm the suspicion that #NeverTrump consisted of nothing more than a few handfuls of professional conservative scribblers and operatives cloistered in D.C. and Manhattan.
Subscribe to The Week
Escape your echo chamber. Get the facts behind the news, plus analysis from multiple perspectives.
SUBSCRIBE & SAVE
Sign up for The Week's Free Newsletters
From our morning news briefing to a weekly Good News Newsletter, get the best of The Week delivered directly to your inbox.
From our morning news briefing to a weekly Good News Newsletter, get the best of The Week delivered directly to your inbox.
But increasingly, it seems like this shambolic #NeverTrump effort is almost, sort of, maybe, kind of working. At least, it seems to be bigger than Bill Kristol and a few writers.
Several GOP figures have lambasted Trump, and even withdrawn their endorsements from him, after he said that the judge in the Trump University case was biased against him because of the judge's Mexican-American heritage. Many remaining Trump endorsements from party officials are so perfunctory and unenthused that they beg to be interpreted as messages from unwilling hostages of the political moment. While Trump touts the endorsement of Don King, the Republican governor of Ohio responds to the question of whether he will endorse Trump with an uncharacteristically terse: "Why would I?"
The Trump campaign still has no ammunition with which to fight the Clinton behemoth. Even before this Trump University mess, some major GOP donors, including the Koch brothers, had basically indicated that they are sitting out this election. And Trump has not seen any major fundraising boost since he effectively captured the "presumptive nominee" moniker after the Indiana primary more than a month ago. He's woefully behind. Mark Cuban has inadvertently bolstered the #NeverTrump movement, not only by constantly clowning on Trump, but by pointing out that the Trump campaign's desperation will cause it to approach donors in an even more supine and beggarly manner than usual for politics.
No one wants to work with Trump. His campaign staff is tiny and already legendary for the division between Corey Lewandowski and Paul Manafort. Many Republicans openly say they are not remotely interested in being Trump's vice president. Trump is left to rely on marginal figures like Carl Paladino to execute absurdly optimistic strategies of winning New York state by racking up huge margins in the depopulating upstate region.
Still, just as #NeverTrump was a joke, so has the old conventional wisdom that "The Party Decides" been derided when Trump began marching to his primary victories. Even now, it's as if the Republican Party is deciding to have a miscarriage by starving the presidential campaign of resources rather than risk a Trump presidency being born into this world.
All #NeverTrump needed was focus and a candidate. Trump took a very long time to win even a majority of votes in one state. Mitt Romney gave one blistering speech after Super Tuesday, which significantly slowed the momentum of the Trump campaign. But most of #NeverTrump's actions were too little, too late.
Now, finally, after months of scrambling, the #NeverTrumpers are returning to their old discarded plan of ripping the nomination away from Trump at the convention. This was always the better option than a third-party run because it knocks Trump out of the running altogether, and it guarantees the #NeverTrump candidate the better ballot line in the fall. Scott Walker's name is being bandied about as a potential candidate again. Also, because this everything-old-is-new-again plan relies on the pool of delegates who are themselves party insiders and activists, the chance that a majority of them oppose the ideological makeover Trump is offering the GOP is very high indeed.
Of course, the #NeverTrump movement is still most likely to end in disaster, because it can't seem to coordinate itself, or get everyone to buy into one strategy for more than a week. Further, any strategy of knocking out the leading vote-getter is sure to leave open wounds in the party for years to come, and riots in the streets of Cleveland in July. But if Trump continues to have three more weeks of disastrous news coverage, lackluster fundraising, and anemic polls, the survival instincts of the party may finally kick in.
The #NeverTrump instinct, underdeveloped as it is, still has denied Trump the ability to launch a normal presidential campaign or to reach anything like machine parity with the Democrats. It also has party activists hankering for a convention fight. That's more than I thought #NeverTrump could achieve two months ago. One month to go till Cleveland. Don't blow it.

Continue reading for free
We hope you're enjoying The Week's refreshingly open-minded journalism.
Subscribed to The Week? Register your account with the same email as your subscription.