Here are 20 GOP lawmakers blasting Donald Trump for his racist attack on Judge Curiel
This is brutal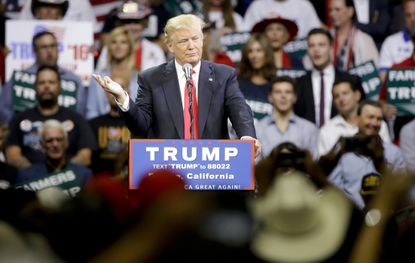 (Image credit: AP Photo/Chris Carlson)
Donald Trump may have finally gone too far — even if he claims that his comments have simply been "misconstrued." The presumptive GOP nominee's recent call for U.S. District Judge Gonzalo Curiel, who is presiding over a civil lawsuit against Trump University, to recuse himself from the case because of his Mexican heritage, has pushed many Republican lawmakers to vehemently speak out against their party's presidential standard-bearer, and, in some cases, even to un-endorse Trump.
Trump contends that there's a conflict of interest in Curiel ruling on the Trump U case because of the Republican presidential candidate's proposal to build a wall along the U.S.-Mexico border. Here's what 20 of Trump's fellow Republicans have to say about that:
1. House Speaker Paul Ryan (R-Wis.): "I do absolutely disavow those comments. I think they're wrong. I don't think they're right-headed. And the thinking behind it is something that I don't personally relate to." Ryan also called Trump's remarks the "textbook definition of racism."
Subscribe to The Week
Escape your echo chamber. Get the facts behind the news, plus analysis from multiple perspectives.
SUBSCRIBE & SAVE
Sign up for The Week's Free Newsletters
From our morning news briefing to a weekly Good News Newsletter, get the best of The Week delivered directly to your inbox.
From our morning news briefing to a weekly Good News Newsletter, get the best of The Week delivered directly to your inbox.
2. Senate Majority Leader Mitch McConnell (R-Ky.): "I couldn't disagree more."
3. Sen. Lindsey Graham (R-S.C.): "This is the most un-American thing from a politician since Joe McCarthy. [...] If anybody was looking for an off-ramp, this is probably it. There'll come a time when the love of country will trump hatred of Hillary."
4. Sen. John McCain (R-Ariz.): "His comments are very harmful, and that's all I can say."
5. Sen. Dan Coats (R-Ind.): "Judge Gonzalo Curiel and I have a few things in common — we're both IU Law grads and both sons of first-generation immigrants to the U.S. Stories like ours are only possible in America. As Americans, we are blessed to live in a land of boundless opportunity. Donald Trump's comments about the ethnicity of Judge Curiel, who was born in Indiana, were totally inappropriate."
6. Sen. Kelly Ayotte (R-N.H.): "His comments are offensive and wrong, and he should retract them."
7. Sen. Ted Cruz (R-Texas): "Of course, it's inappropriate to be attacking a federal judge's race or ethnicity. You're going to have to ask Donald to explain the reason he says the things he does. I'm not going to try to do so."
8. Sen. Richard Burr (R-N.C.): "I don't think there's a place for the comments that were made."
9. Ohio Gov. John Kasich: "Attacking judges based on their race &/or religion is another tactic that divides our country. More importantly, it is flat out wrong."
10. Sen. Marco Rubio (R-Fla.): "That man is an American, born in the U.S., a judge who has earned that position. I don't think it reflects well in the Republican Party. I don't think it reflects well on us as a nation."
11. Sen. Rob Portman (R-Ohio): "The fact that the judge has a Mexican American heritage has nothing to do with how you should describe his judicial ability. The guy was born in Indiana. He's as American as I am."
12. Sen. Ben Sasse (R-Neb.): "Saying someone can't do a specific job because of his or her race is the literal definition of 'racism.'"
13. Rep. Jackie Walorski (R-Ind.): "Questioning a judge's impartiality based on his ethnicity is not only inappropriate, it has no place in American society."
14. Rep. Jason Chaffetz (R-Utah): "The idea that you're going to attack somebody based on their heritage, that you're not going to get a fair ruling, I don't think that resonates. I don't believe in it and I think it is wrong of him to have said it."
15. Sen. Jeff Flake (R-Ariz.): "His statements this week on the judge — that's a new level... Because it's not just… ill-informed or ignorant statements, but they suggest that when he's president, you know, after November, that… perhaps he ought to go after that judge. That's a whole new level. So that's — it's very disturbing."
16. Sen. Susan Collins (R-Maine): "His statement that Judge Curiel could not rule fairly because of his Mexican heritage does not represent our American values. Mr. Trump's comments demonstrate both a lack of respect for the judicial system and the principle of separation of powers."
17. Sen. John Thune (R-S.D.): "Yeah, he's going to have to adapt. This is not working for him. They were inappropriate comments."
18. Sen. Mark Kirk (R- Ill.): "After much consideration, I have concluded that Donald Trump has not demonstrated the temperament necessary to assume the greatest office in the world."
19. Sen. Bob Corker (R-Tenn.): "I don't condone the comments."
20. Sen. Tim Scott (R-S.C.): "Racially toxic."
But, of course, not every lawmaker in the Republican Party is criticizing Trump. New Jersey Gov. Chris Christie — a Trump surrogate — has maintained that "Trump is not a racist." Utah Sen. Orrin Hatch argues that everyone needs to lay off of Trump because he's new to this whole politics thing:
"Learning and growing," huh?

Continue reading for free
We hope you're enjoying The Week's refreshingly open-minded journalism.
Subscribed to The Week? Register your account with the same email as your subscription.