8 tips for having less awful election-season debates with your friends
When discussing this year's candidates, don't fall into these very common debate traps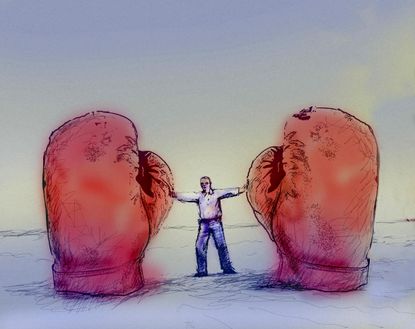 (Image credit: Ikon Images / Alamy Stock Photo)
With presumptive presidential nominees in place, national party conventions on the horizon, and a mere four months of partisan soundbites and hackery left before Election Day, take heart! We're in the home stretch.
And with a little conversational responsibility, the remainder of campaign season doesn't have to be quite so awful. To that end, here are eight common, debate-poisoning logical fallacies you'll see popping up all over the place as America makes her awful choice — plus, how to avoid them.
1. Avoid false dichotomies
Subscribe to The Week
Escape your echo chamber. Get the facts behind the news, plus analysis from multiple perspectives.
SUBSCRIBE & SAVE
Sign up for The Week's Free Newsletters
From our morning news briefing to a weekly Good News Newsletter, get the best of The Week delivered directly to your inbox.
From our morning news briefing to a weekly Good News Newsletter, get the best of The Week delivered directly to your inbox.
"If you won't vote for Donald Trump, you're supporting Hillary Clinton."
With two historically unpopular major party candidates and an increasingly polarized electorate, false dichotomies are popping up all over the place: If you don't back one candidate, you support the other by default. If you don't want a border wall, you're asking to be overrun with foreign criminals. If you still reject ObamaCare, you hope babies die in the street. Don't get sucked into this deceptive set-up. Almost never are we presented with just two mutually exclusive options; think creatively and you'll soon find that there are plenty of choices beyond the pair you've been presented.
2. No ad hominem attacks
"You wasted your vote on Bernie Sanders. Who cares what you think?"
An ad hominem attack is one that goes after the speaker instead of their argument. A regular feature of most internet comments sections, it's an intellectually lazy way of avoiding fair debate. If you find yourself uttering phrases like, "Well, you only think that because…" or "So-and-so is a liar, so…" it's time to recalibrate and refocus on the facts.
3. Don't appeal to authority
"Katy Perry endorsed Hillary Clinton, so I'm going to support her, too."
If there's an opposite of the ad hominem attack, it's appealing to authority — determining a statement is true simply because of who said it. Now, authority can carry weight, and there are appropriate occasions for such appeals. But fallacious appeals to authority can lead us to accept falsehoods unquestioned because of who is speaking, or to trust authorities in areas where they have no particular expertise. During election season, celebrity endorsements are a prime example of this error.
4. Abandon straw men
"Hillary Clinton says nobody can have a gun, which is a clear violation of the Second Amendment."
This fallacy means describing your political opponent in unfair caricature so you can easily "prove" they're wrong. In our example above, we've entered straw man territory because though Clinton does want to increase gun control — and her proposals may well violate the Constitution — to say she wants to ban all guns is a convenient misrepresentation for Second Amendment advocates. So before you attack someone's policy proposal, make sure you've first described it in a way a neutral observer would agree is accurate.
5. Don't fall down slippery slopes
"If we legalize marijuana, next thing you know they'll be handing out cocaine with school lunches."
Slippery slope arguments are tempting, especially where the culture war is concerned. After all, it does often happen that when a policy or social norm changes around one issue, changes around related topics soon follow. But that doesn't mean they will follow, and we may rightly support one change without backing another. The decent thing to do in any debate is to avoid allegations of slippery slope production. It's fine to bring up potential consequences, but don't cross the line from reasonable projection to speculative accusation.
6. You needn't appeal to ignorance
"You can't prove every refugee isn't a terrorist, so we should just keep them all out."
I can never prove to you that there is no pink elephant hiding in the next room who turns invisible and intangible whenever humans come around. That doesn't mean it would be logically appropriate to conclude Babar is really there. The same goes for less fantastical examples, like trying to prove no refugees are secret terrorists, or, conversely, that all immigrants will be positive contributors to the U.S. economy. To avoid accidentally making an appeal to ignorance, make sure your demands for proof could realistically be fulfilled without, say, divine omnipotence.
7. No non sequiturs
"If you love America, you'll vote for my candidate."
"Non sequitur" means "it doesn't follow," so committing this fallacy simply requires leaving a gap in your chain of reasoning. Unnoticed assumptions we all hold make it too easy to make error without realizing what we've done. The connection between loving America and voting for a certain candidate may be obvious to me, but for a productive (or, at least, not horrible) conversation, the link must be spelled out step by logical step.
8. Don't be a bandwagon bully
"Look, nobody votes third party. The grown-up thing is picking the lesser of two evils like everyone else."
Finally, as your mom liked to say, just because everyone else is doing it doesn't mean you should, too. While we might hope the majority tends to make the right choice (though that's ever more difficult to credit in this election) the fact that a position or politician is popular is by itself no recommendation of truth or value. Make your own decision, and don't allow yourself to be browbeaten into overriding your conscience by the crush of the crowd. Your mom would be disappointed if you did — and in the end, you probably would be, too.

Continue reading for free
We hope you're enjoying The Week's refreshingly open-minded journalism.
Subscribed to The Week? Register your account with the same email as your subscription.