Donald Trump and the false shifting of the Overton window
The presumptive GOP nominee has widened the acceptable range of ideas we can talk about in our public life. But it might not last.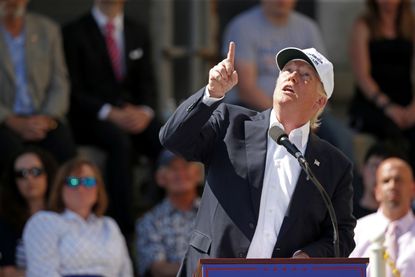 (Image credit: AP Photo/Robert F. Bukaty)
Sign up to our 10 Things You Need to Know Today newsletter
A free daily digest of the biggest news stories of the day - and the best features from our website
Thank you for signing up to TheWeek. You will receive a verification email shortly.
There was a problem. Please refresh the page and try again.
It's been a bad few weeks for Donald Trump. His rapprochement with the Republican establishment is stalled. His head-to-head poll numbers against Hillary Clinton don't look great. Even rank-and-file GOP voters are starting to show buyer's remorse, with small majorities telling pollsters they'd rather have a different nominee.
Trump still has his defenders, however, and they argue that he has already won, no matter what happens in November. After all, they say, Trump has freed the public debate from the politically correct cage to which it was once consigned. Indeed, plenty of sophisticated Trump supporters say the presumptive Republican nominee has shifted the Overton window — that is, widened the acceptable range of ideas we can talk about in our public life.
In some cases, that is undoubtedly true. Whatever you think about banning Muslims from entry into the United States — it's not always clear what Trump himself thinks about it — it was once outside the realm of permissible public debate. No longer. Exit poll after exit poll shows majorities of conservatives, often in excess of 60 percent, saying they supported the Muslim ban, even in relatively moderate states.
Subscribe to The Week
Escape your echo chamber. Get the facts behind the news, plus analysis from multiple perspectives.
SUBSCRIBE & SAVE
Sign up for The Week's Free Newsletters
From our morning news briefing to a weekly Good News Newsletter, get the best of The Week delivered directly to your inbox.
From our morning news briefing to a weekly Good News Newsletter, get the best of The Week delivered directly to your inbox.
Consider New Hampshire, where 56 percent of GOP voters in a state that went for Trump wanted illegal immigrants to be "offered a chance to apply for legal status" while 41 percent picked "deported to the country they came from." Temporarily banning Muslims who are not U.S. citizens, however, was the choice of 65 percent of these voters. Only 32 percent were opposed.
Some of this was undoubtedly Republican primary voters reconsidering the importance of cultural compatibility in immigration after incidents from the Boston Marathon bombing to the San Bernardino shootings. Others are reacting to a Democratic president's reluctance to describe "radical Islam" as the motive for such attacks.
It's nevertheless something that wouldn't be talked about without Trump.
But just as Trump serially exaggerates when he says no one was talking about immigration before he took his famous ride down the escalator, it's not always clear that he has changed the terms of the debate in the way most favorable to the nationalist and populist perspectives he is purportedly trying to mainstream. And that means his shifting of the Overton window might not last.
The restrictionists surrounding Alabama Republican Sen. Jeff Sessions have carefully argued that mass unskilled immigration undercuts the wages and employment opportunities of Americans of all races and backgrounds. In fact, they often observe that black and Latino workers tend to be the hardest hit.
While some of this language appears in Trump's formal immigration plan, pointing to the scandalously high unemployment rates among black and Latino teenagers, such care has been missing from Trump's own public pronouncements. He was widely perceived as saying in his announcement that all Mexicans are rapists. While you could parse the text of that speech differently and chalk it up to a beginner's ham-fistedness, it took him days after his ill-fated crusade against Judge Gonzalo Curiel to clarify he didn't believe all people of Mexican descent were too biased to be good judges.
It's worth noting that the Curiel incident seems to track with when he began to decline again in the polls after finally closing his deficit with Hillary Clinton upon clinching the Republican nomination. Stereotypes about "all Mexicans" or "all Muslims" are precisely the opposite of what a sober-minded critic of current immigration policy should want to be talking about. Categorical claims about ethnic and racial groups that appear rooted in bias or hatred drive away potential allies, as a political coalition of people buffeted by globalism's excesses would look like America as much as Bill Clinton's 1990s Cabinet.
While the similarities between Trump and Brexit can be overstated, it's clear he is riding a wave of concern about unresponsive political elites, uncontrolled immigration, untrammeled multiculturalism, and diminished national sovereignty that is washing over America and Western Europe — and not doing as well with it as he could be.
The economic nationalism in Trump's speech last week about jobs and trade may be ridiculed by liberals and conservatives alike. But its substance could be more popular than Trump himself. Like Brexit, many of Trump's issues could prevail as referenda; like many of Europe's right-wing parties, the candidate is failing on the biggest electoral stage.
To a small fringe of Trump's supporters, amplified by the internet, these are not bugs but a feature. This, they insist, is what it truly takes to stop fighting on the left's terms.
But it's the left that often pretends there is no difference between, say, admitting a few hundred thousand immigrants as opposed to 1 million or more and racism or even genocide. It takes a bizarre cast of mind to think joining in this game, even ironically, is a rebellion rather than something repulsive to normal and decent people.
What Trump's success in the primaries has mainstreamed, his failure in November could return to the fever swamps where the worst of his admirers dwell.
Continue reading for free
We hope you're enjoying The Week's refreshingly open-minded journalism.
Subscribed to The Week? Register your account with the same email as your subscription.
Sign up to our 10 Things You Need to Know Today newsletter
A free daily digest of the biggest news stories of the day - and the best features from our website