Donald Trump, marijuana, and the yearning to make America sober again
Marijuana legalization sure is breaking down along familiar lines...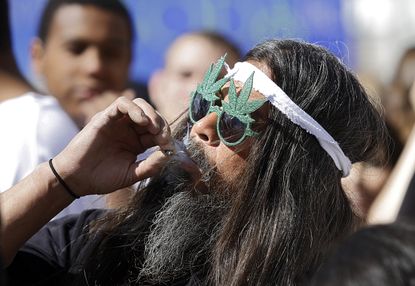 (Image credit: Marc Piscotty/Getty Images)
This Tuesday, the organizers of a ballot initiative to legalize recreational marijuana in California had their petitions certified, meaning Californians will vote in November on the question. Even though a legalization measure failed at the ballot in 2010, this one is almost sure to succeed (polls have shown support at around 60 percent), adding 39 million Americans to the still-modest number who live in states where pot is legal. The difference is not just the passage of six years, but the fact that this is a presidential year, which means a much different electorate going to the polls — in particular, a lot more young people.
California is just the beginning: Nevada, Massachusetts, and Maine will also have initiatives allowing recreational use, and Florida will have a medical marijuana measure on the ballot. Other states where marijuana initiatives are in the process of collecting signatures include Arkansas, Arizona, Michigan, Montana, and North Dakota. In all likelihood some of them will succeed and others won't, but this much we can say: With each passing year, on this issue as on so many others, Blue America and Red America are separating from each other. And in some ways, we can see it as a separation between old America and young America.
The divisions by age are perhaps the most striking thing about polling on marijuana use; while all age groups have gotten more supportive of legalization over the decades, what really matters is whether you came of age before the 1960s or after. Today legalization is supported by majorities of all age groups except senior citizens. To take one example, in this Pew Research Center poll from last year, those under 35 and those over 70 were mirror images of each other: 68 percent of the millennials supported legalization while 29 percent opposed it, and among the Silent Generation, 29 percent supported it and 68 percent opposed it.
Subscribe to The Week
Escape your echo chamber. Get the facts behind the news, plus analysis from multiple perspectives.
SUBSCRIBE & SAVE
Sign up for The Week's Free Newsletters
From our morning news briefing to a weekly Good News Newsletter, get the best of The Week delivered directly to your inbox.
From our morning news briefing to a weekly Good News Newsletter, get the best of The Week delivered directly to your inbox.
So the places where liberals dominate, particularly the West and Northeast, will increasingly reflect the desires and perspectives of young people, and not just on marijuana. The young are more tolerant of diversity, less likely to own guns, more in favor of full civil rights for gay people, and more concerned about climate change — all of which will be expressed in the laws of the states where they live. Of course, there are outposts of youthful liberalism even in red states, like Austin or Chapel Hill, and it's no coincidence that they're often found where the big state university is. But you still won't be able to smoke pot there legally.
It's possible that marijuana legalization will follow the trend of other kinds of social change and start in the more liberal states before moving slowly to the more conservative ones. It might accelerate once the older generations that had almost no personal experience with it are gone. Twenty years from now, the pre-boomers born before 1940 will be in their mid-90s and up, and will be rapidly dying off. At that point, you'll probably be able to pass marijuana legalization almost anywhere.
For now though, one of our two great parties isn't just against marijuana legalization, it's about to nominate a candidate whose campaign is explicitly centered on a promise to turn back the clock to an earlier, supposedly greater age. One of Donald Trump's key messages to the electorate is that in an alienating and confusing world, he can make America like it was when you were younger and everything made sense. People speaking Spanish, technology you don't understand, the kids with their loud music and pants drooping down — Trump will take care of it all.
Not that Hillary Clinton — at 68, just a year and a half younger than Trump — is some kind of fresh-faced character. But her party is the default choice of young people, particularly after the presidency of Barack Obama, who won voters under 30 by 34 points in 2008 and 23 points in 2012.
Though the California Democratic Party has endorsed the state's legalization initiative, national Democrats, including Clinton, aren't quite ready to go that far. The 2016 Democratic platform will include a plank expressing support for states that have decriminalized marijuana, but it won't advocate federal legalization, which is a pretty fair approximation of where the national party and its presidential nominee are on this issue. Clinton says that she supports medical marijuana but wants to wait and see how state experiments with legalization turn out before supporting legalization at the federal level (her more youth-oriented primary opponent, Bernie Sanders, supported federal legalization).
As happened on gay marriage, national Democratic politicians seem to be tentatively following public opinion, still worried about alienating voters that haven't come along as public opinion has changed. But on the state level, change is happening faster than ever — and the citizens most comfortable with change will find certain places more to their liking and other places more like an older America they'd like to leave behind.

Continue reading for free
We hope you're enjoying The Week's refreshingly open-minded journalism.
Subscribed to The Week? Register your account with the same email as your subscription.