Hillary Clinton's excuse for not backing universal free college is totally bogus
Watering down Bernie Sanders' idea only makes it weaker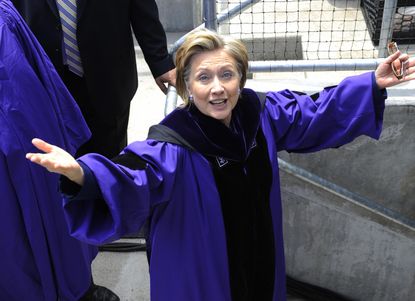 (Image credit: EMMANUEL DUNAND/AFP/Getty Images)
Sign up to our 10 Things You Need to Know Today newsletter
A free daily digest of the biggest news stories of the day - and the best features from our website
Thank you for signing up to TheWeek. You will receive a verification email shortly.
There was a problem. Please refresh the page and try again.
One of Bernie Sanders' signature issues in the Democratic primary was a call for free college at public schools, which galvanized fervent enthusiasm and support among a young generation straining under a huge load of student debt. Sensing a political opportunity, Hillary Clinton recently rolled out her own version of this idea — but it's pretty clear that in her rush to shore up support among millennials without offending deficit scolds, she botched a key detail.
That's because instead of truly free college, her version has a means test. So, at first, only families who make $85,000 per year or less would be able to send their kids to college tuition-free. The threshold for eligibility would then increase by $10,000 per year until capping off at families making $125,000 in 2021. Why? Because "I don't think taxpayers should be paying to send Donald Trump's kids to college," as Clinton said at a debate last November.
Compared to the status quo, this idea is pretty good. But, as usual with moderate liberal policymaking, it's unnecessarily complicated and ideologically blinkered. There's a much more straightforward way to avoid subsidizing Donald Trump's kids: Just raise their taxes.
Subscribe to The Week
Escape your echo chamber. Get the facts behind the news, plus analysis from multiple perspectives.
SUBSCRIBE & SAVE
Sign up for The Week's Free Newsletters
From our morning news briefing to a weekly Good News Newsletter, get the best of The Week delivered directly to your inbox.
From our morning news briefing to a weekly Good News Newsletter, get the best of The Week delivered directly to your inbox.
The problem with Clinton's logic here is looking at the effect of a college policy by itself, without considering the rest of the policy universe. The government does a huge variety of things with income and taxation, many of which have contradictory effects. It's senseless to speak of something like free college being a situation where taxpayers "pay for" individual schooling, without considering the rest of distributional policy. If an otherwise worthwhile policy benefits the rich more than we would want, then it's trivially easy to reverse that by nudging up their taxes.
Now, it is true that on its own, free public college would probably redound more to the benefit of the middle and upper-middle class than it would to the working class and poor. About 62 percent of adult Americans do not have even a two-year degree, and those that do are disproportionately well-off. If free college were to be paid out of general tax revenue, it would tend to have an upwardly redistributive effect.
On the other hand, if public college were dramatically cheaper, there would probably be a significant increase in lower-class enrollment. In the long run, we probably want to extend college education to as large a fraction of the population as possible, and reducing the cost will be an important part of enabling that. So if a free college plan is coupled to increased taxation on the rich — perhaps with a financial transactions tax or closing the carried interest loophole — the egalitarian benefits could be sizable over the long term.
So why else might we want universally free public college? First, with more and more powerful people being folded into this policy, the effective accountability — and hence quality of the schooling — will increase. (Incidentally, ultra-rich people like the Trumps will continue to go to expensive private schools like they always have.) Second, by spreading the benefits of the policy as wide as possible, it will become more politically secure. Third, it would make the proposal easier to understand, and much simpler to implement. No need to set up some complex bureaucracy to adjudicate who is eligible and who isn't — a wise strategy in a country whose government often struggles with such tasks.
But there is an additional ideological advantage: Universal benefits are a powerful counter-argument against the common conceit among the wealthy that they do not benefit from state policy, and instead shoulder the burden of taxation for benefits exclusively for the lower classes. This is of course already nonsense, given how much the wealthy benefit from property law, corporate law, securities law, the vast rich-tilted welfare benefits hidden in the tax code, and so forth. But universal college is a very clear and obvious way to demonstrate that the fortunes of the wealthy are, in part at least, built on a broad social foundation.
To be fair, this is also a problem with the way Sanders has sold free college. He tends to speak of it as an individual right, rather than a simple government benefit. Universal benefits always ought to be framed in an egalitarian fashion — as something that everyone deserves and hence must help support, not a personal entitlement to jobs or a debt-free education for those who work hard.
At any rate, it's still rather encouraging that Clinton has partially come around on this idea. With a bit more prodding, it's just possible she will eventually go the rest of the way.
Continue reading for free
We hope you're enjoying The Week's refreshingly open-minded journalism.
Subscribed to The Week? Register your account with the same email as your subscription.
Sign up to our 10 Things You Need to Know Today newsletter
A free daily digest of the biggest news stories of the day - and the best features from our website
Ryan Cooper is a national correspondent at TheWeek.com. His work has appeared in the Washington Monthly, The New Republic, and the Washington Post.