How Looking perfectly captured American anxiety
I am not gay nor a man, nor a resident of San Francisco, but HBO's underrated series understood me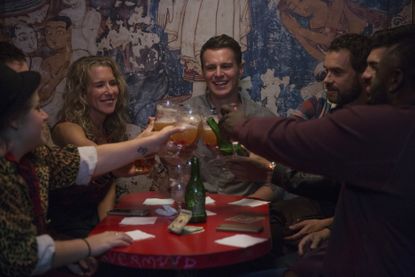 (Image credit: Melissa Moseley/HBO)
My decision to revisit Looking, HBO's short-lived comedy about three gay men in San Francisco, came on a whim. I wanted to prepare for Looking: The Movie, the feature-length wrap-up special that aired Saturday, and the siren call of familiarity proved irresistible. As I watched all 18 episodes in three nights, however, idle enjoyment blossomed into genuine identification. I fell in love all over again.
I am not gay nor a man, nor a resident of San Francisco, but watching the roller-coaster arc of these fictional strangers' relationships unfold, I felt that in some obscure and meaningful way, Looking understood me.
I'm unemployed, you see. Except for an unpaid internship, a couple temp gigs, and a handful of freelance writing assignments, the year since I graduated from college has been a maze of dead ends. The wistful ennui of Looking, once remote, now hit alarmingly close to home.
Subscribe to The Week
Escape your echo chamber. Get the facts behind the news, plus analysis from multiple perspectives.
SUBSCRIBE & SAVE
Sign up for The Week's Free Newsletters
From our morning news briefing to a weekly Good News Newsletter, get the best of The Week delivered directly to your inbox.
From our morning news briefing to a weekly Good News Newsletter, get the best of The Week delivered directly to your inbox.
I identified deeply with the characters. Their foibles — Patrick's (Jonathan Groff) fixation with normalcy, Dom's (Murray Bartlett) futile fumbling for self-reliance, Agustín's (Frankie J. Alvarez) starving-artist hubris — weren't just quirks but manifestations of deep-seated fears: What if I end up alone? What if I don't have anything to contribute to society? What if this is all there is to life?
Adult aimlessness is hardly uncharted terrain. When Looking debuted in January 2014, the media promptly dubbed it "the gay Girls," noting its similarity to Lena Dunham's seminal portrait of privileged dysfunction. But the difference lies in tone.
Showrunners Michael Lannan and Andrew Haigh eschew the caustic misanthropy that has come to define cable comedy the way brooding immorality defines cable drama, opting for a kind of clear-eyed sincerity. Even when Looking's characters are at their most difficult, making insensitive comments or ill-advised choices, they remain objects of sympathy rather than judgment or satire.
Take "Looking for Gordon Freeman." Arriving halfway through season two, the episode focuses on Patrick, whose regret over a botched relationship and guilt over an ongoing liaison with his committed boss culminates in a spectacular public meltdown. As cringe-inducing as the sequence is, it works because director Jaime Babbit and cinematographer Xavier Pérez Gorbet anchor us in Patrick's point-of-view, following him from one disastrous social interaction to another in a series of restless, off-center shots. We share his pent-up frustration and resentment, the tension escalating until an outburst seems inevitable — even welcome.
Such breaking points are a recurring theme. Beneath its sweet rom-com surface, Looking is an exploration of anxiety and the lengths people go to avoid confronting the obstacles in front of them. Agustín's entire season one storyline consists of him channeling his stalled creativity into a reckless sex experiment. Patrick goes to the funeral of someone he's never met to get away from Kevin (Russell Tovey). Doris (Lauren Weedman) instinctively repels sentiment with sarcasm.
Other times, it's not so blatant. One thing you notice when binge-watching Looking is the number of scenes that involve characters eating, drinking, doing drugs, having sex, or dancing. It is pure escapism, temporary pleasures that distract from lingering discontent.
Again, instead of dismissing its characters as petty and narcissistic, Looking turns a sensitive eye to their attempts at self-therapy. It understands that their anxiety stems in part from a culture that idealizes progress; they do, after all, live in San Francisco, birthplace of the modern LGBT rights movement and the center of American technological innovation. In an era of unprecedented freedom, when same-sex marriage is legal, and social media and online dating have made human connection easier than ever, not being happy can feel like failure.
It helps to cling to romance, to imagine that you might, as Patrick says in Looking: The Movie, "suddenly find something by mistake that makes sense, that makes it all easier." With its intimate visual style and meandering structure, Looking seems to occupy a perpetual present, the limbo between expectation and outcome, hope and disappointment.
My defining memory of the show is a scene in my favorite episode, "Looking for a Plot." While in Modesto for her father's funeral the next day, Doris accompanies Patrick and Dom to a gay bar ("I want to go do something fun," she insists). Their earnest talk about their families and childhood gets interrupted when "Walking on Sunshine," the ubiquitous Katrina and the Waves hit, starts playing and they rush to the dance floor. As the camera pulls back and we watch them strut and twist feverishly, bathed in whirling disco lights, time seems to slow down. It's only a moment, but what a moment.

Continue reading for free
We hope you're enjoying The Week's refreshingly open-minded journalism.
Subscribed to The Week? Register your account with the same email as your subscription.