It's no longer Democrat versus Republican. It's aspiration versus anxiety.
The fundamental differences in the parties was on full display at their conventions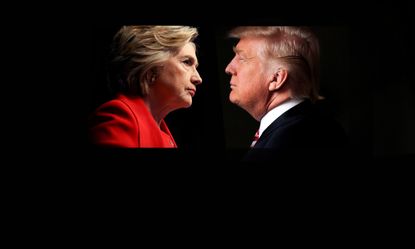 (Image credit: Illustration | Images courtesy Justin Sullivan/Getty Images, REUTERS/Lucas Jackson)
Sign up to our 10 Things You Need to Know Today newsletter
A free daily digest of the biggest news stories of the day - and the best features from our website
Thank you for signing up to TheWeek. You will receive a verification email shortly.
There was a problem. Please refresh the page and try again.
Hillary Clinton is not a gifted orator.
When, in her convention speech on Thursday, she retorted to Donald Trump's brag, "I alone can fix it," with "We can fix it together," her expression wasn't one of satisfaction with her commonsense point. Instead, her eyes bore down on the audience and seemed to say, "Why can't you idiots get this?"
It surely isn't fair to hold it against Clinton that she doesn't manage the performance heights of Bill Clinton or Barack Obama. But political conventions are the pageantry of mass democracy, and Clinton's closing act was a bit of a letdown after excellent offerings from her husband, President Obama, First Lady Michelle Obama, and Vice President Joe Biden. She even seemed a little eclipsed by Khizr Khan, the father of an American Muslim who died serving his country in the military.
Subscribe to The Week
Escape your echo chamber. Get the facts behind the news, plus analysis from multiple perspectives.
SUBSCRIBE & SAVE
Sign up for The Week's Free Newsletters
From our morning news briefing to a weekly Good News Newsletter, get the best of The Week delivered directly to your inbox.
From our morning news briefing to a weekly Good News Newsletter, get the best of The Week delivered directly to your inbox.
Clinton's strongest arguments were those against Trump's character. She said Trump "just stiffed" the working people contracted to work on his projects. And consequently, you should expect he's going to stiff the people who are putting their faith in his political promises. She picked on Trump for being a social media rage-aholic, saying, "A man you can bait with a tweet is not a man we can trust with nuclear weapons." She went after his strongest supporters, by promising to stand up to China and naming all the Trump-branded products that are made in Mexico, Canada, or China.
But even if Democrats concede that Hillary Clinton didn't give a great speech, they will take pride in a well-executed convention.
Unlike the Republican convention, no major Democrats got up and pointedly failed to endorse the candidate. Clinton delegates were "whipped" by organizers to give Bernie Sanders respect. The convention stuck to its broad themes night after night, the convention floor was filled with delegates at all the key moments. It presented them in a logical pageant, with emotional grace notes added by representatives of the black church, of Muslims who have served and sacrificed for the country. The Democratic convention didn't strand important speakers in a half-empty room out of prime time. It was as if the Democratic Party, after a rough and somewhat divisive first day, spent the balance of its time emphasizing its plain normality, and its boring competence.
The Democratic convention's contrast to the GOP convention was striking in its themes, as well. Somehow Trump had focused so much on his personal projection of strength, and the peril that America faces, that he forgot to do the normal flattery and citizen fan-service that goes into most convention speeches. All of the rhetorical and dramatic ground that Republicans abandoned in Cleveland, the Democrats made up for Philadelphia: the loud love of country, the shout-outs to Ronald Reagan, the professions of loyalty to the troops, the jingoistic promises to strike fear into our nation's enemies, and even the impassioned beseechments to God. Truly, the only thing Clinton and Trump's speeches had in common was an appeal to the supporters of Bernie Sanders.
Nearly a decade ago, Sen. John Edwards campaigned on the idea that there were two Americas. And in 2016, these Americas have come into view at these conventions. These two Americas are not defined by haves and have-nots. No, the 2016 campaign is polarized on an axis of aspiration and anxiety.
The Democrats professed values at their convention that people are proud to state in mixed company and in public: tolerance, optimism, liberality. The Republicans emphasized values you express only among confidants, or when writing anonymously on the internet: disgust, despondency, and loyalty to tribe.
Yes, that kind of division maps somewhat onto the existing parties. The Republicans have been in a kind of disarray or crisis mode since about 2006, set upon by intrigues. The Democrats are more inclined to believe the future is going to deliver them all victories by default.
But the division between aspiration and anxiety runs through all of us. And the Trump campaign has gotten this far by betting that aspirational political values are merely professed as a social courtesy, not believed when it really matters. At the heart this campaign is a referendum. What is the real America and who is the real you? Is the country basically strong and good, or is it dissolving in corruption? Is it time for the first woman president, or a strong man? Are you the person who happily checks all the right boxes on the forms the human resources department runs under your nose after training? Or are you the guy in the comments section, saying what everyone else is too afraid to admit?
Continue reading for free
We hope you're enjoying The Week's refreshingly open-minded journalism.
Subscribed to The Week? Register your account with the same email as your subscription.
Sign up to our 10 Things You Need to Know Today newsletter
A free daily digest of the biggest news stories of the day - and the best features from our website
Michael Brendan Dougherty is senior correspondent at TheWeek.com. He is the founder and editor of The Slurve, a newsletter about baseball. His work has appeared in The New York Times Magazine, ESPN Magazine, Slate and The American Conservative.