Republicans are still failing basic governance 101
Zika is not an opportunity to stick it to Planned Parenthood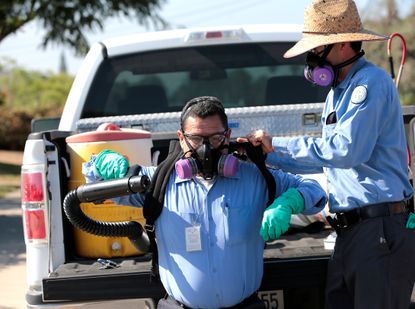 (Image credit: REUTERS/Earnie Grafton/File Photo )
Feel like America has gone too long without being deeply humiliated before the world? Fear not! After a seven-week break, Congress is back in session, ready to faceplant on everything from mundane budget matters to an accelerating national emergency. They have one short month to fund the government and deal with the Zika crisis before another recess comes up. Will they make it? It might be a good idea to avoid visiting Miami until we find out!
The biggest obstacle, once again, is Republicans' instinctive desire to use every point of procedural leverage to try and extract concessions from the Democrats — even when both parties agree on the issue at hand.
It's with respect to Zika — the mosquito-transmitted virus which can cause severe birth defects and possible brain damage in healthy adults, and has infected nearly 17,000 people in U.S. states and territories, as of August 31 — where this tendency is most obvious.
Subscribe to The Week
Escape your echo chamber. Get the facts behind the news, plus analysis from multiple perspectives.
SUBSCRIBE & SAVE
Sign up for The Week's Free Newsletters
From our morning news briefing to a weekly Good News Newsletter, get the best of The Week delivered directly to your inbox.
From our morning news briefing to a weekly Good News Newsletter, get the best of The Week delivered directly to your inbox.
Everyone agrees that the government should pony up extra money for the Centers for Disease Control and Prevention (CDC) so it can fight the outbreak. But as a McClatchy account of the negotiations that broke down before the recess makes clear, the talks cracked over House Republicans' desire to get a few extra goodies. Democrats wanted a clean bill, but Republicans wanted to cut Planned Parenthood out of any Zika money, ban spending it on contraception, reverse a law restricting the display of the Confederate Battle Flag at military cemeteries, temporarily deregulate some pesticides, and pass spending cuts to offset any additional appropriation.
Everything here is transparent nonsense.
Let's start with the most serious sounding proposal: austerity budgeting. First off, it's important to note that Republicans don't "pay for" rich-tilted tax cuts that explode the deficit, either in the past or in future plans. The requirement that budget changes must always be deficit-neutral is a pose used to attack government programs conservatives dislike for unrelated reasons.
Second, even taking such an idea at face value, it's a completely moronic way to approach one-off disasters. Taken to its logical conclusion, the ability of the government to respond to crises would be delimited by the size of the federal budget, at roughly $3.8 trillion. Dealing with a sufficiently serious crisis — say, a medium-sized asteroid strike in an unlucky spot — would require completely destroying every single other part of the government, from the military to the FBI to Social Security and Medicare.
When 10-year bond yields are a piddling 1.6 percent, there is simply no reason not to borrow the money — after all, it's not a new ongoing social program. (By way of comparison, during World War II government debt skyrocketed from 44 percent of GDP to 119 percent — the equivalent of borrowing about $14 trillion today.)
The real tell here is that the final Republican proposal only had $750 million in spending cuts (taken from a broken piece of ObamaCare, Ebola funding, and the Department of Health and Human Services) against $1.1 billion in spending. That implicitly admits the spending does not need to be entirely offset, and hence there is some value in borrowing to address emergencies. But what principle is there to justify offsetting only 68 percent of Zika funding, but not the rest? None is evident.
The Confederate flag provision is obviously a sop to Southern conservatives, as the shot against contraception and Planned Parenthood is to conservative sexual paranoiacs. Indeed, the latter directly harms any anti-Zika effort, since the virus can be transmitted sexually, meaning condoms must be part of any control policy.
It's at least plausible for pesticide deregulation to be directed at Zika-carrying mosquitos, but this too is a fraud. Republicans stuck something called the "Zika Vector Control Act" into the House bill and the conference report (where differences between the Senate and House versions of legislation are hammered out). In reality, this is a basically unrelated giveaway to the pesticide industry that Republicans have been trying to pass since 2011. It would reverse a court decision requiring pesticide users to get a permit under the Clean Water Act when their pesticides might get into bodies of water, only with a sunset provision this time. Authorities already have wide latitude to spray for mosquitos — which incidentally breed in small, stagnant pools, not rivers or lakes — but Republicans just slapped Zika on this turkey to try and sneak it through Congress.
No, what's happening here is obvious: Republicans expect to be paid off for doing what even they agree is the responsible thing. Just like with the debt ceiling, they are exploiting an ongoing disaster for momentary tactical leverage.
On Tuesday, House Republicans passed the same bill as before, which Senate Democrats promptly filibustered. Afterwards, it seems they might just tack a clean Zika bill onto the budget resolution, which must pass to avoid a government shutdown, with the hope that it will be lost in the fray.
That would be a positive outcome. But it's worth underlining how Republican intransigence and irresponsibility combine with poor constitutional design to create an utterly dysfunctional legislature. A sensible country, confronted with a national emergency like a serious disease outbreak, would simply address the problem without getting lost in partisan squabbling. But this is not a sensible country.

Continue reading for free
We hope you're enjoying The Week's refreshingly open-minded journalism.
Subscribed to The Week? Register your account with the same email as your subscription.