The social justice case for Hillary Clinton ends at America's borders
She may be "woke" at home. But she's a danger abroad.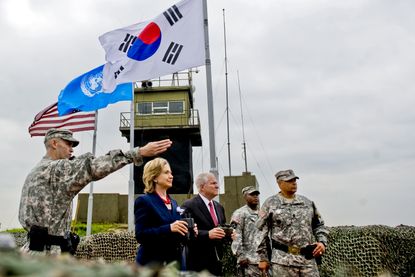 (Image credit: Cherie Cullen/DOD via Getty Images)
Sign up to our 10 Things You Need to Know Today newsletter
A free daily digest of the biggest news stories of the day - and the best features from our website
Thank you for signing up to TheWeek. You will receive a verification email shortly.
There was a problem. Please refresh the page and try again.
If the phrase "social justice" is a mainstay of your vocabulary, the case for preferring Hillary Clinton's election over Donald Trump is almost airtight. Trump's party is the one that has been caught disenfranchising people based on the color of their skin. Trump has called for a blanket ban on Muslims entering the country. He has promised that he will order U.S. soldiers to commit war crimes. He praises stop-and-frisk policies that unfairly target innocent men of color. He has praised the possibility of a huge deportation force.
Hillary Clinton is against all of these things. And consequently, many of her supporters see themselves as taking one of the great moral stands of their lives by voting for her. Voting for her is a way of saying black lives matter, no one is illegal, and Islam is a religion of peace.
These are all noble and good intentions. But allow me to to remind these Clinton supporters that America's government touches the lives of blacks, and would-be immigrants, and Muslims when they are outside of our borders, too. And Clinton's foreign policy would continue to involve America in the destruction of those lives.
Subscribe to The Week
Escape your echo chamber. Get the facts behind the news, plus analysis from multiple perspectives.
SUBSCRIBE & SAVE
Sign up for The Week's Free Newsletters
From our morning news briefing to a weekly Good News Newsletter, get the best of The Week delivered directly to your inbox.
From our morning news briefing to a weekly Good News Newsletter, get the best of The Week delivered directly to your inbox.
In the 2016 race, Clinton has mostly been untouched on foreign policy. Bernie Sanders was preoccupied with launching a political revolution against America's billionaire class and Wall Street. He hardly ever talked about Clinton's foreign policy with any skill or passion. Trump's short attention span and ever-shifting rhetoric between belligerent isolationism and belligerent threats to "take the oil" have also given her a pass.
But eight years ago, Clinton's foreign policy blunders cost her the White House. In the 2008 primaries, Barack Obama asked Democrats to consider one question when deciding between voting for Clinton and himself: "Who got the single most important foreign policy decision since the end of the Cold War right, and who got it wrong?" Somehow, Obama came around to forgetting about this and appointed Clinton his secretary of state anyway, where she helped make the worst foreign policy decision of his administration: helping rebel groups decapitate the Libyan regime.
Clinton has always been more willing than most Democrats to use American air power in an attempt to "shape outcomes" around the world. Her hawkishness is a major reason that she has attracted the support of many neoconservative thinkers who supported the Iraq War. As president, she would inherit America's direct involvement in civil wars in four Middle Eastern countries: Syria, Iraq, Yemen, and Libya. And she would inherit the Obama administration's dramatically expanded use of drone warfare. One can only imagine what she'd do with it.
Clinton's push for intervention in Libya contributed to the disaster that has unfolded since. Libya has been afflicted with more violence, with ethnic cleansing of foreign workers, and several governments vying for control of the state's oil resources. It has become home to a colony of the Islamic State, which makes occasional terroristic sorties into Egypt and other neighboring nations. The violence has overflowed into Mali, which precipitated French bombing in that nation.
Clinton's cozy relationship with Saudi Arabia also puts something of a damper on her reputation as a global humanitarian and crusader for women's rights. Millions of dollars flowed from Saudi Arabia to the Clinton Foundation. And Clinton's close political allies, like John Podesta, have been lobbyists for Saudi interests. Under Clinton's State Department, sales of arms to Saudi Arabia drastically increased. Her aides celebrated the "good news" of new F-15 sales to the Saudis in emails disclosed in the FBI investigation. Those arms are now being deployed by Saudi Arabia, with the assistance of American air power, to starve neighboring Yemen, creating the worst food supply crisis in the world.
"I have yet to see evidence that the civil war we're supplying and supporting in Yemen advances our national security," Democratic Sen. Chris Murphy (Conn.) said recently. "The more it drags on, the clearer it becomes that our military involvement on behalf of the Saudi-led coalition is prolonging human suffering in Yemen and aiding the very groups that are intent on attacking us."
Clinton has been an Iran hawk, bragging about the sanctions she helped to pass as a senator from New York, and enforce as secretary of state. She supports the Obama administration's Iran nuclear deal with caveats, and explained that Iran needs "to understand that America will act decisively if Iran violates the nuclear agreement, including taking military action if necessary." In the past, Clinton has conjured images of an Iranian first strike on Israel, and promised as president she would move "to totally obliterate" them.
Contrary to the idealistic "woke" image she is conjuring at home, Hillary Clinton's foreign policy as president would continue the injustices of the Bush and Obama eras. For many people, the knowledge of this will not dampen their resolve to prevent Donald Trump from becoming president. But it should be a sober reminder that in the American empire, political decisions are rarely as pure as they seem.
Continue reading for free
We hope you're enjoying The Week's refreshingly open-minded journalism.
Subscribed to The Week? Register your account with the same email as your subscription.
Sign up to our 10 Things You Need to Know Today newsletter
A free daily digest of the biggest news stories of the day - and the best features from our website
Michael Brendan Dougherty is senior correspondent at TheWeek.com. He is the founder and editor of The Slurve, a newsletter about baseball. His work has appeared in The New York Times Magazine, ESPN Magazine, Slate and The American Conservative.