The bottomless incompetence of congressional Republicans
The GOP has become incapable of basic legislative maneuvering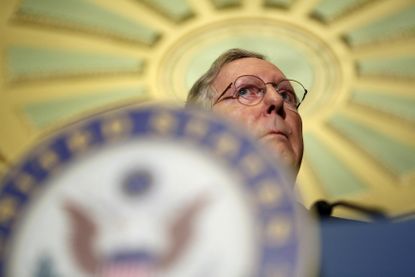 (Image credit: REUTERS/Kevin Lamarque)
Sign up to our 10 Things You Need to Know Today newsletter
A free daily digest of the biggest news stories of the day - and the best features from our website
Thank you for signing up to TheWeek. You will receive a verification email shortly.
There was a problem. Please refresh the page and try again.
Congressional Republicans in the Obama era have generally had two major characteristics. First, increasingly extremist politics, expressed above all by a fanatical resistance to anything the president does; and second, increasingly clownish incompetence at basic legislative mechanics.
Recently, the incompetence seems to be overtaking the extremism, as Republican procrastination allowed Democrats to drive an astonishingly good bargain on the recent budget deal, and Republican inattention to detail apparently allowed them to override President Obama's veto of a 9/11 victims lawsuit bill without understanding what they were actually passing.
Let's take these in turn. As I wrote right when Congress was coming back into session in early September, Republicans had been trying to exploit the Zika crisis to get some goodies for themselves for months. Just like they did with various manufactured debt ceiling crises, and with the wholly unnecessary government shutdown in 2013, they were threatening disaster to extract unrelated policy concessions. In this case, they wanted to "cut Planned Parenthood out of any Zika money, ban spending it on contraception, reverse a law restricting the display of the Confederate Battle Flag at military cemeteries, temporarily deregulate some pesticides, and pass spending cuts to offset any additional appropriation."
Subscribe to The Week
Escape your echo chamber. Get the facts behind the news, plus analysis from multiple perspectives.
SUBSCRIBE & SAVE
Sign up for The Week's Free Newsletters
From our morning news briefing to a weekly Good News Newsletter, get the best of The Week delivered directly to your inbox.
From our morning news briefing to a weekly Good News Newsletter, get the best of The Week delivered directly to your inbox.
Fast forward a month. After bickering and procrastinating for almost the entire session, Republicans ended up caving on almost every one of their demands, and then some. The budget resolution funding the government up through Dec. 9 contains $1.1 billion for Zika, with no restrictions about Planned Parenthood or contraception, and only $400 million of offsets. The bill also contains $500 million in flood relief for Louisiana and elsewhere, funds veterans programs for an entire year, and even appropriates $170 million for the water crisis in Flint, Michigan. It's far, far more than I would have ever expected to make it out of the Republican House.
The veto story goes as follows: Congress overwhelmingly passed a bill allowing families of the 9/11 victims to sue Saudi Arabia for damages in U.S. courts, should they be somehow proved responsible for the attacks. President Obama, citing the risk of retaliatory measures being passed in other countries — particularly the risk of U.S. soldiers being sued in foreign courts — vetoed the bill. Congress, for the first time in Obama's entire presidency, overrode his veto.
Immediately afterward, both Speaker of the House Paul Ryan and Majority Leader Mitch McConnell, plus a bunch of other congressmen who had just voted for the bill, expressed worries that they might have gone too far. Hilariously, McConnell tried to blame the president for not explaining the problems with the bill clearly enough — you know, the one Congress just wrote and passed twice.
It's unclear whether Republicans were actually not paying attention to what was in the bill they were voting through, or were too afraid of being seen as voting against the 9/11 families during an election year, or some other reason. But probably the most important underlying factor is the sheer unwieldiness of the Republican base. The GOP's guiding electoral principle during the Obama years has been the fanatical posture that the country is on the verge of total disaster, and therefore that procedural extremism to force the president to heel — for example, shutting down the government to try to coerce him into defunding ObamaCare — is an urgent necessity. Anyone who tried to explain the constitutional limits of congressional power, or worse, tried to come to some accommodation with Latinos so as to win the presidency, was denounced as a RINO heretic and sometimes even scourged out of the party. It's like having messianic cultists in the government — and paved the way for a lying demagogue like Donald Trump to win the party's presidential nomination.
A party fueled by that level of diseased thinking just can't make the sort of tactical compromises necessary to govern sensibly in concert with a president from the opposing party. A functioning party, presented with a popular but potentially problematic bill like the 9/11 one, would simply bury it in committee and play dumb. But Republicans are too terrified of being seen as Obama apologists to manage that strategy, so through it goes.
When it comes to must-pass budget bills, since fanatical base voters will automatically reject any overt compromise with the president, the de facto fallback strategy has become waiting until the absolute last minute, and then rushing everything through all at once, hoping that nobody notices what's happened. Democrats, with their far greater level of trust from their base, and hence greater tactical maneuverability, can press the advantage — and seem to be getting better at it.
To be clear, this doesn't say that much of Democrats. They have lost control of most state governments and both houses of Congress, and their party's presidential nominee is barely a few points ahead of a deranged maniac. Nevertheless, it's worth remembering that the Republican Party has all but forgotten the point of being in government in the first place.
Continue reading for free
We hope you're enjoying The Week's refreshingly open-minded journalism.
Subscribed to The Week? Register your account with the same email as your subscription.
Sign up to our 10 Things You Need to Know Today newsletter
A free daily digest of the biggest news stories of the day - and the best features from our website
Ryan Cooper is a national correspondent at TheWeek.com. His work has appeared in the Washington Monthly, The New Republic, and the Washington Post.