Hillary Clinton is not cool. That's okay.
She is deeply and truly a pragmatic incrementalist. There's nothing romantic about that.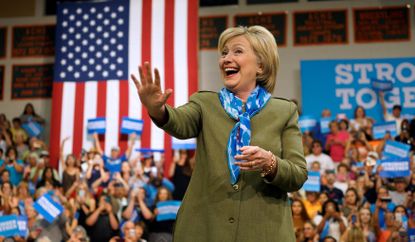 (Image credit: REUTERS/Rick Wilking)
Sign up to our 10 Things You Need to Know Today newsletter
A free daily digest of the biggest news stories of the day - and the best features from our website
Thank you for signing up to TheWeek. You will receive a verification email shortly.
There was a problem. Please refresh the page and try again.
Few things get a political campaign's blood pumping like secretly recorded audio of their opponent, the hope being that what the candidate said might be used against her the way Mitt Romney's "47 percent" remark was. Once her dark heart is revealed, all will turn away from her in disgust! Or so Republicans no doubt hoped when they heard that a new recording had emerged of Hillary Clinton telling a group of donors at a fundraiser in February what she thought of the young people supporting Bernie Sanders' campaign. Her contempt would finally be clear for all to see, and those young people would... well, maybe not vote for Donald Trump, but at least not vote for Clinton.
Well, it turned out not to be the shocking controversy some had anticipated, not only because it was overshadowed by the three or four contemporaneous controversies Trump had created for himself, but also because the recording mostly showed Clinton being empathetic and understanding, and not dismissive, toward the young people backing her opponent. And it showed something else: Hillary Clinton knows exactly why she couldn't excite young people, and seems to know there's not much she can do about it.
Let's look at what Clinton actually said about those idealistic youngsters filling up Sanders' rallies:
Subscribe to The Week
Escape your echo chamber. Get the facts behind the news, plus analysis from multiple perspectives.
SUBSCRIBE & SAVE
Sign up for The Week's Free Newsletters
From our morning news briefing to a weekly Good News Newsletter, get the best of The Week delivered directly to your inbox.
From our morning news briefing to a weekly Good News Newsletter, get the best of The Week delivered directly to your inbox.
I'd disagree only slightly with Clinton on this analysis: While what she says is true, the attraction of young people to the candidate making grandiose claims about what's possible and promising a revolution would have been nearly the same even if they weren't disillusioned about their current prospects. It comes from the simple fact that they're young. I don't mean that as an insult. It's just that young people are less burdened by the political disappointments of the past and more imaginative about the political future. The candidate who says, "Yes it would be nice to pass single payer but let's be realistic and think about incremental reforms we can make to the Affordable Care Act" is a lot like the parent who says, "Yes it would be nice if your band hits it big, but why don't you take the LSAT just in case." They might have a point, but that doesn't mean it's what you want to hear.
Bernie Sanders was able to tell young people a story within which they could situate themselves: This revolution we're creating together will sweep out the old corrupt order and bring about a new, more humane one. It was inspiring and exciting and dramatic, even if its leader was an unlikely one (and that very unlikeliness became its own kind of hipster appeal). Clinton told no such story about her own candidacy, at least not one in which young people could find themselves. Clinton couldn't inspire them, not only because their candidate argued that she was a representative of that corrupt system, but because she is deeply and truly a pragmatic incrementalist. For her, governing is a tough slog, at the end of which, if all goes well, you will have made progress in improving people's lives. It's not full of joy and glory; it's full of work and setbacks and more work.
That doesn't mean plenty of people can't find inspiration in Clinton's candidacy. If you're a middle-aged woman who had to scrape and claw your way through a sexist society and workplace to make a career for yourself, who knows what it's like to have to work twice as hard as other people to succeed and still have to put up with people asking why you don't smile more, Clinton's dogged persistence can be inspiring — because you can find your story in hers. But young people don't find their story there.
Finding a story that can inspire broad swaths of the electorate is partly about who the candidate is and partly the historical moment in which she finds herself. In 2008, Barack Obama told a brilliant story that enabled not just young people but also the not-so-young to place themselves alongside him. It was about not just hope and change, but the idea that after growing up as a spectator to history, where you just watched momentous events play out on television, you could shape history yourself. His campaign found ways to reinforce that idea at every level; for instance, they made sure to give volunteers a sense of agency, by letting them design their own signs or set up their own pages on the campaign's website. And of course, Obama himself was young, multiracial, cosmopolitan, and cool, not just a figure to admire but someone so many would have liked to be. Supporting him was its own declaration of identity.
During this year's primaries, among young people there was nothing cool about supporting Hillary Clinton. She was the candidate of sober pragmatism and accommodation to the basics of the status quo, and there's nothing romantic about that. She couldn't be anything else.
But at this point, Clinton is not asking young people for very much. They don't need to write songs about her, they don't need to tattoo her face on their skin, and they don't need to join her revolution, since she isn't starting one. All they need to do is vote for her, and she'll take it from there. That wasn't enough to win them over against Bernie Sanders, but it might be enough to get them to the polls against Donald Trump.
Continue reading for free
We hope you're enjoying The Week's refreshingly open-minded journalism.
Subscribed to The Week? Register your account with the same email as your subscription.
Sign up to our 10 Things You Need to Know Today newsletter
A free daily digest of the biggest news stories of the day - and the best features from our website
Paul Waldman is a senior writer with The American Prospect magazine and a blogger for The Washington Post. His writing has appeared in dozens of newspapers, magazines, and web sites, and he is the author or co-author of four books on media and politics.