HBO's Divorce skillfully captures the painful absurdities of a failed marriage
What Divorce gets right about how marriages go wrong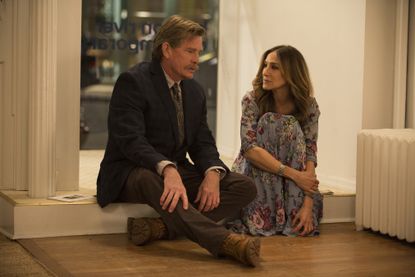 (Image credit: Craig Blankenhorn/HBO)
Sign up to our 10 Things You Need to Know Today newsletter
A free daily digest of the biggest news stories of the day - and the best features from our website
Thank you for signing up to TheWeek. You will receive a verification email shortly.
There was a problem. Please refresh the page and try again.
We tend to think of divorce as a terminal event. In television and film, though, it functions narratively more as a closed bracket than as the hemorrhagic ellipsis it is. With the exception of Grace and Frankie, which handles similar emotional terrain beautifully (albeit with an older age group), even more complex treatments of divorce deal more with the aftermath — the task of co-parenting, for instance — than with the stepwise breakdown through which a marriage ends.
In practice, divorce is a long undertaking, as anyone who's been through it knows. Sharon Horgan's new HBO show Divorce is about that journey.
"I'm divorcing you," Sarah Jessica Parker's character Frances says to her husband Robert (Thomas Haden Church). It's not a verb you see used often in quite that way, but that's the show: Set in a snowy New York suburb, it's a look at a relationship's final months, during which the invisible compacts that make up two people's life together get legislated out of existence, and who those people discover themselves to be on their own.
Subscribe to The Week
Escape your echo chamber. Get the facts behind the news, plus analysis from multiple perspectives.
SUBSCRIBE & SAVE
Sign up for The Week's Free Newsletters
From our morning news briefing to a weekly Good News Newsletter, get the best of The Week delivered directly to your inbox.
From our morning news briefing to a weekly Good News Newsletter, get the best of The Week delivered directly to your inbox.
It's hard to imagine a better premise for Horgan, who's become a master portraitist of human relationships, whether struggling through singledom in her 2006 show Pulling, pregnancy and marriage in the extraordinary Catastrophe (which she writes with co-star Rob Delaney), or divorce in Divorce. "I do have a different thesis for each story," she told The Guardian.
As with any Horgan show, a few choice details build out a believably unpleasant and funny picture of her characters' daily lives. Divorce opens with a resentful Robert telling Frances — who's been studying her face in the mirror after a shower — that he's been waiting for the bathroom for so long that he was forced to defecate outside into a plastic coffee container. (Which he's holding in his hands.) She barely responds. He acknowledges that he might not have done it in this particular container, but that she gets the picture.
It's immediately clear that these are the kinds of theatrics to which he's prone, that she's inconsiderate enough to occasion them, and that this relationship has eroded to the point where she flips him off only after he turns away. They're not even communicating their insults.
The scene feels a little broad — fine for a pilot, the kind of thing you need to establish a certain dynamic, but not a pattern you need to analyze much. So I was surprised to see it referenced in a different episode: "What if I'd been in here shitting?" Robert asks Frances when she barges into the bathroom mid-fight. "You never do that in the morning," she says, hating herself a little for knowing it. That's a smart callback: It deepens our understanding of the unwanted intimacy that's killing the marriage, for one thing. It also forces us to mentally rewind back to that first scene and reevaluate Frances' indifference to Robert slightly: His theatrics about the coffee container are just that, and she knew it even before he said it because she knows how his bowels work.
In other words, it's a coarse metaphor for what divorce stories basically are: progressive divergent retellings of the same incidents. Each party adds interpretive layers and explanations and flashbacks and context. And it doesn't matter, because ultimately it's just a coffee can that no one has actually used as a toilet. (Yet. That's not the coffee can's last appearance.)
This is all to say that Divorce understands that, when it comes to major life events, divorce is kind of a cheat. Because it's a personal tragedy marred by unprocessed banalities (who gets the wagon-wheel coffee table?), the cathartic grief of destroying a shared life gets overtaken by the mundane burden of dismantling it.
Sarah Jessica Parker's character Frances starts the series with some big ideas about life and meaning. "I want to save my life while I still care about it," she says to Robert. That impulse dissipates. When "Julian" (Jemaine Clement), the granola-making professor with whom she's been having an affair, rejects her, Frances is more than willing to try to mend fences with Robert.
Robert is not. But it's noteworthy, in a show that's about two flawed people on their way to becoming their lowest selves, that Robert's justifiable rage at learning about Frances' affair becomes petty, histrionic, and overblown. (How do you figure out how to separate your lives when one party changes the locks and refuses to talk?) There's plenty to laugh at as Frances tries to break into her own house to the tune of Little River Band's "Reminiscing," but no one gets the philosophical high ground here.
What's clear from watching the first few episodes is that divorce, as a subject, is a treasure trove of dramatic storylines. It's not a divorce without undignified moments and bad impulses, without each party generating a competing epic of distance and betrayal over the packing peanuts and takeout. It poses one of life's greatest organizational challenges just when none of the categories make easy sense. Horgan gets that, and exploits it.
But for all that the show does well — and there's a lot — there's something missing. Thomas Haden Church's character Robert bears some resemblance to Rob Delaney's character in Catastrophe, but Delaney brings a warmth and agonized perceptiveness to his performance that makes Catastrophe moving as well as funny. The same can't be said for Church, who tends to deliver his lines in a loud deadpan that's amusing but incompatible with any depth of feeling. A divorce story is about the ways nostalgia overlaps with loss and bitterness and petty greed — again, see Grace and Frankie, which juggles these beautifully — but Haden's rage plays more like a pouty boy's, and Parker's like a petulant girl's. While I'm all for complicated protagonists who are through with love, so much of the pain of divorce stems from discovering the shared codes you didn't realize you had, and it's a little hard to believe these two people were ever a real couple.
This might be partly a function of how lightly the children are written into the show. Kids are an easy way to build stakes and a shared story into a show about a couple and Horgan, at least in the first six episodes, pointedly avoids that shortcut; Frances and Robert's kids are mostly unpleasant and mostly absent. Another possibility is that the relationship's collapse is so new that Frances and Robert are still in shock. Splitting up happens in waves, and the flashbacks and the feelings might come later. The show has room to grow.
For now, there's plenty to like. The writing is sharp and telegraphs its characters' internal messiness. From a purely comedic point of view, Robert's short fuse plays well against Frances' more dogged affect. There are more laughs than you'd expect from the subject matter. And the larger arcs — of how a private rupture develops formal contours, of how divorce undercuts the fantasy of self-discovery — make for compulsively watchable TV.
Continue reading for free
We hope you're enjoying The Week's refreshingly open-minded journalism.
Subscribed to The Week? Register your account with the same email as your subscription.
Sign up to our 10 Things You Need to Know Today newsletter
A free daily digest of the biggest news stories of the day - and the best features from our website
Lili Loofbourow is the culture critic at TheWeek.com. She's also a special correspondent for the Los Angeles Review of Books and an editor for Beyond Criticism, a Bloomsbury Academic series dedicated to formally experimental criticism. Her writing has appeared in a variety of venues including The Guardian, Salon, The New York Times Magazine, The New Republic, and Slate.