Obama's 'messy' wisdom
Barack Obama has always been comfortable with ambiguity. While it may not have given him much political benefit, it's still one of his most admirable qualities.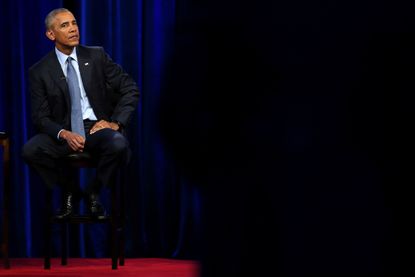 (Image credit: REUTERS/Carlos Barria)
Sign up to our 10 Things You Need to Know Today newsletter
A free daily digest of the biggest news stories of the day - and the best features from our website
Thank you for signing up to TheWeek. You will receive a verification email shortly.
There was a problem. Please refresh the page and try again.
From the moment he stepped onstage at the 2004 Democratic convention, Barack Obama asked his audience to see things in a slightly more complex way, to set aside the categories into which they thought the political world slotted people and ideas. He was both black and white, Kenya and Kansas, arguing that "We worship an awesome God in the blue states, and we don't like federal agents poking around our libraries in the red states. We coach little league in the blue states and, yes, we've got some gay friends in the red states." In the time since, Obama has shown himself to have an appreciation for ambiguity and uncertainty that is uncommonly rare among politicians. In eight years of his presidency, he has tried again and again to convince Americans to share that appreciation. But he has largely failed.
It's not that Obama was ever unable to stick to a simple message — "Yes We Can" was pretty simple — or that he shied away from making clear moral assertions of right and wrong. But as his time in office comes to an end, he's becoming more publicly reflective, and one of the themes running through his statements is the idea of values and goals in conflict, of irreducible complexity, of a government that has to move forward even as it knows that some problems can be ameliorated but not completely solved.
He hasn't been shy lately in his disdain for those who fail to grasp the complexity of the things that government in general, and the president in particular, has to deal with. In June, he conveyed to Bloomberg Businessweek his feeling about corporate CEOs who tell him confidently how he ought to be doing his job:
Subscribe to The Week
Escape your echo chamber. Get the facts behind the news, plus analysis from multiple perspectives.
SUBSCRIBE & SAVE
Sign up for The Week's Free Newsletters
From our morning news briefing to a weekly Good News Newsletter, get the best of The Week delivered directly to your inbox.
From our morning news briefing to a weekly Good News Newsletter, get the best of The Week delivered directly to your inbox.
Obama obviously encounters no small number of business executives who think that politics is no more complicated than selling products and services. But politics is just about the most complicated human endeavor there is, which is a big part of why it's so interesting. Yet everyone seems to think that it demands nothing more than whatever enterprise they're successful in; if I can get people to pay $30 for a printer cartridge, surely I can run the United States government! Obama made a similar point last week at an event on technological innovation in Pittsburgh, even chiding Silicon Valley, where he has gotten tremendous support (and money), by making a related point about government's obligations:
Those broad obligations make the calculations very different for government, even as so many people insist that it ought to "run like a business." For instance, if the Postal Service were a business, it wouldn't bother delivering mail to far-flung rural addresses, because there's no profit to be had when you have to travel so far for each delivery. Indeed, if you send a package to many addresses via FedEx or UPS, those companies will literally take your package to the post office and mail it, because that's a lot more efficient and profitable than delivering it themselves. Because the Postal Service has to serve every American, they don't have any choice but to do things that aren't profitable.
When Obama took office in 2009, he had some big, ambitious goals, but they were meant to address problems that could never be completely solved. By the time he came up with a health care plan during the 2008 campaign, it was already a compromise — it wouldn't cover absolutely everyone, and it was designed to "bend the cost curve," a long-term goal of making things somewhat less expensive. He could celebrate the passage of his bill, but he'd never celebrate a V-day when the health care problem was defeated once and for all. Similarly, he has made significant progress in addressing climate change, but it's still a global problem we'll be working on for decades.
You can argue that Obama has been a good or even great president, yet many of his accomplishments are of this nature — making things better than they would otherwise have been, and reaching partial solutions to nearly intractable problems. And even though he followed a president whose simplistic, Manichean understanding of the world was his undoing, we're now in the midst of a presidential campaign where one candidate, Donald Trump, got his party's nomination by telling primary voters that there are essentially no such thing as complicated problems. What's Donald Trump's health care plan? You're gonna have great health care, believe me. How will he destroy ISIS? I'll knock the crap out of them. How about dealing with economic challenges? We'll have so much winning you'll get tired of winning. Trump is so simple-minded he makes George W. Bush look like a philosophy professor.
And Hillary Clinton? She appreciates complexity, to be sure, but for her it appears to be more a challenge to overcome than an immutable fact of existence. Gather enough information, work hard enough at it, stick with it, and eventually it will yield.
There's also an undeniable difference between liberals and conservatives in the nature of their goals. If you believe cutting taxes is an end in itself, then you can cut them and feel you've accomplished your goal. Slash regulations, get a pat on the back from corporations, and your work in that area is done. But if you have ambitions to use the levers of government to produce improvements in people's lives, you'll inevitably be setting yourself a more complicated task, and one where progress, more than outright victory, is the goal — which means you'll always wonder whether you truly succeeded or if more could have been done.
Barack Obama was always someone comfortable with ambiguity, and while it may not have given him much political benefit, it's one of his most admirable qualities. I want to offer one more quote, from a recent interview he did with Wired magazine, during which he was asked about the benefits people on the autism spectrum offer to society:
As an electorate, we don't want much in the way of surprises, from our politicians or the political system itself. But it will inevitably surprise us, whether we like it or not. It would be nice if we had more politicians who were comfortable with that fact.
Continue reading for free
We hope you're enjoying The Week's refreshingly open-minded journalism.
Subscribed to The Week? Register your account with the same email as your subscription.
Sign up to our 10 Things You Need to Know Today newsletter
A free daily digest of the biggest news stories of the day - and the best features from our website
Paul Waldman is a senior writer with The American Prospect magazine and a blogger for The Washington Post. His writing has appeared in dozens of newspapers, magazines, and web sites, and he is the author or co-author of four books on media and politics.