How four words sealed Donald Trump's fate with women voters
"Such a nasty woman"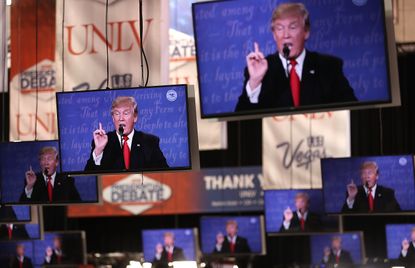 (Image credit: Justin Sullivan/Getty Images)
Sign up to our 10 Things You Need to Know Today newsletter
A free daily digest of the biggest news stories of the day - and the best features from our website
Thank you for signing up to TheWeek. You will receive a verification email shortly.
There was a problem. Please refresh the page and try again.
"Such a nasty woman."
Those four words sealed Donald Trump's fate, not as the loser of the 2016 presidential race — which even before Wednesday's debate he was almost certain to be, unless Hillary Clinton is caught on video strangling a basketful of kittens while pledging eternal loyalty to her lord and master Beelzebub — but as the candidate who did more to alienate women voters than any in modern history. You thought there was a gender gap before? Just you wait.
It was inevitable that Chris Wallace would bring up the fact that in the last couple of weeks around a dozen women have charged that Donald Trump kissed them, groped them, or watched them undress (the latter in the case of pageant contestants, including at the Miss Teen USA pageant) against their will. So you might have thought that even an operation as obviously incompetent as the Trump campaign would have managed to prepare him for the question with a good response, one that didn't just discredit those charges but also made an attempt to reassure women voters with something more persuasive than his oft-repeated "Nobody has more respect for women than I do."
Subscribe to The Week
Escape your echo chamber. Get the facts behind the news, plus analysis from multiple perspectives.
SUBSCRIBE & SAVE
Sign up for The Week's Free Newsletters
From our morning news briefing to a weekly Good News Newsletter, get the best of The Week delivered directly to your inbox.
From our morning news briefing to a weekly Good News Newsletter, get the best of The Week delivered directly to your inbox.
But he didn't have anything better prepared. Instead, he claimed that their stories have been "debunked" (not remotely true), and said, "I didn't even apologize to my wife, who's sitting right here, because I didn't do anything." It was enough to make you think that he has no idea how that sounds to women voters, like a man who tells them that what he did wrong is actually their fault.
But you know who did have a strong answer for that question prepared? Hillary Clinton, naturally. Here's what she said (I've removed Trump's interruptions):
We'll have to wait to see whether this debate has some impact with women voters over and above what has already happened so far in the campaign. But what we already know is that we're heading for the largest gender gap we've ever recorded.
While there were a few earlier elections in which men and women voted somewhat differently, it was in 1980 — when Ronald Reagan beat Jimmy Carter by 1 point among women but 17 points among men — that the gender gap became a semi-permanent fixture of presidential politics, with women always voting more Democratic than men. In the years since it varied somewhat in each election, but it has always been present to some degree. The largest gap came in 2012, when Mitt Romney beat Barack Obama by 7 points among men while Barack Obama won by 11 points among women, for a total gap of 18 points.
This year, it's going to be higher — maybe much higher. Recently, FiveThirtyEight collected gender breakdowns on a group of recent polls, and found the gender gap averaging 26 points. And it's mostly college educated women, a group Romney narrowly won in 2012, who are creating this gap. Some polls have shown Clinton leading among them by as much as 30 points.
What's most remarkable is that Trump either has no idea that he's bleeding women voters and can't win without them, or he thinks that what he's doing will actually win them back. How else to explain how he acted in Wednesday's debate?
It wasn't just his response to the question about his accusers, or even his attempts to attack Hillary Clinton for Bill Clinton's sexual history (message: If your husband cheats, it's your fault). Someone might have told him that women took particular issue with the way he seemed to loom over her during the second debate, walking up behind her while she was talking in a way that looked almost threatening. Or they might have told him that every woman understands that men interrupt women much more often than women interrupt each other — it's a power move that says "I get to decide when you can talk, and as soon as I have something to say you have to shut up" — which means that he'd have to be careful about how much he interrupted her.
But he wasn't careful. Just as in the first two debates, Trump was sedate and contained for the first few minutes, acting as though he was executing some kind of plan. But as soon as things got going, he became dismissive, perturbed, even contemptuous, interrupting her again and again, all while Clinton maintained her calm throughout (which probably irritated him all the more).
And then near the end, Clinton gave Trump a jibe, when talking about Social Security taxes: "My Social Security payroll contribution will go up, as will Donald's, assuming he can't figure out how to get out of it." A little personal? Maybe, but certainly not terribly out of line, and no more rude than a dozen things each of them had said about the other in the preceding hour. But Trump, utterly unable to help himself, leaned into his microphone and said those words: "Such a nasty woman."
Because Donald Trump isn't going to just stand there and let some woman criticize him without showing her who's boss. He showed her, alright. And he showed all the women watching at home, too.
Continue reading for free
We hope you're enjoying The Week's refreshingly open-minded journalism.
Subscribed to The Week? Register your account with the same email as your subscription.
Sign up to our 10 Things You Need to Know Today newsletter
A free daily digest of the biggest news stories of the day - and the best features from our website
Paul Waldman is a senior writer with The American Prospect magazine and a blogger for The Washington Post. His writing has appeared in dozens of newspapers, magazines, and web sites, and he is the author or co-author of four books on media and politics.