The Trump campaign says it's suppressing Democratic votes. Meanwhile Trump suppresses his own.
Since this is the Trump campaign, just as they were trying to make themselves seem clever, they made themselves look stupid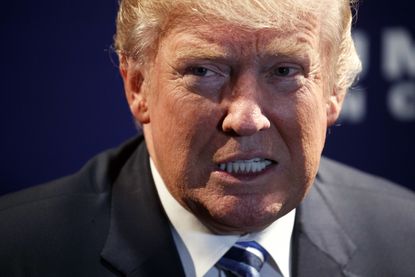 (Image credit: AP Photo/ Evan Vucci)
This is the age of big data and microtargeting, and Donald Trump and his campaign want people to know that they're using cutting-edge tools to make this election a lot more competitive than the dishonest rigged media would have you know. Or at least that's the conclusion you can draw when you suddenly see behind-the-scenes articles on Trump's data operation appearing in major news outlets, reported with access granted by the campaign.
There's a problem, though: These marketing whizzes may not be quite as sophisticated as they look, and they still have to sell a product that most Americans don't want to buy. Even worse, they're being continually undermined by Trump himself.
The use of voter targeting data is one of the many areas where Hillary Clinton's campaign has just been operating on a different level than Trump's throughout 2016. They established their operation earlier, built it up larger, and have been using it more effectively to persuade voters, motivate volunteers, and get ready to move their supporters to the polls. Trump, it's been reported many times, disdains data-heavy methods, believing instead that with enough big rallies, he can become president. But on the same day this week, The Washington Post and Bloomberg Businessweek published articles about the Trump campaign's data operation, the former about Cambridge Analytica, the private firm working for Trump that "says it can predict how most people will vote by using up to 5,000 pieces of data about every American adult," and the latter about the Trump campaign's own data shop.
Subscribe to The Week
Escape your echo chamber. Get the facts behind the news, plus analysis from multiple perspectives.
SUBSCRIBE & SAVE
Sign up for The Week's Free Newsletters
From our morning news briefing to a weekly Good News Newsletter, get the best of The Week delivered directly to your inbox.
From our morning news briefing to a weekly Good News Newsletter, get the best of The Week delivered directly to your inbox.
But since this is the Trump campaign, just as they were trying to make themselves seem clever, they made themselves look stupid. This is the piece of the Bloomberg article that quickly got all the attention:
In fairness, what we're talking about here is not "suppression" in the sense of old-style dirty tricks, like mailing flyers to African Americans threatening them with the possibility of arrest if they try to vote, or even voter ID laws that try to make it difficult for Democratic voters to get to the polls. Instead, the Trump people just mean that they're trying to make certain Democrats as dispirited as possible, which may not be admirable but is within the generally accepted norms of modern campaigning.
But when you're trying to dissuade the other side's voters from turning out, it's generally not a good idea to tell that to reporters. And they seem to believe that one old story or new attack is going to have a dramatic effect on turnout, when there's no reason to think that's true. About their use of that 20-year-old clip of Clinton using the term "super-predators" (for which she subsequently apologized), Trump's data director says, "It will dramatically affect her ability to turn [African Americans] out." Which is somewhere between unlikely and ludicrous.
That brings up the key question raised by all of the data-gathering that campaigns do: Once you have all this information about voters, what do you do with it? You can have an incredibly detailed and sophisticated operation on the input side, but if your output side consists of "Let's send them a flyer saying Trump will make America great again!" then you haven't gotten very far toward expanding your vote. Compared to persuasion, all the data collection is the easy part.
And that highlights the Trump campaign's biggest problem: its candidate. It's interesting that depressing the Clinton vote is a key part of their strategy when Donald Trump is out on the stump every day telling his supporters that it's almost pointless for them to vote.
He doesn't put it that way, of course. But he does say, at mind-numbing length, that the entire system is "rigged," from the media to the polls to the election — particularly the election. This is not a message that's likely to make Trump supporters enthusiastic and ready to round up their neighbors and troop to the polls. If you believed everything Trump is telling you right now, the most logical response would be, "What's the point?" Either Clinton will win legitimately, or Trump will win, but then the election will be stolen from him by this rigged system. In the end, the outcome is the same: Clinton becomes president. So why bother?
We don't know yet whether Trump's rhetoric will actually dampen his supporters' enthusiasm, or to what degree. But as a general rule, when you want to motivate people to action you have to give them both a reason to take action and the feeling that their action will produce results. Political scientists call the latter external efficacy (as contrasted with internal efficacy, which is the feeling that you're personally capable of understanding and participating in politics). You don't need complete faith in the system to have external efficacy, but you have to at least believe there's a possibility that what you do could matter.
Right now Trump keeps telling his voters that the fix is in. No matter how much data you gather, if that's what you convince your supporters to believe, in the end they'll be left with nothing but grievance and excuses.

Continue reading for free
We hope you're enjoying The Week's refreshingly open-minded journalism.
Subscribed to The Week? Register your account with the same email as your subscription.