How the media totally missed the white wave that made Donald Trump president
The media thought this election would be about a Latino awakening. It was wrong.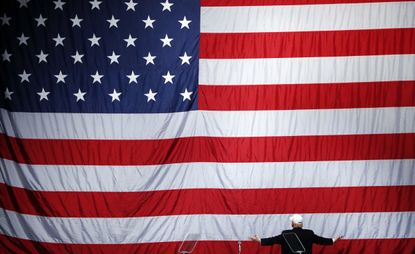 (Image credit: AP Photo/Paul Sancya)
Sign up to our 10 Things You Need to Know Today newsletter
A free daily digest of the biggest news stories of the day - and the best features from our website
Thank you for signing up to TheWeek. You will receive a verification email shortly.
There was a problem. Please refresh the page and try again.
Sometimes, as President Obama likes to say, change happens in increments. Sometimes, it's like a speeding train that came from nowhere.
Sometimes, in the same body, the proteins that code for magnanimity and tolerance and open-mindedness are overwhelmed by those that churn out anxiety-bugs, member-berries, stomach knots, and bundles of resentment.
A bunch of people say they saw this coming. I didn't. And in victory, winners always look smarter, and in defeat, losers always look dumber.
Subscribe to The Week
Escape your echo chamber. Get the facts behind the news, plus analysis from multiple perspectives.
SUBSCRIBE & SAVE
Sign up for The Week's Free Newsletters
From our morning news briefing to a weekly Good News Newsletter, get the best of The Week delivered directly to your inbox.
From our morning news briefing to a weekly Good News Newsletter, get the best of The Week delivered directly to your inbox.
But to put it plainly: There were a lot of votes that Hillary Clinton could have gotten, and should have gotten, and didn't. Now Donald Trump will be the next president.
Why?
It's a really complicated story. As I write this, I'm looking at data showing how Hillary Clinton fared worse than President Obama in places where he was strong — her largest deficits, in fact, came from his strongholds.
Two years ago, as Clinton was still making up her mind about whether to run, I sat down in Los Angeles with one of her closest friends, someone who has known her since her White House days. This friend assumed that Clinton would run, and that Republicans would nominate its most electable conservative — perhaps Marco Rubio. Clinton could win, her friend said, but her party has a huge blind spot: It was hemorrhaging white voters, particularly those outside of urban areas, and didn't have a strategy to keep them.
This adviser's biggest fear was that the party's turn toward identity politics, and its self-conscious embrace of the majority-minority coalition that is ascendant in America, had pushed out of its tent a large number of white people. Non-white people are now part of the establishment, and there is a sense among whites, perhaps not entirely without merit, that the multi-racial establishment went out of its way to assert its superiority. To put it another way: Angry whites are tired of being told that they're racist. Or that, because they oppose immigration, that they're anti-Latino. Or that, because they grew up with more traditional gender roles, that they're sexist. The point here is not that these perceptions are grounded in a reality; it's that they exist, and the Democratic Party has done nothing to counter them. The cognoscienti thinks these ideas are foggy.
Now, these white voters say they're motivated by economics. They believe that trade deals have kicked them to the curb. They think that the economic elites oversell the benefits of trade and undersell the harsh realities of job displacement. They think ObamaCare was a raw deal, and that it took money away from them and redistributed it to people who don't deserve it. But the reality is this: They are not poorer than they were; they are not more exposed to the downside of trade than anyone else; and their anger is usually expressed in language that speaks more to culture than material concerns. For years — decades — they've been uncomfortable with the creeping universalism of the elites, and with immigration that dilutes what they think is a common set of values. This year, enough of them voted.
The pundit herd has been bleating about "working-class white vote" for years. We've had arguments about what motivates them, what repels them, how they're handling the shift from a service economy to an information economy, how they're dealing with the anxieties that immigration produces, and how conscious they are that their country is becoming more brown and yellow and less white. We haven't figured out how to solve their problems. (Maybe those problems aren't solvable.)
"White working-class voters just decided to vote like a minority group," tweeted Nate Cohn, the data guru for The New York Times. These voters accounted for more than 40 percent of the electorate. They gave Donald Trump the overwhelming majority of their vote, eclipsing by double digits the margin they gave to Mitt Romney. Pollsters assumed they'd count for about 33 percent.
These voters — white voters without a college degree — tend to be what we condescendingly call low-information voters, which means that they tend not to pay attention to policy details and pay more attention to how candidates make them feel.
The echo chamber created by the new media landscape has turned them into highly-misinformed voters, and they could grow their numbers and fortify themselves without having to formally affiliate with a party, or declare themselves as a member of a group.
We kind of saw this coming — the elites. We did. We've known that, for example, fake news gets reshared on Facebook at a horrifying rate, and that a large minority of Republicans surveyed bought specious lies about President Obama. We just didn't envision an election where enough of them would vote. Our view of the world we live in, and what motivates people around us, is not the right view.
The media, which likes to be on the right side of history, thought the story of this election would be that Latino voters were woken from their slumber by Donald Trump's blatant xenophobia. This would propel Clinton to victory in states like Florida. We could not envision the possibility that a man who has no business being president by any conventional standard would been chosen by a plurality, or, majority of the American electorate.
We did not see another possibility, because our mental models did not (or would not) account for another possibility: That, as Josh Greenman of the New York Daily News put it in a tweet: "There was a scary sense in which this whole year, it felt a little like we were reading history in reverse."
We were due for a reckoning, and we have been given one.
Continue reading for free
We hope you're enjoying The Week's refreshingly open-minded journalism.
Subscribed to The Week? Register your account with the same email as your subscription.
Sign up to our 10 Things You Need to Know Today newsletter
A free daily digest of the biggest news stories of the day - and the best features from our website
Marc Ambinder is TheWeek.com's editor-at-large. He is the author, with D.B. Grady, of The Command and Deep State: Inside the Government Secrecy Industry. Marc is also a contributing editor for The Atlantic and GQ. Formerly, he served as White House correspondent for National Journal, chief political consultant for CBS News, and politics editor at The Atlantic. Marc is a 2001 graduate of Harvard. He is married to Michael Park, a corporate strategy consultant, and lives in Los Angeles.