How identity politics blew up in Democrats' faces
On an often overlooked lesson of the 2016 election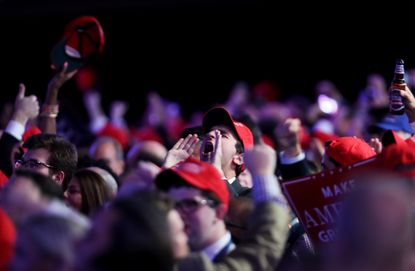 (Image credit: Spencer Platt/Getty Images)
What's the matter with America?
That seems to be the burning question on the tongues of many liberals in the wake of Donald Trump's stunning upset victory over Hillary Clinton. And in a way, that question is a mash-up response to two popular theories on America's political landscape, the first laid out in Thomas Frank's What's the Matter with Kansas?, and the second in The Emerging Democratic Majority by John Judis and Ruy Teixera. These books offer a clear window into how liberals understand not only the broad political landscape, but themselves and their actions within it.
In the latter book, Judis and Teixera claim that America's "shifting demographics were giving rise to a strong new Democratic-voting population base," an "alliance between minorities, working and single women, the college educated, and skilled professionals," as the authors put it in a 2012 article crowing about Barack Obama's re-election victory. They called this majority "McGovern's Revenge," since the 1972 Democratic nominee bet on precisely such a coalition and got walloped.
Subscribe to The Week
Escape your echo chamber. Get the facts behind the news, plus analysis from multiple perspectives.
SUBSCRIBE & SAVE
Sign up for The Week's Free Newsletters
From our morning news briefing to a weekly Good News Newsletter, get the best of The Week delivered directly to your inbox.
From our morning news briefing to a weekly Good News Newsletter, get the best of The Week delivered directly to your inbox.
If 2012 was McGovern's Revenge, then 2016 was Nixon's Revenge. To put it bluntly, it turns out that whites are still a majority in America, and that if you polarize the electorate along racial lines, the majority group will be the winning coalition. It's arithmetic.
But do Americans really vote along racial lines? In some ways, that's what Frank argued in 2005's What's the Matter with Kansas. In his view, Republicans had essentially conned working-class whites into voting against their economic interests by agitating them with racial and social conservative appeals. It seemed unfathomable to Frank and plenty of other liberals that poor and working-class white people in states like Kansas could back Republicans when Democratic economic policies were (supposedly) so much better for these voters.
Now, there is a perfectly good argument that many conservative policies — like, say, the earned income tax credit, or broken windows policing — are good for the economic interests of working-class Americans (of all races, by the way). This is a point that conservatives have been arguing for decades, often going blue in the face. But let's set that aside for a moment. What of the idea that Americans should or do vote with their economic self-interest as their primary concern? A sincerely pro-life voter might vote for the pro-life party even against her own economic self-interest if abortion is her top priority. This is not only not deranged, it's admirable.
But okay — let's just assume that economic self-interest is indeed the most important concern for most voters. And in 2016, according to exit polls, that was indeed the case: The economy was top of mind for voters.
So who tried to be the candidate of the working class? Well, Donald Trump claimed he'd offer strong economic stimulus, in particular for the working class. He promised a huge infrastructure spending plan, across-the-board tax cuts (for the rich too, yes), low interest rates (he's a builder, after all), protecting and possibly even expanding entitlements, amazing health care for all, and protectionist industrial policy, all while twisting the arms of big businesses in various ways. Oh, and fewer foreign wars, which do end up being mostly fought by the children of the working class. (Can we count "not dying for a feckless adventure" as in their interests?)
Against that, what did Hillary Clinton offer America's working class? Well, she offered continuity with existing policy, with just a smattering of populist-lite items like a hike to the minimum wage. But if there's one thing that has been apparent over the past few years, it's that many Americans, particularly downscale Americans, aren't fans of the current political consensus, what with double-digit increases to ObamaCare premiums and 7 million American men out of work. Not great. And between her ultimate political insider status and her shady foundation fundraising, she came across as the virtual incarnation of America's moneyed, self-dealing elite.
What did she focus on instead? An avalanche of appeals to identity politics. Most of her political ads were aimed at bashing Trump for his bigotry toward minorities and women. Don't get me wrong — those attacks were well-deserved. But Clinton's campaign made a conscious choice to win by portraying Trump as the enemy of minorities, rather than by making a case for their candidate as the champion of downscale Americans. That the Clinton campaign's strategy rested on mobilizing voters along racial lines isn't some dirty secret: It's something they bragged about at multiple stages of the campaign.
With the benefit of hindsight, is it any wonder Trump roared to victory on a wave of working-class voters — and not just whites, but Latinos and blacks, too?
That Trump is a grotesque and immoral character whose naked appeals to white supremacism are also grotesque and immoral is something we can and should all acknowledge. But we should simultaneously note that in this election cycle, both political coalitions have worked very, very hard at keeping the electorate polarized along racial lines. And if we buy Frank's premises, we have to contemplate the possibility that it is now the Democrats, the party of money and privilege, who are hard at work getting working-class voters to vote against their interests for the benefit of the aristocracy.

Continue reading for free
We hope you're enjoying The Week's refreshingly open-minded journalism.
Subscribed to The Week? Register your account with the same email as your subscription.