How Donald Trump's tax plan could rescue America's struggling families
His pro-family tax policy is good, but it doesn't go far enough. Here's what he should do.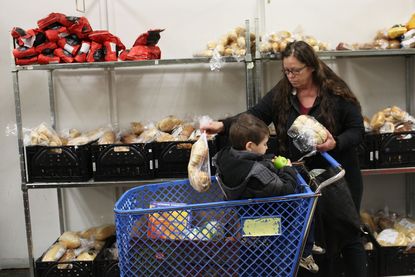 (Image credit: Getty Images)
Now that President-elect Donald Trump has tapped Stephen Mnuchin for his treasury secretary nominee, his economic policy is starting to take shape. Mnuchin has already provided some inkling of what the Trump administration's priorities will be regarding tax policy — and the news is good. But it could be better.
Encouragingly, Mnuchin seems to be prioritizing one of the most exciting things Trump talked about on the campaign trail: pro-family policy. Speaking to the press pool on Wednesday, Mnuchin said "we're going to incorporate the child care program" in Trump's tax reform, and he told CNBC that "the child care credit is a big aspect" of Trump's tax plan. Trump has also promised in the past to institute maternity leave, paid for by the government (which is a good idea, because it means future mothers aren't more expensive for employers and therefore don't suffer a job market penalty as a result of maternity leave).
This is great news. Why? Because American families are hurting, thanks in part to the rising costs of raising children, driven by something called "Baumol's cost disease." This is the phenomenon whereby low-productivity sectors — like childcare and education — get more expensive without corresponding productivity gains, because those sectors have to compete with other, high-productivity sectors to pay wages. As a result, parents are getting less and less out of each childcare dollar. What's more, there is a fundamental unfairness at the heart of how we pay for childcare as a society. As times get economically stressed and money becomes tight, people put off having children, even though children are the future of the country — a cliché, but a correct and important one, nonetheless.
Subscribe to The Week
Escape your echo chamber. Get the facts behind the news, plus analysis from multiple perspectives.
SUBSCRIBE & SAVE
Sign up for The Week's Free Newsletters
From our morning news briefing to a weekly Good News Newsletter, get the best of The Week delivered directly to your inbox.
From our morning news briefing to a weekly Good News Newsletter, get the best of The Week delivered directly to your inbox.
Trump's pro-family policy could help millions of these struggling families. And, as The New York Times recently reported, the Democrats in Congress seem willing to play ball with the incoming president on areas of mutual concern, including child tax credits and child care. As The Upshot's Claire Cain Miller writes, paid maternity and child tax credits are among some of the programs that would help the U.S. working class while still drawing bipartisan support.
Not everything is perfect with the Trump plan, of course. It's not clear what exactly Mnuchin meant when he said "we're going to incorporate the child care program," but if we assume he was referring to the proposal Trump campaigned on, that means a deduction for child care. Unfortunately, this wouldn't effect enough lower-income families who might not make enough to pay income taxes or get the full deduction. The Trump campaign plan also talks about a "rebate" administered through the Earned Income Tax Credit, a program that, having done a lot of good, also has significant administrative problems (many families that are eligible for the tax credit don't claim it). As it stands, Trump's child care program sounds more like a middle- and upper-middle-class entitlement rather than a much-needed saving grace for struggling families.
So, while Trump's plan is a step in the right direction, it wouldn't do enough for the people who need it most. Thankfully, there's a plan out there that does what Trump's plan wants to do, but in a better way. It's known as "Rubio-Lee," after its two main sponsors: Florida Sen. Marco Rubio and Utah Sen. Mike Lee. Rubio-Lee creates a new child tax credit worth $2,500, on top of the existing $1,000 child credit. Crucially, the tax credit is refundable against payroll taxes, which means that lower-income working families would benefit. Rubio-Lee is also bigger and more refundable, two big priorities for Democrats when it comes to family-friendly tax credits.
It's time to put two and two together. The Trump administration should seriously consider getting behind some version of Rubio-Lee, and Democrats in Congress should get behind a Rubio-Lee-like child credit expansion.
People are fed up with politicians not delivering the goods. There's a real opportunity here to do just that. Time to play ball.

Continue reading for free
We hope you're enjoying The Week's refreshingly open-minded journalism.
Subscribed to The Week? Register your account with the same email as your subscription.