Will Donald Trump's historic unpopularity hamstring his presidency?
This is one hated president-elect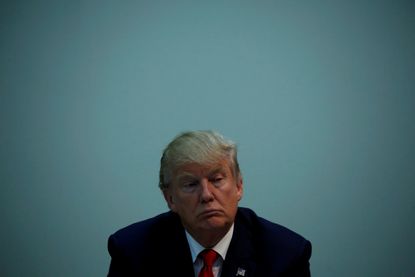 (Image credit: REUTERS/Jonathan Ernst)
Sign up to our 10 Things You Need to Know Today newsletter
A free daily digest of the biggest news stories of the day - and the best features from our website
Thank you for signing up to TheWeek. You will receive a verification email shortly.
There was a problem. Please refresh the page and try again.
During the presidential campaign, it was often noted that Donald Trump was the most unpopular major-party nominee in memory. That somehow didn't stop him from winning the election, but in the days since, the public has decided not to give him the "honeymoon" most presidents enjoy. He'll be taking office as the most unpopular incoming president in memory, too. Trump himself doesn't believe this — he's telling anyone who'll listen that he won an enormous and historic Electoral College landslide (false), and he's not exactly one to trim his sails in consideration of those who oppose him. But might that lack of popularity hamstring his presidency?
Let's look first at where he stands. In the latest polls, Trump's favorable ratings are in the 40s — a touch better than they were during most of the campaign, but still awful. As a point of comparison, eight years ago Barack Obama had favorable ratings 20 points higher than Trump's are now.
And according to Gallup, Americans aren't that happy with the Trump transition, either. We're split 48-48 percent on whether we approve of how he's handling the transition, which might not seem all that bad until you learn that in ordinary circumstances, most people give the incoming president much more of a benefit of the doubt. The approval numbers for Obama, George W. Bush, and Bill Clinton's transitions were 75 percent, 65 percent, and 67 percent, respectively. And it isn't like there wasn't plenty of partisanship around in 2008, 2000, or 1992.
Subscribe to The Week
Escape your echo chamber. Get the facts behind the news, plus analysis from multiple perspectives.
SUBSCRIBE & SAVE
Sign up for The Week's Free Newsletters
From our morning news briefing to a weekly Good News Newsletter, get the best of The Week delivered directly to your inbox.
From our morning news briefing to a weekly Good News Newsletter, get the best of The Week delivered directly to your inbox.
What does that actually mean? It's hard to know for certain, but there are a few ways one could look at those figures. Voters might be reacting to the transition as they see it on the news, an endless parade of supplicants marching through the gold-plated lobby of Trump Tower to ascend to the penthouse and kiss Trump's ring, then descend again to praise him before the cameras, in a process that has all the class and dignity of an episode of The Apprentice. Or they might disapprove of Trump's Cabinet picks, who have certainly not been the best and brightest America has to offer (and who include an unsettlingly large number of people committed to destroying the very agencies they've been chosen to lead). Or it might be a simple partisan calculation, and people who didn't support Trump before aren't going to say anything nice about him now, unless he dramatically changes his ways.
In any case, Trump doesn't start with the public behind him. We've spent a good deal of time considering Trump's most fervent supporters and their seeming willingness to cheer him no matter what he does or says. But will the rest of the public pull him down?
Ideas like legitimacy and mandates that spring from public support are not facts about the world so much as they are a collective perception, one we can decide to believe in or not. You may feel that Trump has no mandate for his more ambitious plans, but if he thinks he does, he'll go ahead and pursue them anyway. He can do certain things on his own, and if he has the votes in Congress for the rest, then he'll do those too.
Congressional Republicans, meanwhile, have a long agenda of unpopular policy changes they want to make, and they won't be impeded by the fact that the majority of the public doesn't actually want tax cuts for the wealthy, corporate giveaways, or restrictions on abortion. They're going to do them because it's what they believe in, even if the public might not approve.
There is some theoretical point at which they'd pay an electoral price for passing unpopular bills. But they know that with a few important exceptions — like trying to privatize Medicare — Americans don't pay all that much attention and might not blame their local congressman even if they don't like what Congress as a whole did. Add in the fact that most members of the House are in safe districts, and the displeasure of the American public as a whole becomes a secondary concern. That's part of the reason why Americans have an incredibly low opinion of Congress, yet re-elect nearly all the members of Congress. So while there might come a point where Republicans in Congress would find it to their advantage to distance themselves from Trump — say, by voting down one of his legislative priorities — he'd have to fall pretty low for that to be a rational move for any given Republican.
There are only occasional moments of accountability in our system, and if, for instance, the economy stays relatively strong, Trump could do a whole lot of unpopular things and still be in a good position for re-election. He doesn't need the whole country to love him; after all, he won in 2016 despite the fact that 54 percent of voters picked somebody else. So even if he falls even further in the public's esteem, he might continue to believe he's got plenty of mandate to spare. And that belief might be all he needs.
Continue reading for free
We hope you're enjoying The Week's refreshingly open-minded journalism.
Subscribed to The Week? Register your account with the same email as your subscription.
Sign up to our 10 Things You Need to Know Today newsletter
A free daily digest of the biggest news stories of the day - and the best features from our website
Paul Waldman is a senior writer with The American Prospect magazine and a blogger for The Washington Post. His writing has appeared in dozens of newspapers, magazines, and web sites, and he is the author or co-author of four books on media and politics.