Donald Trump and The Plot Against America
Lessons from the prophetic genius and eerie parallels of Philip Roth's 2004 book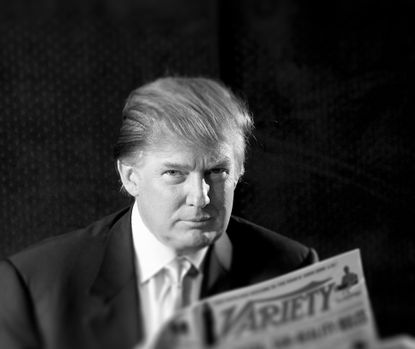 (Image credit: Scott Gries/Getty Images)
It would be an exaggeration to say that Philip Roth predicted the presidency of Donald Trump. But in 2004's The Plot Against America, our greatest living novelist foresaw, in startling granular detail, how a demagogic celebrity like Trump could come to power.
The first precondition is underestimation. Roth's Plot imagines that in 1940 world-famous aviator and America Firster Charles Lindbergh defeats President Franklin Roosevelt, who greets the news of Lindbergh's nomination by Republicans with domineering confidence. Roth writes: "Roosevelt raised everyone's spirits by his robust response on learning that his opponent was to be Lindbergh rather than a senator of the stature of Taft or a prosecutor as aggressive as Dewey or a big-time lawyer as smooth and handsome as Willkie. When awakened at 4 a.m. to be told the news, he was said to have predicted from his White House bed, 'By the time this is over, the young man will be sorry not only that he entered politics but that he ever learned to fly.'"
Robert Taft, Thomas Dewey, Wendell Wilkie — these men were to Roth's Roosevelt as Jeb Bush and Marco Rubio were to Hillary Clinton: members in good-standing of a familiar political class. The Clinton team at one point thought it shrewd to elevate "pied piper" candidates like Trump, Ben Carson, and Ted Cruz — surefire losers, all — and thereby push the eventual mainstream nominee farther to the right.
Subscribe to The Week
Escape your echo chamber. Get the facts behind the news, plus analysis from multiple perspectives.
SUBSCRIBE & SAVE
Sign up for The Week's Free Newsletters
From our morning news briefing to a weekly Good News Newsletter, get the best of The Week delivered directly to your inbox.
From our morning news briefing to a weekly Good News Newsletter, get the best of The Week delivered directly to your inbox.
Whoops!
The second precondition is overestimation: an overestimation by the political establishment of its own mastery over the borders of permissible rhetoric. Trump scapegoated Muslims and Mexicans on his way to the White House. In an infamous speech in Des Moines, Iowa, Lindbergh scapegoated "the Jewish people" or, alternatively, "the Jewish race" as one of the "most important groups who have been pressing this country toward war" in Europe. (The other groups were the British government and the Roosevelt administration.)
"The next day," writes Roth, "the very accusations that had elicited roars of approval from Lindbergh's Iowa audience were vigorously denounced by liberal journalists, by Roosevelt's press secretary, by Jewish agencies and organizations, even from within the Republican Party by New York's District Attorney Dewey and Wall Street utilities lawyer Wendell Wilkie." (Indeed, the real-life Dewey called Lindbergh's speech "an inexcusable abuse of the right of freedom of speech," while Willkie said it was "the most un-American talk made in my time by any person of national reputation." The textbook definition of a racist comment, you might say.)
As it so often does in Trump's America, establishment condemnation, in Roth's fiction, falls on deaf ears.
In addition to exploiting miscalculations by the political class, Trump and Roth's Lindbergh share other similarities. In the book, Lindbergh flies around the country in the Spirit of St. Louis; more advanced airplanes are, of course, at his disposal, but Lindbergh means to evoke nostalgia. He is greeted in Los Angeles by a crowd numbering in the "tens of thousands," many of them aircraft-manufacturing workers. He speaks in language that is "unadorned and to the point." He is unpredictable even to the "professionals who had been assigned by the Republican Party to steer the political novice through his first political campaign…"
Here is Roth presaging another fatal miscalculation: "Democrats were quick to belittle his barnstorming in the Spirit of St. Louis … At press conferences, Roosevelt no longer bothered to make a derisive quip when questioned by newsmen about the unorthodox Lindbergh campaign, but simply moved on to discuss Churchill's fear of an imminent German invasion … It was clear from the start that the president's campaign was to consist of remaining in the White House, where, in contrast to what Secretary Ickes labeled Lindbergh's 'carnival antics,' he planned to address the hazards of the international situation with all the authority at his command, working round the clock if necessary."
Sound familiar?
Americans in Roth's telling are captivated by Lindbergh's campaign, following it daily through the entertainment medium of the day — radio — just as our cable-news networks could not turn away from Trump's rallies. "Twice during the state-by-state tour," Roth writes, "Lindbergh was lost in bad weather and each time several hours passed before radio contact with him was reestablished and he was able to let the country know that all was well."
Perhaps the most striking similarity between the reality of Trump and the fiction of Roth can be found in the character of Rabbi Lionel Bengelsdorf, a Southern-born radio sermonizer supportive of Lindbergh: "I am here," the rabbi says, "to crush all doubt of the unadulterated loyalty of American Jews to the United States of America. I offer my support to the candidacy of Colonel Lindbergh because the political objectives of my people are identical with his. America is our beloved homeland. America is our only homeland."
"What the hell did he do that for?" Roth's father asks. "Does he think that one single Jew is now going to go out and vote for this anti-Semite because of that stupid, lying speech? Has he completely lost his mind? What does this man think he is doing?"
"Koshering Lindbergh," replies Roth's fictional cousin Alvin. "He's up there talking to the goyim — he's giving the goyim all over the country his personal rabbi's permission to vote for Lindy on Election Day." So, too, did Trump's campaign attempt to appeal to black voters — an outreach that was really about reassuring white voters on the fence about supporting a man who speaks of minorities like a jackass watching Fox News from a barstool. Trump's support among Republicans fell into depressive valleys, but by November, they voted like Republicans.
All of this takes place in the first 50 pages of The Plot Against America.
Here's hoping Trump's reality doesn't turn out like the rest of the novel.

Continue reading for free
We hope you're enjoying The Week's refreshingly open-minded journalism.
Subscribed to The Week? Register your account with the same email as your subscription.