The damned Girls
Lena Dunham's series begins its final — and most Sisyphean — season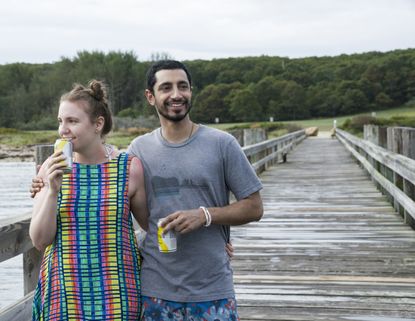 (Image credit: Mark Schafer/HBO)
Girls never changes. In its sixth and final season, Lena Dunham's HBO series about a group of spoiled, smart, unpleasant Brooklynites is still as diffuse and irritating and promising as its protagonist, Hannah (played by Dunham), a bright and self-hating narcissist who started the series by saying she wanted to be the voice of her generation. It was a pronouncement many critics took at face value — ignoring the extent to which Horvath was meant to be seen as a callow 20-something thirsting for fame.
The trouble with Girls is that it frequently lived up (or down) to that callowness: This is an aggressively uneven show. It lazes in an orgy of amusing faux-reflective self-indulgence until it blooms like a corpse flower into sudden brilliance.
But if this is the bildungsroman many thought it was — the story of how "Hannah Horvath," a thinly-veiled Lena Dunham, became a writer — it's one that has steadfastly refused to build. Dunham's commitments are episodic and not serial, and so are Hannah's. No one improves in any linear way. They try, to be sure: Some characters read a little about self-improvement or find an inkling of a direction. But their resolve soon fails, and they give into their worst and easiest impulses.
Subscribe to The Week
Escape your echo chamber. Get the facts behind the news, plus analysis from multiple perspectives.
SUBSCRIBE & SAVE
Sign up for The Week's Free Newsletters
From our morning news briefing to a weekly Good News Newsletter, get the best of The Week delivered directly to your inbox.
From our morning news briefing to a weekly Good News Newsletter, get the best of The Week delivered directly to your inbox.
That should get old — and it did, for a time. Season five was slow going. But that insistence on human cussedness is also what keeps Girls interesting. Dunham sees real dramatic possibilities in writing self-obsessed people who somehow don't care about being likable. If that sounds like an apparent contradiction, in Dunham's hands, it rings true: Her characters are miserable and selfish and clever and inconstant, and they spring to vibrant life onscreen.
That bewildering indifference to likability — in a show called Girls, of all things — made it unique. And controversial. Girls are supposed to want to be likable. Horvath didn't. And Dunham didn't: She wrote a part for herself that features her walking around naked in scenes that aren't sexual or attractive and endured an enormous amount of abuse from the public for doing so. Still, as they say, she persisted.
But Girls was never anything as straightforward as a feminist manifesto: Dunham made a point of writing Hannah herself as self-serving, anxious, and manipulative in ways that make feminism one more tool for her to abuse. Hannah has no problem asserting the feminist principles she learned at Oberlin one second and flashing her boss to try to get out of trouble the next. She's the girl who, back in the second season, told a black Republican (briefly played by Donald Glover) she was dating: "It's ironic, because I never thought about the fact that you were black. I don't live in a world with divisions like that." She's truly terrible.
And she hasn't come a long way, baby.
But she has — according to season six — traveled a mile or two. The season starts with Hannah writing again after a long hiatus — she's made a splash with a "Modern Love" piece about how she lost her best friend (Jessa, played by Jemima Kirke) to her ex-boyfriend Adam (played by Adam Driver). Her friends' reactions to that story suggest that it isn't Hannah's usual easy exhibitionism. And for all that this show avoids improvement, there are signs of minimal but incremental progress: The story Hannah told at The Moth at the end of season five about bringing Jessa and Adam a fruit basket only to overhear them fighting about her turned out to be mostly true — if anything, it was an understated account of what really happened. An awful encounter between Marnie and her ex-husband Desi didn't get reduced to a simple story of abuse. Marnie's despicable behavior was highlighted and underlined and practically narrated in italics; she seemed to feel some genuine remorse (the kind that could lead to change!). Speaking of change, I was genuinely surprised to see Hannah pick Desi up off the ground and wrap his bloody hand in a towel.
Season six is as oddly funny as the show has ever been — Zosia Mamet is in top form, and Dunham's physical comedy in an episode that also stars Riz Ahmed as a surf instructor is off the charts. And, in a concession to the fantasy of progress, the show is living up to some of its most ambitious promises: An episode featuring Matthew Rhys might be one of the greatest Girls episodes of all time. Still, I suspect the fantasy of progress will remain just that. Girls will always be more invested in ambiguity than in resolution — and that's what makes it worth watching.

Continue reading for free
We hope you're enjoying The Week's refreshingly open-minded journalism.
Subscribed to The Week? Register your account with the same email as your subscription.