The empty military pornography of The Great Wall
If you want pageantry and spectacle, The Great Wall delivers. Just don't expect it to mean much.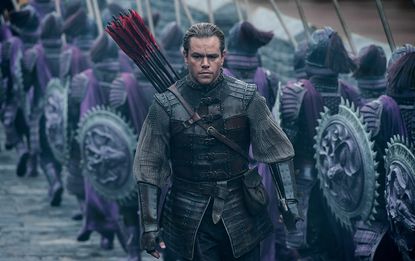 The main lesson of Zhang Yimou's blockbuster film The Great Wall is that walls — particularly great ones — don't work.
China's most expensive movie cost some $150 million to make, and while it's a very pretty bit of military pornography, the dispiriting moral is that if monsters want in, they'll get in. And oh, what monsters. Picture the eponymous creature from Alien run through the screaming Dilophosaurus from Jurassic Park, only heavy as cows and synced up like bees. The only spectacle more worrying than the endless streams of color-coded soldiers manning the Great Wall — rendered as a pleasingly literal war machine here, complete with gigantic scissors — is the plague of "Taotie" who pop up every 60 years or so to feed their queen human flesh.
The monsters either arrived courtesy of an asteroid or they're divine punishment for a bad emperor's greed. They're slimy and sub-verbal and well-muscled. As in Jurassic Park, they adapt. But what's interesting about The Great Wall isn't plot or dialogue (neither does much) but the insistence on multitudes. The Taotie would be frightening enough if there were just one of them. (That their eyes are on their shoulders doesn't seem to make them any easier to beat.) But there's a reason this film keeps getting compared to the Beijing Olympics: It's heavily invested in the military aesthetics of crowds. And if that interest in scale occasionally zooms out to give the military formations on the wall an almost ant-like appearance — these crowds are huge — the Taotie kill that comparison by becoming horrifyingly formicidous in a different way. Instead of one horror-monster there are thousands, and they can swarm up the wall like ants. But their motion is chaotic and swirly and coordinated in a repulsively biological way that contrasts sharply with the sharp clean military maneuvers of the Nameless Order charged with keeping the Taotie at bay.
Subscribe to The Week
Escape your echo chamber. Get the facts behind the news, plus analysis from multiple perspectives.
SUBSCRIBE & SAVE
Sign up for The Week's Free Newsletters
From our morning news briefing to a weekly Good News Newsletter, get the best of The Week delivered directly to your inbox.
From our morning news briefing to a weekly Good News Newsletter, get the best of The Week delivered directly to your inbox.
As for the plot, such as it is: Matt Damon plays William, a malodorous mercenary soldier traveling through China with his pal Toval (Pedro Pascal) in search of gunpowder. They end up captives of the Nameless Order, and William discovers the honorable man within thanks to some exposure to one of their highest commanders: Lin Mae, played by the eerily beautiful Jing Tian. (She belongs to the Crane Troop, an all-women unit that combines acrobatic warfare with bungee jumping. Really, the military parts of this film are great fun.) Willem Dafoe is there too; he's been a captive for 25 years and has spent them teaching commander Lin Mae English and Latin.
The script is as flawed as the old greedy emperor who brought down the curse. Even so, these are not particularly good performances. Damon's accent wanders amiably from region to region, Pascal doesn't get enough to do, and Dafoe — whose pointed mania usually crackles onscreen — opens his eyes very wide to no real purpose. That said, Damon and Jing Tian are pleasant to watch, and the Nameless Order is fascinating whenever it isn't fighting — I'd happily watch a Game of Thrones set in that dining hall. Zhang Hanyu and Andy Lau play General Shao and strategist Wang with warmth and gravitas; they do more than their fair share to anchor a film whose main virtue is its magnificent pageantry.
As for the controversy over Damon being cast as a "white savior" figure in a film about a Chinese military force the likes of which the world has never seen: The objection has some merit, at least in a couple of early scenes that don't make a whole lot of sense. The fight scenes are oddly disappointing; it seems like the Nameless Order should fare a lot better than they do. But one reason William succeeds against the Taotie is eventually revealed, and it doesn't have much to do with him. His specialness erodes, in other words. By the end of the film, those understandable concerns are mostly addressed.
Again, the most important takeaway of The Great Wall is that it doesn't work: not as a defense system, and not as a film. There are other lessons one could draw: Take the fact that abandoning its strict isolationist policies and welcoming an outsider or two saves the Nameless Order (and China). Or that if an enemy wants to get in, it'll get in — and the frontal attacks are a distraction. Also: Magnets are neat, a color-coded army looks amazing even if it's a terrible idea in practice, and shoulder-eyes, while creepy, seem terribly maladaptive.
But the film's biggest message is visual: If you want pageantry and spectacle, and if you want to think about crowds, The Great Wall delivers. Just don't expect it to mean much.

Continue reading for free
We hope you're enjoying The Week's refreshingly open-minded journalism.
Subscribed to The Week? Register your account with the same email as your subscription.