America is afflicted with a deleterious disease: Loneliness
Americans are sharing a drink they call loneliness. And too often, they're drinking alone.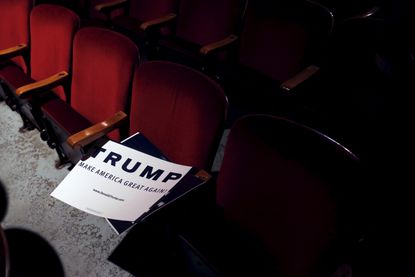 (Image credit: REUTERS/Andrew Kelly)
Sign up to our 10 Things You Need to Know Today newsletter
A free daily digest of the biggest news stories of the day - and the best features from our website
Thank you for signing up to TheWeek. You will receive a verification email shortly.
There was a problem. Please refresh the page and try again.
President Trump is a tornado. And all too often, we are so transfixed by the whirlwind that we fail to step back and see the larger weather patterns.
The Trump presidency could only blow over a society weakened by a deep and advanced stage of rot. The reason we find the idea that he might set up an authoritarian regime in the U.S. even remotely plausible is because we've all been aware, at least at a dim background level, of the unprecedented accretion of power in the federal government and the executive branch. Meanwhile, social media, hyper-polarization, and a sputtering press corps help feed the most problematic dynamics of his chaotic presidency.
Trump's rise was enabled by deep social maladies. And even if Trump is impeached tomorrow, these social maladies will persist and leave our society vulnerable to other "black swan" social-political fiascoes. The best way to get rid of Trump, or at least those parts of his political persona that are most troubling with regard to republican governance, is to cure those maladies.
Subscribe to The Week
Escape your echo chamber. Get the facts behind the news, plus analysis from multiple perspectives.
SUBSCRIBE & SAVE
Sign up for The Week's Free Newsletters
From our morning news briefing to a weekly Good News Newsletter, get the best of The Week delivered directly to your inbox.
From our morning news briefing to a weekly Good News Newsletter, get the best of The Week delivered directly to your inbox.
What are they? Over time, I've grown to believe that the root cause of all these maladies lies in a simple word: loneliness.
For decades, loneliness has quietly been on the rise in America. Traditionally, America was known as a society of "joiners": not only churches, but lodges and fraternal organizations, civic society groups, PTAs, kids' baseball teams, Boy Scouts, fraternities and sororities, you name it. This was a uniquely American thing. There is a French word for "entrepreneur," but there is no French word that captures the quintessentially American concept of "community" — as in "this is a great community" or "he's a leader in the community." Famously, this feature of American life is what most stunned Alexis de Tocqueville when he visited American shores in the 19th century.
Americans are more divorced than ever, and less churched than ever. The sociologist Robert Putnam chronicled the new American loneliness in his book Bowling Alone, which shows the declining trends of membership in all social organizations, from labor unions to PTAs to fraternal organizations to volunteering with the Boy Scouts and the Red Cross. Putnam mostly blames technology and its atomization forces — and the book was written nearly two decades ago, a positive dark age compared to today's attention-sucking technologies.
A 2014 study by the National Science Foundation found that one in four Americans (one in four!) said they have no one with whom they can talk about their personal troubles or triumphs; the number doubles to more than half of Americans if immediate family is not counted. Read that again.
And you know what one of the most common consequences of persistent loneliness is? Distrust of outsiders — which is everyone when you're lonely. That distrust can quickly and easily shade into anger.
A lot of people talk about Trump's white working-class base (it's so nice that the American intelligentsia finally noticed their existence), and analyze either their immiseration or their alleged prejudice, both of which are important issues. But it should also be noted that it's among this cohort that the trend toward loneliness is most profound, as an important article in The Atlantic recounts.
Whites are less likely to be union members than African Americans, and they are less churched. Of course, loneliness is linked to depression, suicide, and substance abuse — problems particularly acute among working-class whites. (None of which should be interpreted, of course, to mean that we should also ignore the specific and also very serious challenges faced by so many African Americans.)
But the upshot is this: The loneliest Americans also seem to be the most ardent Trump supporters.
This works both ways. Who was the most Trump-resistant group? And who are the least lonely Americans? As anti-Trump conservative David Frum noted, it's Mormons. Mormon life emphasizes social interaction within the church, and Mormon social networks are unbelievably tightly linked. No wonder that they have a cultural emphasis on propriety that made them recoil with disgust at Trump's most distasteful comments, and that they are less susceptible to a message of grievance, anger, and fear of the other.
They're the lucky ones.
Because most Americans are lonely, they nurture their political grievances — pro-Trump, anti-Trump — which only heightens the chaos that enables Trump to be Trump. America is a country with weakened institutional resources to box in a would-be destroyer of constitutional and political norms. Doing something commonsense — like getting an independent investigation into Trump's ties with Russia, or his business conflicts of interest — requires actual political organizing, i.e. people getting together and hashing things out and working toward a common goal. With Republican majorities in both Houses, it requires organizing across party lines. Right now, our ability to do that as a society is basically nonexistent.
The problem of loneliness is something that's much harder to fix than an immigration executive order. If I had an easy fix (other than urging you to go to church this Sunday), I would tell you. But whatever happens with Trump (unless that "whatever" ends up being thermonuclear war), these underlying issues will not go away, and they will keep turning American society into a giant shouting match where no one listens, and everyone is alone.
Continue reading for free
We hope you're enjoying The Week's refreshingly open-minded journalism.
Subscribed to The Week? Register your account with the same email as your subscription.
Sign up to our 10 Things You Need to Know Today newsletter
A free daily digest of the biggest news stories of the day - and the best features from our website
Pascal-Emmanuel Gobry is a writer and fellow at the Ethics and Public Policy Center. His writing has appeared at Forbes, The Atlantic, First Things, Commentary Magazine, The Daily Beast, The Federalist, Quartz, and other places. He lives in Paris with his beloved wife and daughter.