How much longer can Republicans defend Trump over Russia?
The pressure is growing and growing and growing...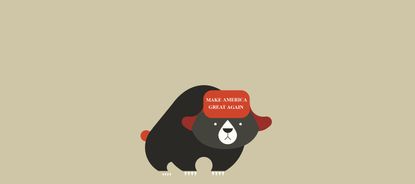 (Image credit: Illustrated | Image courtesy iStock)
Sign up to our 10 Things You Need to Know Today newsletter
A free daily digest of the biggest news stories of the day - and the best features from our website
Thank you for signing up to TheWeek. You will receive a verification email shortly.
There was a problem. Please refresh the page and try again.
There's an explanation out there somewhere for why so many people around Donald Trump have had contact with shadowy Russians. Up until now, the attitude of most Republicans on Capitol Hill has been: What's the problem? Russia, shmussia — we've got more important things to worry about. Inquiries and investigations and subpoenas? That stuff is for when there's a Democrat in the White House.
But with the revelation that Attorney General Jeff Sessions had at least two meetings with the Russian ambassador during the campaign — despite his denial during his confirmation hearing that he had ever done so — members of the president's party are suddenly asking themselves just how far they're willing to go to defend the administration on this question.
We should say that it's possible that Sessions' conversations with the ambassador were perfectly innocent, even if one has to wonder why he would deny that they had occurred if that were the case. And it's possible that there was nothing wrong with Michael Flynn's contacts with the ambassador, or the money he got from Russian state television. And there may be a reasonable explanation for why Trump campaign officials suddenly softened the Republican platform's language about Russia during the GOP convention. And there may be nothing wrong with former Trump campaign manager Paul Manafort's work for a pro-Russian strongman in Ukraine, or with Trump associate Roger Stone's contacts with WikiLeaks about hacked DNC emails, or with the Russian ties of Trump Cabinet members like Rex Tillerson and Wilbur Ross. And maybe Trump's people had absolutely nothing to do with all the Russian hacking that was meant to help him get elected. And perhaps no Republicans were involved in the Russian hacking of Democratic congressional candidates, even though Republicans, including a PAC with ties to none other than Speaker of the House Paul Ryan, then used the information from the hacks to attack their opponents (bet you forgot about that one).
Subscribe to The Week
Escape your echo chamber. Get the facts behind the news, plus analysis from multiple perspectives.
SUBSCRIBE & SAVE
Sign up for The Week's Free Newsletters
From our morning news briefing to a weekly Good News Newsletter, get the best of The Week delivered directly to your inbox.
From our morning news briefing to a weekly Good News Newsletter, get the best of The Week delivered directly to your inbox.
Might it even be possible that there's nothing more to be learned about Trump and Russia, that there are no secrets lying within this web of denial and obfuscation, that it's all above board and ethical? Sure — anything's possible. But given everything that we do know, that seems rather unlikely.
So imagine you're a Republican member of Congress. You already had to make a whole bunch of moral compromises to get behind this president. But you decided it was worth it, both because there are so many conservative initiatives you'd like to see a Republican president sign, and because you despised Hillary Clinton so deeply.
But now every day, you have to decide anew: How far am I willing to go to protect this president and this administration? The answer for any politician is: only as far as it remains to my advantage, both in terms of the policies I want and my own political survival.
But the pressure is growing. The Sessions story broke late Wednesday, and throughout the day Thursday more and more members of Congress — not just Democrats as you'd expect, but Republicans, too — publicly called on Sessions to recuse himself from any investigation into the ties between Russia and the Trump campaign. He acquiesced on Thursday afternoon and now won't oversee any investigations into Trump's 2016 campaign.
That's all well and good, but it was really the absolute minimum he could have done. Indeed, the idea that Sessions, Trump's first endorser in the Senate and his key policy adviser throughout the campaign, could objectively guide an investigation into that campaign was ludicrous on its face, even before we learned of his own Russia ties.
But recusal is easy. As of now there aren't any Republicans agreeing with Democrats that this ever-widening scandal requires an independent commission like the one that investigated the Sept. 11 attacks, a commission that won't be run by Republicans as worried about their own preservation as about getting to the truth.
For now, Republicans are still worried about how this or any Trump administration scandal might affect them. Their fates are tied to the White House. An electorate angry at the president is what produces big midterm losses, the kind where a member can get swept out of office through no fault of his own. So anything they can do to help Trump also helps themselves.
That means they have every incentive to want this scandal to just go away. At some point, though, that calculation could change. There might come a day when Trump's standing has fallen so far that their only hope to avoid getting his stench all over them is to speak out against him. But we haven't reached that point yet; they still serve their own interests more by helping him than by distancing themselves from him.
Right now we have no idea what might be the answer to the question lying at the heart of the Russia scandal: Why? Why is Trump so solicitous of Vladimir Putin, why do so many of his people have ties to Russia, why are those ties so suspicious and so desperately denied? What exactly is behind all this?
There's no way to know whether that question will ever be answered to our satisfaction. But we can be pretty sure there are more revelations to come. And things will get more and more uncomfortable for every Republican in Congress.
Continue reading for free
We hope you're enjoying The Week's refreshingly open-minded journalism.
Subscribed to The Week? Register your account with the same email as your subscription.
Sign up to our 10 Things You Need to Know Today newsletter
A free daily digest of the biggest news stories of the day - and the best features from our website
Paul Waldman is a senior writer with The American Prospect magazine and a blogger for The Washington Post. His writing has appeared in dozens of newspapers, magazines, and web sites, and he is the author or co-author of four books on media and politics.