President Trump has made a familiar mistake in the Middle East
President Trump promised to free America from the distorting influence of Saudi Arabia. Instead, they're closer than ever.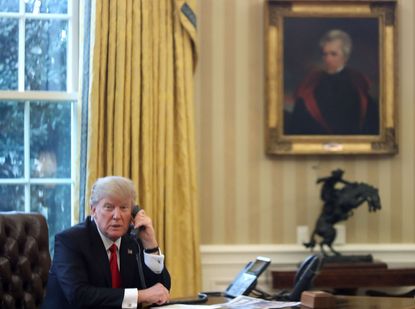 (Image credit: Getty Images)
Another week, another implicit promise of President Trump's campaign broken.
Candidate Trump was totally free of the foreign policy establishment, we were told. And this meant he would free America from the distorting influence of Saudi Arabia. Or at least that's what some people convinced themselves. It turns out it wasn't true.
During the campaign Trump and his media allies hammered Hillary Clinton for her financial ties to Saudi Arabia. "Saudi Arabia and many of the countries that gave vast amounts of money to the Clinton Foundation want women as slaves and to kill gays," Trump tweeted last June, "Hillary must return all money from such countries!"
Subscribe to The Week
Escape your echo chamber. Get the facts behind the news, plus analysis from multiple perspectives.
SUBSCRIBE & SAVE
Sign up for The Week's Free Newsletters
From our morning news briefing to a weekly Good News Newsletter, get the best of The Week delivered directly to your inbox.
From our morning news briefing to a weekly Good News Newsletter, get the best of The Week delivered directly to your inbox.
Trump breaking, or at least revising, America's toxic relationship with Saudi Arabia featured prominently in some versions of what I called "The esoteric case for Donald Trump." Outsider defenders of Trump would say he was needed to break a decades-long grip of the U.S. State Department on the global order. Or to smash the distorting "petrodollar system." (Yes, I know it sounds conspiratorial.) They believed Trump would help break up a poisonous alliance that was spreading Sunni political radicalism across the globe.
WikiLeaks' Julian Assange repeatedly emphasized that both the Clinton Foundation and ISIS were funded by Saudi Arabia. The populist right-wing site WorldNetDaily ran an editorial in January asking Trump to invade Saudi Arabia. In February the perpetually contrarian website Zero Hedge ran an editorial proclaiming, "The Saudis did not want Donald Trump in the White House … And not because of some bad blood on Twitter. There are real geopolitical issues at stake."
And Trump encouraged people to believe this kind of thinking. "Dopey Prince @Alwaleed_Talal wants to control our U.S. politicians with daddy's money. Can't do it when I get elected. #Trump2016," he tweeted in December 2015.
The hysteria of the American foreign policy elite even caused me to hope for some Trumpian alteration to America's long war across the Middle East. After his election, I pleaded for Trump to end America's shameful assistance of Saudi Arabia in its pointless war on Yemen and to give generous humanitarian aid to a country that has been on the brink of starvation over the last two years.
Instead, Donald Trump is expanding U.S. military engagement in Yemen in two ways.
The first is a dramatic increase of bombing suspected al Qaeda units there. Last week the U.S. conducted more bombings in Yemen than it had in any previous year under the Obama administration. More ground raids seem to be in the works as well.
Second, the Trump administration is stripping away the Obama administration's limits on arms sales to Saudi Arabia, arms which it is using to intervene in Yemen and prolong the civil war in what looks like a futile attempt to re-establish a more Saudi-friendly government in the Yemeni capital. The Obama administration had been mostly amenable to Saudi interests in Yemen, but it did come to complain about them, and eventually to limit the ways it assisted them. With Trump those limits are going away.
Those who made the esoteric case for Trump could still argue that Trump is technically doing things in the American interest. Selling weapons is a financial boon. And bombing al Qaeda makes good on Trump's promise to "knock the hell out" of America's terrorist enemies.
But the rest of us can see what's happening. It's the same thing that happened to George W. Bush and Barack Obama before. A candidate who promised not to involve the U.S. in foolish wars of choice gets into office and starts escalating.

Continue reading for free
We hope you're enjoying The Week's refreshingly open-minded journalism.
Subscribed to The Week? Register your account with the same email as your subscription.