The mortal sin of supporting President Trump
On the last temptation of evangelicals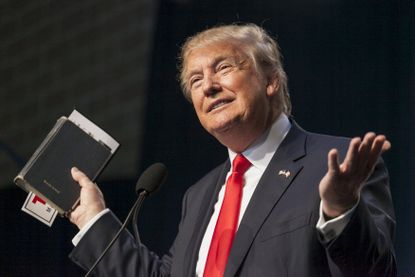 Sign up to our 10 Things You Need to Know Today newsletter
A free daily digest of the biggest news stories of the day - and the best features from our website
Thank you for signing up to TheWeek. You will receive a verification email shortly.
There was a problem. Please refresh the page and try again.
Evangelicals faced a test of temptation with Donald Trump. They failed miserably.
When the world first heard Trump openly discussing his history as a serial molester of women on the Access Hollywood tapes last October, it seemed that the upstart billionaire's campaign had finally reached its terminus. There would be no recovering from this revelation. How could true-believing Christians support him after this?
Russell Moore, the Southern Baptist theologian who heads the Ethics & Religious Liberty Commission, appeared on CNN, clearly having made this assumption. He joked to host Jake Tapper that he was tempted to have a drink in misery. "What I'm concerned about is the reputation of evangelical Christianity and the credibility of the church of Jesus Christ right now," he said. " A lot of the old guard went back to the same tactics of the 1990s. I think it's just leaving a wreckage of cynicism in its wake. It's going to take us longer to recover from this year than it took us to recover from the scandals of the TV evangelists in the 1980s, I'm afraid."
Subscribe to The Week
Escape your echo chamber. Get the facts behind the news, plus analysis from multiple perspectives.
SUBSCRIBE & SAVE
Sign up for The Week's Free Newsletters
From our morning news briefing to a weekly Good News Newsletter, get the best of The Week delivered directly to your inbox.
From our morning news briefing to a weekly Good News Newsletter, get the best of The Week delivered directly to your inbox.
And then Trump won.
Evangelicals supported him en masse. A full 80 percent of white evangelical Christians went for Trump, compared to just 16 percent for Hillary Clinton. Many evangelical leaders, such as Jerry Falwell Jr., Ralph Reed, and Tony Perkins, had made their bed by backing Trump — and it turned out to be a very comfy bed indeed. As a candidate, Trump explicitly promised them power. And during the campaign's darkest hour, they stood by him, unwaveringly. Moore was the exception, and almost wound up unemployed as a result. He spent months in the crosshairs of some in the Southern Baptist rank-and-file who'd grown tired of his stalwart Never Trumpism and his conciliatory posture on issues like race.
Being on the losing side of a historically divisive campaign, it turns out, can be bad for preachers as well as politicians. Yet I believe that Moore's opposition to Trump has been vindicated more meaningfully than it would have been had Trump lost.
Consider what he went on to say in that interview with CNN's Tapper: "The very credibility of what it means to stand up and say, 'We believe in objective truth,' for instance … Many of the people who have warned us for years about situational ethics and moral relativism are now asking us to practice it. It's really heartbreaking to me."
Indeed, political abuse of objective truth under the Trump administration has never been more brazen and thoroughgoing. Trump and his surrogates do not merely lie or stonewall to conceal the truth. They operate as though truth is constantly in flux; they tell lies like masters toss chew toys to dogs.
Trump consigliere Kellyanne Conway is this era's paradigmatic postmodernist liar. Defending her boss' bogus claim to have been wiretapped by President Obama, Conway ascended to a level of prestidigitation that could only be characterized as gonzo: "I'm not in the job of having evidence. That's what investigations are for." Pioneering gonzo journalist Hunter S. Thompson, you may recall, reported on a rumor about Sen. Ed Muskie's use of a mysterious drug — a rumor that he himself started. Conway apparently believes it's the prerogative of presidents to spread rumors and the duty of lawmakers (and, by extension, taxpayers) to substantiate them. Or not. Whatevs.
In the haunting title track of his 2007 album Magic, Bruce Springsteen, inspired by an anonymous Bush aide's boast that "we create our own reality," assumes the role of a wily illusionist and sings, "Trust none of what you hear and less of what you see / This is what will be." Trump, Conway, and the rest of this administration's goon squad are "reality-creators" on steroids. They are like Mick Jagger's Lucifer, turning truth on its head: "Just as every cop is a criminal / and all the sinners, saints / As heads is tails …"
In last year's campaign, Russell Moore essentially pleaded with evangelicals to resist the tempting siren call of relativism. Always, the answer came back, "But Hillary … But abortion … But the secular elite ..." In my own encounters with the faithful, I would retort, "Whoever told you resisting temptation was going to be easy?"
The story of Jesus' temptation by Satan in the wilderness is, as ever, morally clarifying. Satan first attempted to prevail on Jesus to turn stones into bread — to become the Bill Gates of his day, feeder of the world, humanitarian. Then it was the prospect of leaping from the pinnacle of the temple and landing harmlessly, proving beyond a shadow of doubt that he was the messiah. Satan's final temptation was the big one, the hardest to resist: an offer of worldly authority. Of power.
Today's evangelical leaders have accepted this devilish exchange. They have formally aligned themselves with a ruthless man who promised to commit monstrous acts of evil and who thrives on falsehood. (Whether they have done so for power or protection, it scarcely matters; Christians are taught to expect persecution for their faith.)
It turns out there's a handy word for the failure to resist temptation. It's spelled "s-i-n."
Continue reading for free
We hope you're enjoying The Week's refreshingly open-minded journalism.
Subscribed to The Week? Register your account with the same email as your subscription.
Sign up to our 10 Things You Need to Know Today newsletter
A free daily digest of the biggest news stories of the day - and the best features from our website
Scott Galupo is a freelance writer living in Virginia. In addition to The Week, he blogs for U.S. News and reviews live music for The Washington Post. He was formerly a senior contributor to the American Conservative and staff writer for The Washington Times. He was also an aide to Rep. John Boehner. He lives with his wife and two children and writes about politics to support his guitar habit.