Why Republicans whiffed so badly on their ObamaCare replacement
They totally misidentified their base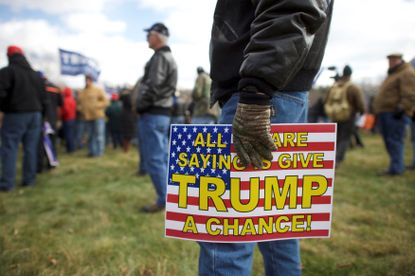 (Image credit: REUTERS/Mark Makela)
Sign up to our 10 Things You Need to Know Today newsletter
A free daily digest of the biggest news stories of the day - and the best features from our website
Thank you for signing up to TheWeek. You will receive a verification email shortly.
There was a problem. Please refresh the page and try again.
The GOP's ObamaCare replacement bill was scored Monday by the non-partisan Congressional Budget Office — and it's a political gut punch. The headline numbers say 24 million would lose coverage and health-care prices would rise by 20 percent.
Republicans have criticized the CBO's estimate for good reason. What the CBO does is educated guesswork, and it actually has a poor track record of estimating coverage in the individual market. In 2010, when ObamaCare was passed, the CBO thought that 21 million people would enroll in the law's exchanges by 2016; the actual number ended up being around 10 million. But the CBO gets undue authority in the political process in part because its models are a black box that don't allow for review.
But pointing this out, while important in some ways, misses the forest for the trees. Avik Roy of the Foundation for Research on Equal Opportunity estimates that the AHCA will probably lead to five million people without coverage, not 24 million. That's a huge discrepancy. But that's still at least five million too many.
Subscribe to The Week
Escape your echo chamber. Get the facts behind the news, plus analysis from multiple perspectives.
SUBSCRIBE & SAVE
Sign up for The Week's Free Newsletters
From our morning news briefing to a weekly Good News Newsletter, get the best of The Week delivered directly to your inbox.
From our morning news briefing to a weekly Good News Newsletter, get the best of The Week delivered directly to your inbox.
The reason why these estimates are so damaging for the bill is not their actual content — historically, bills that the CBO scores badly have managed to get a majority anyway. It's that because everyone already hates this bill, the score just gives them one more cudgel to beat it with.
And the reason why the bill is so hated is, quite simply, that it doesn't do what people put the GOP in office to do. The core political problem of the Republican Party since the end of the Bush era has been that it has misidentified its base. The GOP thought its base was made up of ideologically conservative religious voters; but while those voters are an important constituency, its actual base is white working- and lower-middle-class voters who are much less ideological (particularly on issues of limited government) than the conservative catechism.
And, as many concern-trolly Democrats have pointed out, the people who stand to lose out the most from this bill are Trump voters. Like water rolls downhill, when a party becomes durably disconnected from — indeed, actively hostile to — its core constituency, bad things tend to happen to it. Conservative writers like Ross Douthat and Reihan Salam (and myself) have been pointing out Republicans' demographic reality for a decade now, to no avail. Then Donald Trump essentially came along and destroyed every GOP preconception (and candidate) and won the White House thanks to this fact. But apparently, key figures in the Republican Party like Paul Ryan still haven't internalized what happened.
Donald Trump was elected on the promise of a health-care reform that would cover everyone and under which no one (but particularly his core constituency) would lose out. Criticize the CBO all you want about the details, but it's undeniable that, big picture, this bill does exactly the opposite.
When Trump was elected, I thought his victory would remind Republicans that conservative politics should be one of national solidarity and not just of individualism. I believe in limited government, and don't believe government should control the health-care sector; this in no way contradicts my belief that the most fantastically wealthy nation in the history of the world should ensure that all its citizens are protected from catastrophic health-care expenses.
The most frustrating thing about this entire misadventure has been that it's perfectly possible to write a bill that does many things traditional conservatives want (knock down a bunch of regulations that hold back health-care innovation and inflate costs) while still delivering what Trump voters want (cover everyone). Write a bill that gives everyone a credit for catastrophic health-care insurance, gives everyone a tax-free health savings account, tops up those who can't afford health-care expenses on their own, phases us out of the awful employer-provided coverage paradigm, and strikes down as many of the worst health-care regulations as possible.
Of course, such a bill would promise a very hard political fight — but the current bill is suicidal. Perhaps the most famous essay of the 2016 election cycle was "The Flight 93 election," which argued that conservatives should rally behind then-presumptive nominee Donald Trump because voting him into office was like playing Russian roulette with a revolver, while voting in Hillary Clinton was like playing Russian roulette with a semi-automatic. Well, welcome to the Flight 93 health-care debate. Pushing a good bill might be like playing Russian roulette with a revolver; the AHCA is like playing Russian roulette with a semi-automatic.
Continue reading for free
We hope you're enjoying The Week's refreshingly open-minded journalism.
Subscribed to The Week? Register your account with the same email as your subscription.
Sign up to our 10 Things You Need to Know Today newsletter
A free daily digest of the biggest news stories of the day - and the best features from our website
Pascal-Emmanuel Gobry is a writer and fellow at the Ethics and Public Policy Center. His writing has appeared at Forbes, The Atlantic, First Things, Commentary Magazine, The Daily Beast, The Federalist, Quartz, and other places. He lives in Paris with his beloved wife and daughter.