Is President Trump playing the long game against Paul Ryan?
Supporting the speaker's terrible health-care bill might sound crazy — until you think of it this way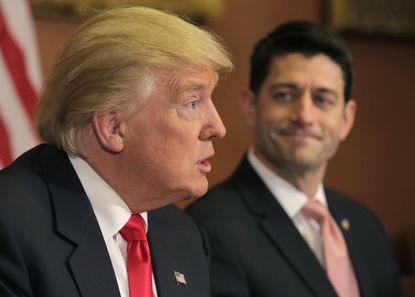 (Image credit: REUTERS/Joshua Roberts)
Sign up to our 10 Things You Need to Know Today newsletter
A free daily digest of the biggest news stories of the day - and the best features from our website
Thank you for signing up to TheWeek. You will receive a verification email shortly.
There was a problem. Please refresh the page and try again.
Has Trump learned nothing from Obama's example?
Back in 2009, President Obama made reforming health care his major domestic priority. He did this even though health-care reform was more important to his party's base than it was to the country as a whole (which was more focused on combating the recession and punishing the malefactors in the financial industry who triggered the financial crisis that caused it), and he stuck with it even as the evidence came in that the effort was far from overwhelmingly popular.
Republicans, knowing that there were bound to be losers in any scheme as complex as the ACA and that people are more motivated by the possibility of loss than by the opportunity for gain, lined up uniformly to oppose the law. When it passed, they were able to ride their opposition into a solid majority in the House and large gains in the Senate — and thereby cripple any future Democratic legislative agenda.
Subscribe to The Week
Escape your echo chamber. Get the facts behind the news, plus analysis from multiple perspectives.
SUBSCRIBE & SAVE
Sign up for The Week's Free Newsletters
From our morning news briefing to a weekly Good News Newsletter, get the best of The Week delivered directly to your inbox.
From our morning news briefing to a weekly Good News Newsletter, get the best of The Week delivered directly to your inbox.
So what is Trump doing? Even though he was elected on a mandate to curtail immigration, renegotiate trade deals, rebuild our infrastructure, and join forces with Russia to fight radical Islam, what's his main legislative priority? Repealing ObamaCare — or as much of it as could possibly be repealed by his party's thin Senate majority.
It's a puzzling choice, particularly given how dreadful the bill has turned out to be. The Republican-headed CBO says 24 million Americans will lose their health insurance, including people in every age bracket, and the White House's own assessment is if anything even more pessimistic (though the administration claims they weren't trying to predict the law's effects, but rather how the CBO would score it). It feels like a free gift to the Democrats, who can rally the many, many losers against the winners — mostly those wealthy enough that for them repeal would be a tax cut.
What is Trump thinking?
It's possible that he's not thinking at all — that he's been gulled by his own party into supporting a bill that baldly traduces his own promises not to touch entitlements or take away anyone's health insurance. But that's probably not the right way to bet. Trump's put his name to a lot of bad products in his time, but he's tried his best to protect himself from personal liability when their shoddiness gets exposed. Brand management is one thing he understands pretty well.
Another possibility is that, like Obama, he really believes that this legislation is worth the risk. Sure, it may cost him his legislative majority in 2018, but isn't that price worth paying to liberate America from ObamaCare's tyranny?
Maybe for Paul Ryan, or for firebrand senators like Ted Cruz or Rand Paul, that would be true. But for Trump?
A more plausible possibility is that Trump thinks the game works differently for him than it did for Obama. Obama's large majority in the Senate in 2008 was built on the back of two successive wave elections, each of which explicitly involved reaching beyond the Democratic core. He had a lot of room to fall. Trump himself certainly altered the shape of the electoral map — but by accelerating polarization, not decreasing it. And his legislative majority in both houses of Congress is thin and dominated by the right.
Because of this, Trump may well think it makes sense to govern as if Democrats just don't matter. If Democrats overwhelmingly oppose anything he does, that may just convince the voters who elected him that he's on the right track. Those people losing insurance? Maybe they're mostly poorer, or non-white, or are happy to avoid paying for insurance that they don't want. Maybe he's gambling that for the bulk of his voters, making sure they aren't paying for insurance for the "undeserving" is precisely the point. Particularly given the shape of the 2018 electoral map, Trump and the GOP may rationally conclude that the more polarized the political environment, the better for them — and the AHCA will certainly be polarizing if it passes. Meanwhile, by 2020 the state of the economy and job growth is what will really matter to voters, or at least an electoral college majority thereof.
But it's also possible that Trump — or his advisers, like Stephen Bannon — are playing a longer game. The AHCA was announced to furious condemnation by many Tea Party-type Republicans for not completely eviscerating the ACA, but instead being "ObamaCare light." Since then, it's shored up its support on the right in the House, but come under fire from less-doctrinaire Republicans in the Senate without having won back Cruz and Paul. What are the odds that a bill with that kind of opposition can even pass? Maybe not high. It's possible that this is fine with the Trump administration, and that in fact they would prefer for the bill to fail.
It would normally be strange for a Republican president to want his own party's majority to suffer a major black eye like that. But this is Ryan's bill, and Trump has no love for Ryan. Moreover, inasmuch as Bannon is in competition with Ryan-ally and Chief of Staff Reince Priebus for influence over the White House's agenda, it's very much in his interest specifically for Ryan to fail. The collapse of the AHCA would be a massive failure — and would likely invite a leadership challenge.
And if it failed quickly, it would be easy for Trump to blame Ryan for getting it wrong, tinker with ObamaCare around the edges (particularly in ways that could be done without even passing legislation), and then when the exchanges don't collapse claim he fixed them. After all, the same CBO report that said the AHCA would cost 24 million people their insurance said that the much-heralded death spiral isn't coming all that soon. Trump could yell at a bunch of insurance executives, watch premiums stabilize, and claim victory.
The most exotic possibility is that Trump not only wants the bill to fail and Ryan to take the blame, but that he wouldn't be too upset to see the Freedom Caucus defanged, opening the door to more creative possibilities. There are certainly people in Trump's inner circle who see the big problem with ObamaCare as being its support of private insurers, and who would prefer a relatively stingy single-payer plan to either ObamaCare or ObamaCare light. Trump doesn't have a legislative majority for a reform like that — but maybe after some strategic losses in 2018 he would?
Personally, I think those kinds of hopes are misplaced, and that Trump ultimately just doesn't care that much about the subject of health care. But it is important to recognize that Trump's position is far less exposed than Ryan's is. If the bill passes, and there's a furious backlash that costs Republicans the House and/or Senate, Trump can do a deal with the Democrats to improve things from a pretty dreadful baseline, which shouldn't be that hard to do. If the bill passes, and Republicans are mostly happy while Democrats are furious, polarization probably helps Trump. If the bill fails, Ryan takes the bulk of the blame and Trump moves on.
The biggest risk to Trump is if his own base either figures out he's not really supporting a bill they claimed to want, or decides he's proposed a bill that is terrible for them and a betrayal of his promises. But for either to happen, the GOP congressional leadership or the Democratic leadership need to do a better job of communicating to Trump's base than he does.
Maybe the question isn't whether Trump has learned anything from Obama's example, but whether the Republican and Democratic leaderships have learned anything from the last election.
Continue reading for free
We hope you're enjoying The Week's refreshingly open-minded journalism.
Subscribed to The Week? Register your account with the same email as your subscription.
Sign up to our 10 Things You Need to Know Today newsletter
A free daily digest of the biggest news stories of the day - and the best features from our website
Noah Millman is a screenwriter and filmmaker, a political columnist and a critic. From 2012 through 2017 he was a senior editor and featured blogger at The American Conservative. His work has also appeared in The New York Times Book Review, Politico, USA Today, The New Republic, The Weekly Standard, Foreign Policy, Modern Age, First Things, and the Jewish Review of Books, among other publications. Noah lives in Brooklyn with his wife and son.