Your microwave probably isn't spying on you. But your fridge and TV might be.
Stop snickering. President Trump and Kellyanne Conway are actually largely right about government spying.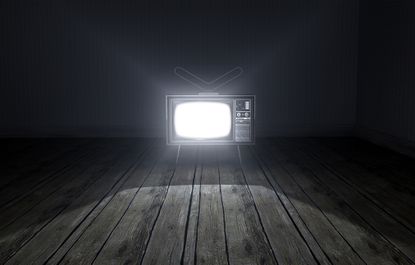 (Image credit: Allan Swart / Alamy Stock Photo)
Sign up to our 10 Things You Need to Know Today newsletter
A free daily digest of the biggest news stories of the day - and the best features from our website
Thank you for signing up to TheWeek. You will receive a verification email shortly.
There was a problem. Please refresh the page and try again.
When President Trump accused former President Obama of illegally wiretapping his phones in Trump Tower in the run-up to the 2016 election, the eye-rolling began immediately. Trump is the "conspiracy-theory president," after all, and here he was at it once again, serving up wild nonsense to the slavering masses without a lick of evidence beyond the apparent influence of a sketchy Breitbart timeline cobbled together in service of a talk radio host's murky ramblings.
As the din of demands for evidence grew louder, White House counselor Kellyanne Conway waded into the fray without her usual Midas touch of spin. Conceding that she hadn't seen proof Trump's phones were tapped, Conway nonetheless protested that "there are many ways to surveil each other."
"You can surveil someone through their phones, certainly through their television sets — any number of ways." In fact, Conway added, the president could have been monitored via "microwaves that turn into cameras."
Subscribe to The Week
Escape your echo chamber. Get the facts behind the news, plus analysis from multiple perspectives.
SUBSCRIBE & SAVE
Sign up for The Week's Free Newsletters
From our morning news briefing to a weekly Good News Newsletter, get the best of The Week delivered directly to your inbox.
From our morning news briefing to a weekly Good News Newsletter, get the best of The Week delivered directly to your inbox.
Trump's allegations produced outrage and incredulity; Conway's comments got pure mockery. Late-night comedians had a field day, with Stephen Colbert revealing one of his on-set cameras is, in fact, a kitchen appliance. We got tinfoil hat jokes, and spying Roomba jokes, and soon enough Conway was walking back her claim.
But why? Internet of things surveillance — basically, your smart devices being able to spy on you — is a real and serious concern. Set aside, for a moment, the facts (or lack thereof) about this specific surveillance allegation. If you do, then absolutely nothing about Conway's microwave statement is crazy.
Remember that story about Samsung's smart TVs back in 2015? The company outright warned its customers against having private conversations in front of this product. "Please be aware that if your spoken words include personal or other sensitive information, that information will be among the data captured and transmitted to a third party," Samsung said. The information wasn't sold to other businesses or shipped straight over to NSA headquarters, of course, but the fact is that smart devices transmitting data poses a security risk — enough of a risk that Samsung gave this word of caution.
Or what about that talking Barbie doll? Equipped with a mic, artificial intelligence à la the iPhone's Siri assistant, and a Wi-Fi connection, Hello Barbie listened to what little kids said and answered back. Researchers soon found they could "get into the toy's system to access users' system information, Wi-Fi network names, internal MAC addresses, account IDs, and MP3 files." This data could be harnessed to "find someone's house and personal information, and could access their home network and listen to everything Barbie records."
And it isn't just televisions and dolls. The former director of national intelligence, James Clapper, said in Senate testimony last year that the federal government is aware of the surveillance potential in the internet of things and has every intention of using those capabilities. "In the future, intelligence services might use the [internet of things] for identification, surveillance, monitoring, location tracking, and targeting for recruitment, or to gain access to networks or user credentials," he said.
To fully fathom Clapper's interest in using the internet of things for spy work, consider just how pervasive this "expanding network of connected devices throughout our homes, bodies, streets, and communities" has become in recent years. It's your smart TV and Hello Barbie, but also your fitness tracker, app-connected baby monitor, Amazon Echo, Xbox Kinect, GM OnStar, Google Nest thermostat and security system, and indeed any gadget or appliance that has "cloud-connected sensors — including cameras, microphones, fingerprint readers, gyroscopes, motion detectors, and infrareds — collecting streams of data about your movements, preferences, and habits."
These are the machines that increasingly run and, crucially, know our lives. They have justifiably been called "the greatest mass surveillance infrastructure ever." Microwaves specifically are not a great example for making this point, but substitute refrigerators and we're good to go. The substance of Conway's point was not wrong.
Beyond internet of things surveillance, fears of being subject to warrantless mass surveillance by the federal government are far from unreasonable. Set aside Trump's salacious phrasing — which conjures visions of Obama cackling as he personally demands a nefarious wiretap — and the feds monitoring Trump Tower becomes perfectly plausible.
"[T]hey may have come upon Trump Tower phone calls if a targeted foreign agent was on the other end of the line," Cory Bennett explained at Politico. "Or Trump Tower digital chatter might show up while digging through the vast quantities of data hoovered up via more sweeping foreign surveillance programs." Intriguingly, Obama's statement rejecting Trump's allegations says neither the former president "nor any White House official ever ordered surveillance on any U.S. citizen," which does not preclude the several surveillance options Bennett suggests.
All told, election interference need not have been on the agenda for Trump and untold millions of ordinary Americans to come under warrantless mass surveillance during the 2016 campaign.
There is nothing paranoid in affirming this fact in the post-Edward Snowden era. The NSA has access to triple the haystack of data it had before the so-called reforms implemented after Snowden's whistleblowing. Our government does spy on us, and as Clapper's remarks indicate, it will use whatever technology is available for the job.
Trump is making all this stuff sound crazy by tossing off half-baked conspiracy theories on Twitter, but the basic subject matter here is not insane. Warrantless mass surveillance happens, and the internet of things is its next big frontier. This is serious stuff with grave implications for privacy, rule of law, and misuse of authority, especially for the most socially and politically vulnerable communities. "Microwaves that turn into cameras" might be a laughing matter; these very real abuses of our civil liberties are not.
Continue reading for free
We hope you're enjoying The Week's refreshingly open-minded journalism.
Subscribed to The Week? Register your account with the same email as your subscription.
Sign up to our 10 Things You Need to Know Today newsletter
A free daily digest of the biggest news stories of the day - and the best features from our website
Bonnie Kristian was a deputy editor and acting editor-in-chief of TheWeek.com. She is a columnist at Christianity Today and author of Untrustworthy: The Knowledge Crisis Breaking Our Brains, Polluting Our Politics, and Corrupting Christian Community (forthcoming 2022) and A Flexible Faith: Rethinking What It Means to Follow Jesus Today (2018). Her writing has also appeared at Time Magazine, CNN, USA Today, Newsweek, the Los Angeles Times, and The American Conservative, among other outlets.