How Democrats can lose well on the Gorsuch nomination
They probably cannot keep Neil Gorsuch off the Supreme Court. But they should still go down swinging.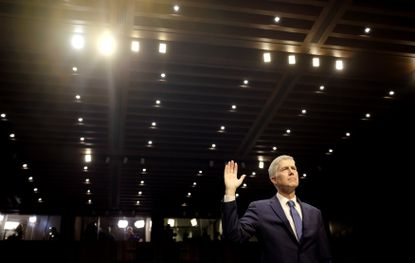 (Image credit: REUTERS/James Lawler Duggan)
Sign up to our 10 Things You Need to Know Today newsletter
A free daily digest of the biggest news stories of the day - and the best features from our website
Thank you for signing up to TheWeek. You will receive a verification email shortly.
There was a problem. Please refresh the page and try again.
Democrats are not going to stop Neil Gorsuch from getting on the Supreme Court. That's the sad truth. But it doesn't mean they can't or shouldn't fight his nomination anyway, because they can and they should. When their effort falls short, Democrats should at least know that they lost well.
Their inability to stop this nomination is a matter of simple math. Republicans have 52 members in the Senate, and every single one of them will vote to confirm Gorsuch. Democrats can filibuster the nomination — an unusual though not unprecedented move — if they can muster 41 of their 48 members to do so, which at this point is not a sure thing. If they do that, Republicans will hold a vote to change Senate rules to require only 51 votes for the confirmation of Supreme Court justices (the so-called "nuclear option"), and then they'll get Gorsuch confirmed that way.
But Democrats should go ahead and filibuster anyway, even if the move won't stop Gorsuch.
Subscribe to The Week
Escape your echo chamber. Get the facts behind the news, plus analysis from multiple perspectives.
SUBSCRIBE & SAVE
Sign up for The Week's Free Newsletters
From our morning news briefing to a weekly Good News Newsletter, get the best of The Week delivered directly to your inbox.
From our morning news briefing to a weekly Good News Newsletter, get the best of The Week delivered directly to your inbox.
They should welcome the increased controversy around the nuclear option, because it will make clear the extraordinary nature of this nomination. This Supreme Court seat was stolen from Merrick Garland, when Republicans invented a new "rule" saying that presidents don't get to appoint Supreme Court justices in the final year of any term. In truth, this is a standard they believe applies only to Democratic presidents; just watch what happens if a justice dies or retires in 2020.
It's important to realize that in filibustering Gorsuch, Democrats have absolutely nothing to lose. Some have suggested they should hold on to the filibuster for a later nomination, if it should happen that a liberal justice retires and Trump has the opportunity to swing the Court dramatically to the right. This is a nonsensical idea, because Mitch McConnell and his colleagues will nuke the filibuster whenever Democrats use it. It can't successfully stop a Republican nominee; its only purpose at this point is to elevate the controversy and drama. So Democrats should use it now as a way to remind people of the contemptible decision that led to Gorsuch being nominated in the first place.
That's the first thing they ought to do. Next, they have to explain to the public what's wrong with Gorsuch, and why he ought to be rejected (even if he won't be). That's an argument that needs to be pitched at the general public, but perhaps more importantly, at the Democratic base.
While there's an opposition research effort in motion to assemble whatever damaging information possible on Gorsuch, the truth is that personal arguments aren't likely to do the job. With the exception of the unusual case of Clarence Thomas, most of the time those kinds of arguments — over things like whether the potential justice should have recused himself in a particular case, or what he said to a law school class — aren't persuasive to large numbers of people, whatever their merits. And given that Gorsuch will almost certainly wind up on the Court anyway, the goal isn't to get voters to think poorly of him personally. It's to make an argument about the kind of country Republicans are trying to create, both for the broader public and for Democratic base voters.
Let's think back to the nomination that for many conservatives started our current era of partisan confirmations. When Ronald Reagan nominated Robert Bork for the Court in 1987, Democrats described him as a radical who would if given the chance turn the clock back on decades if not centuries of social progress. Most dramatically, Ted Kennedy gave a speech in which he described the America Bork would create. Here's part of what he said:
It was a hyperbolic characterization, to be sure. But the rhetorical technique is one Democrats should emulate: They need to describe exactly what would happen if Neil Gorsuch's ideas about the law were to prevail.
Gorsuch's views are not outside the Republican mainstream in the way Bork's may have been 30 years ago. But the views of today's Republican mainstream are precisely the problem. If they have their way, abortion will be outlawed, workers will have fewer rights on the job, consumers will be less able to get justice when they're defrauded, and corporations and the wealthy will be freer to manipulate elections — and that's just for starters.
When they describe this version of America that Gorsuch's confirmation would bring one step closer, Democrats will be talking in large part to their base, making clear to them what the stakes are in the next election. The mobilization of that base — through anger more than anything else — is critical to Democrats' success in future elections. And that's what will determine how soon they get the opportunity to appoint justices more to their liking to the Supreme Court.
Continue reading for free
We hope you're enjoying The Week's refreshingly open-minded journalism.
Subscribed to The Week? Register your account with the same email as your subscription.
Sign up to our 10 Things You Need to Know Today newsletter
A free daily digest of the biggest news stories of the day - and the best features from our website
Paul Waldman is a senior writer with The American Prospect magazine and a blogger for The Washington Post. His writing has appeared in dozens of newspapers, magazines, and web sites, and he is the author or co-author of four books on media and politics.