These are the bald-faced lies Republicans are telling about health care
What a disaster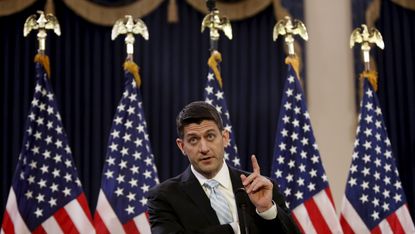 (Image credit: REUTERS/Gary Cameron)
House Republicans are supposed to vote on the American Health Care Act today. If they pass it, they will confirm just about every nasty thing that can be said about them. They will have proven that Republicans never took health-care policy seriously, never meant a word they said about repealing ObamaCare, and are too uncoordinated to back away from certain disaster.
This health-care bill is a set of lies all the way down.
The first lie is that this is a "repeal of ObamaCare." The House Republican plan leaves in place the regulations of insurance companies, like the ones that protect people with pre-existing conditions and keep kids on their parents' health-care plans well into adulthood. It keeps the expansion of Medicaid in place, though it does deprive it of funds.
Subscribe to The Week
Escape your echo chamber. Get the facts behind the news, plus analysis from multiple perspectives.
SUBSCRIBE & SAVE
Sign up for The Week's Free Newsletters
From our morning news briefing to a weekly Good News Newsletter, get the best of The Week delivered directly to your inbox.
From our morning news briefing to a weekly Good News Newsletter, get the best of The Week delivered directly to your inbox.
The second lie is that it's even a health-care bill at all. It's really more of a fiscal bill. The Medicaid cuts and tax cuts for high earners are almost perfectly matched dollar-for-dollar in the Ryan bill. Almost $900 billion in health-care-benefit cuts would, after this bill, become almost $900 billion in tax relief, mostly for high earners. Taxes would also be cut on medical device makers, and other health-care related entities.
There are only two words that matter in American health-care reform: cheaper and simpler. The U.S. pays more for health care than any other country on Earth, while delivering less impressive results. And our health-care system is a worse bureaucratic mess than any other, with far more byzantine sets of third-party negotiators and payers. The Republicans have no plausible story about how their plan would lower health-care costs for insurers and end users, or make acquiring and maintaining health insurance simpler. In fact, the opposite. Health-care coverage would almost certainly become more expensive for seniors under the Republican plan.
Why are Republicans pressing forward with this? Just 17 percent of voters think the GOP is handling the health-care bill well, while 43 percent believe the Republicans should slow down before upending America's health-care system.
Partly it is just inertia. The GOP wants to keep faith with its seven-year promise to repeal and replace ObamaCare. They seem not to have noticed that their own president was elected by promising almost the exact opposite. Trump praised universal coverage and won. This made no impression on Congress, however — and evidently a scant impression on the president, too.
Maybe the worst lie is the self-delusion involved in Republican health-care reform. The Paul Ryans of the world seem not to have noticed that they had spent seven years rooting hard for the Supreme Court to obviate their need to repeal and replace ObamaCare. If there was such great political benefit to junking the law, why root for the Court to deprive you of the pleasure and political windfall of doing it yourself? Obviously, the repeal and replace rhetoric was just boob bait. But Republicans don't have enough sense to back down. What is it about hopeless wars of choice that Republicans can't resist?
As embarrassing as it would be for their first big legislative push to fail, Republicans really would be better off. This party no longer knows what it believes about entitlement reform or health care and it shouldn't pretend to know. After watching Obama's reforms blow up in his face merely for causing some health-insurance policies to be canceled, the GOP should know that passing a law that will disrupt the coverage of millions will be political suicide.
It's time for the GOP to take a time-out on this fiasco and focus their energy on Trump's more populist agenda: immigration, infrastructure, and trade.

Continue reading for free
We hope you're enjoying The Week's refreshingly open-minded journalism.
Subscribed to The Week? Register your account with the same email as your subscription.