Why Wall Street is falling out of love with President Trump
Wall Street feared Trump. Then they loved him. But nothing lasts forever.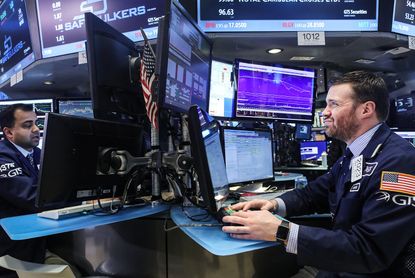 (Image credit: Melissa Moseley/Netflix)
Sign up to our 10 Things You Need to Know Today newsletter
A free daily digest of the biggest news stories of the day - and the best features from our website
Thank you for signing up to TheWeek. You will receive a verification email shortly.
There was a problem. Please refresh the page and try again.
Is President Trump's honeymoon with Wall Street finally over?
Immediately following the November election, everyone expected stock markets to crater because America had picked a commander in chief who was not ... normal (to put it kindly). Instead, financial markets surprised everyone by surging.
Until this week, that is.
Subscribe to The Week
Escape your echo chamber. Get the facts behind the news, plus analysis from multiple perspectives.
SUBSCRIBE & SAVE
Sign up for The Week's Free Newsletters
From our morning news briefing to a weekly Good News Newsletter, get the best of The Week delivered directly to your inbox.
From our morning news briefing to a weekly Good News Newsletter, get the best of The Week delivered directly to your inbox.
On Tuesday, the Dow Jones saw its worst one-day drop since Trump took office. The S&P 500 had its biggest one-day plunge since last June, and for a short while on Wednesday was at its lowest point in five weeks. The Russell 200 index — which tracks smaller companies — had its worst single-day drop since September, falling 2.7 percent. European and Asian stocks stumbled as well, while investors ran back to "safe haven" assets like U.S. treasuries, yen, and gold.
As Wednesday wore on the markets staged a bit of a comeback. But by that point the confidence around the stock market had already been rattled.
What happened?
Bluntly put, the Republicans' grand legislative agenda ran smack into reality. The GOP had teed up repealing and replacing ObamaCare as its first major effort to pass through Congress and send to Trump's desk. But the party had spent years making promises to voters about how they'd provide better and cheaper coverage than ObamaCare at less government cost. These promises flatly contradicted one another.
So when the GOP suddenly found itself in power and forced to make good on its promises, Republicans defaulted to their old playbook. The result is a terrible bill that everyone hates and that will likely die in the Senate. (Maybe even in the House.)
A lot of observers are worried that if the Republicans faceplant on health care, they'll lose momentum going into what Wall Street really cares about: tax reform. The idea is that an initial legislative loss makes a subsequent loss more likely. On top of that, delays on ObamaCare repeal delay everything else. And there's only so much time before House Republicans shift to worrying about getting re-elected in 2018.
"The market is starting to get a little fed up with the lack of progress in health care because everything else is being put on the back burner," RJ Grant, the head of trading at Keefe, Bruyette & Woods, told the New York Post.
But there's an even more concrete worry for Wall Street here than mere legislative "momentum."
The fact that the Republicans chose to do ObamaCare repeal first wasn't a coincidence. Doing it first and then rapidly following it with tax reform was all part of an interlocking strategy.
Here's how it was supposed to work: Because the Republican majorities are actually pretty thin, they were planning on using a parliamentary tactic called reconciliation. It's a procedural gambit that allows you to to pass bills through the Senate with a simple majority, and avoid the filibuster — but only if the legislation is budget-neutral outside of its initial 10-year window. Needless to say, this makes passing massive tax cuts through reconciliation rather difficult. When the GOP passed the Bush tax cuts back in 2001, it also used reconciliation. So Republicans just designed the tax cuts to expire after 10 years — a fate they'd very much like to avoid this time around.
This is where ObamaCare comes in. When it was passed, the Democrats hiked all sorts of taxes on businesses and high earners to pay for the law's new programs. Needless to say, the Republicans intend to cut all of those taxes in their repeal. This would constitute a massive tax giveaway to the wealthy — as much as $1 trillion over 10 years. In many respects, the Republicans' American Health Care Act (AHCA) is a tax-cut bill disguised as a health-care reform bill.
But since the AHCA would also impose giant spending cuts on premium subsidies and Medicaid, the end result would still be a bill that's budget-neutral (or even deficit-reducing).
Once that was passed, the GOP could move on to tax reform. In that case, they'd keep it budget neutral by clearing out a whole bunch of loopholes in the tax system even as they cut tax rates on individuals and businesses. Throw in a border adjustment tax and some dynamic scoring magic, and voilà — another bill that can pass by reconciliation.
By combining this one-two sequence of technically budget-neutral bills, the Republicans could still deliver on the sin qua non of their party's existence: giant tax cuts for the wealthy.
The idea that stocks were surging under Trump's presidency because his policy agenda would stimulate growth was always pretty hare-brained. What Trump would definitely do is redistribute a ton of money back to the rich. Since they can't possibly consume all that money, this would further swell the supply of dollars pouring into our already-bloated financial markets. That's not great for the economy. But it's great for stock prices, and for rarified groups of people who buy and sell stocks amongst one another.
So stocks surged in anticipation of a big payoff. But it all hinged on the Republicans executing a legislative maneuver that's proving too clever by half.
If ObamaCare repeal fails, which looks increasingly likely, the payoff goes up in smoke.
Continue reading for free
We hope you're enjoying The Week's refreshingly open-minded journalism.
Subscribed to The Week? Register your account with the same email as your subscription.
Sign up to our 10 Things You Need to Know Today newsletter
A free daily digest of the biggest news stories of the day - and the best features from our website
Jeff Spross was the economics and business correspondent at TheWeek.com. He was previously a reporter at ThinkProgress.