Is ObamaCare unkillable?
Why the health care law might just survive after all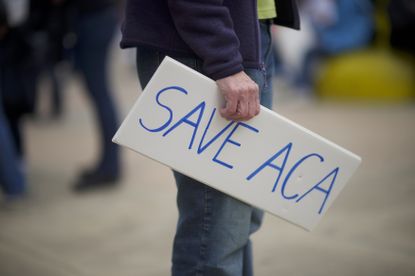 (Image credit: Mark Makela/Getty Images)
Sign up to our 10 Things You Need to Know Today newsletter
A free daily digest of the biggest news stories of the day - and the best features from our website
Thank you for signing up to TheWeek. You will receive a verification email shortly.
There was a problem. Please refresh the page and try again.
With each passing day, Republican infighting over replacing ObamaCare steadily worsens. Moderates in the party fear it will screw their constituents. Hardcore conservatives deride the replacement as "ObamaCare lite." And any changes made to placate one side will just further alienate the other.
Watching it all play out, a remarkable possibility is emerging: ObamaCare just might survive.
After promising for six years to nuke the Democrats' health-care reform, could the Republicans actually chicken out? It wouldn't be the first time. Back in 2005, the GOP tried to push a privatization of Social Security long beloved by conservative ideologues. But it fizzled despite the Republicans' control of the House, Senate, and White House because they never could cobble together a majority from within their own ranks. Sound familiar?
Subscribe to The Week
Escape your echo chamber. Get the facts behind the news, plus analysis from multiple perspectives.
SUBSCRIBE & SAVE
Sign up for The Week's Free Newsletters
From our morning news briefing to a weekly Good News Newsletter, get the best of The Week delivered directly to your inbox.
From our morning news briefing to a weekly Good News Newsletter, get the best of The Week delivered directly to your inbox.
There's a political science theory that certain welfare programs are so big, so universal, and help so many people that they effectively become politically untouchable. Neither party can find majorities to cut them. Social Security and Medicare are the two classic examples. But plenty of observers (including yours truly) assumed ObamaCare was too targeted, too complex, and too accommodating of market forces to cross that threshold.
Maybe we were wrong.
According to Politico, President Trump is having similar thoughts. If the GOP can't conjure the political will to repeal and replace ObamaCare, Trump's plan is reportedly to let ObamaCare collapse under its own weight. The Democrats, he assumes, will take the blame, and then the GOP can take another stab at replacement in two years.
But will ObamaCare actually collapse?
The Republicans all seem genuinely convinced. "If we did nothing, the law would collapse and leave everybody without affordable health care," Speaker of the House Paul Ryan said on Tuesday. "If we waited two years, it's going to explode like you've never seen an explosion," Trump said earlier this year. "The Dems would come begging to do something because '17 is going to be catastrophic price increases, your deductibles are through the roof, you can't use them, and they will come to us."
Premiums throughout ObamaCare's insurance exchanges are indeed anticipated to spike 22 percent this year. Several insurance providers pulled out of the exchanges because they couldn't find enough customers to make their business models work.
Is this the start of the dreaded "death spiral"? To function financially, insurers need lots of healthy customers paying premiums. Without them, insurers can't cover their sick customers, whose costs of care vastly exceed their premiums. But ObamaCare's penalties for not buying insurance were never that strong, and its subsidies to encourage people to buy insurance were never that generous. If insurers can't get enough healthy customers, they have to raise premiums. That discourages even more healthy people from signing up, so the sick people grow as a portion of insurers' customer base, and premiums rise again. The spiral goes on until the insurers collapse or abandon the market.
So it's not crazy to assume ObamaCare's death spiral has commenced.
But there's another possibility. ObamaCare's insurance exchanges are still young, and providing health insurance to a new population is a learning process. You have to guess how many people will sign up, how many will be sick, and what their costs will be. Then you set your premiums accordingly, and find out if you guessed right. If not, you adjust your premiums. In a new market, there's also a lot of jockeying for position and market share — so you get insurers trying to undercut each other with unusually low initial premiums.
In that case, ObamaCare's problems aren't the beginning of a death spiral. They're just a one-time course correction. That won't mean the reform is "okay," since the premiums and deductibles will still be painfully high. But they'll also be low enough for ObamaCare's exchanges to function sustainably.
As for which description is actually right? Who knows. But we'll find out in a few months if the Republicans actually have the stomach to kill ObamaCare. If they don't, we'll probably know in two or three years if the health reform's exchanges can stand on their own two feet.
The Republicans' only other option would be to deliberately sabotage ObamaCare, but in such a way that the public doesn't blame them for it.
For example, one of Trump's recent executive orders pushed the Internal Revenue Service (IRS) to enforce the penalty for ObamaCare's individual mandate in a more lax fashion. That could also spark a death spiral. Trump's political calculus is presumably that if the GOP actually passes a law altering ObamaCare, the public will blame it for any subsequent bad turn of events. But the party won't be blamed over an executive order that few people notice.
That's possible. But it seems risky to assume the public won't automatically blame the Republicans for a health insurance collapse that occurs on their watch.
More practically, Trump's executive order didn't change the way the IRS was already enforcing the mandate. It prevented the IRS from beginning to enforce it more strictly. From the start, ObamaCare's individual mandate has been lax and its penalties low. If even that state of affairs was enough for ObamaCare to eek out a sustainable equilibrium, then Trump's executive order won't matter. And the GOP won't have any other sabotage option that direct.
So if the GOP can't bring itself to repeal ObamaCare, if they can't sabotage it, and if it doesn't destroy itself, the Democrats' health-care reform really will join the ranks of politically unkillable entitlement programs. The Republicans could still conceivably take ObamaCare out with a constitutional challenge, but they already tried that once and it didn't work.
From then on, the only politically viable options would be improvements to ObamaCare: A more user-friendly setup, more generous subsidies, a public option, etc. Wouldn't that just be a remarkable turn of events?
Continue reading for free
We hope you're enjoying The Week's refreshingly open-minded journalism.
Subscribed to The Week? Register your account with the same email as your subscription.
Sign up to our 10 Things You Need to Know Today newsletter
A free daily digest of the biggest news stories of the day - and the best features from our website
Jeff Spross was the economics and business correspondent at TheWeek.com. He was previously a reporter at ThinkProgress.