Can Democrats turn red states blue?
There's only one way to find out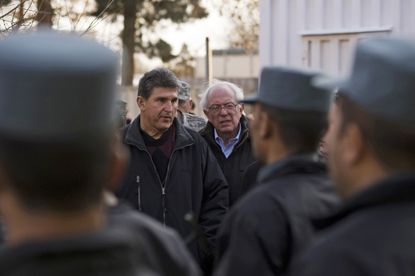 (Image credit: ernesto Hernandez Fonte/U.S. Navy via Getty Images)
Sign up to our 10 Things You Need to Know Today newsletter
A free daily digest of the biggest news stories of the day - and the best features from our website
Thank you for signing up to TheWeek. You will receive a verification email shortly.
There was a problem. Please refresh the page and try again.
Joe Manchin, the Democratic senator from West Virginia, is one of the very last genuinely conservative Democrats in Washington. It's thus no surprise that he's been irritating liberals for his whole Senate career, from a campaign ad in which he shot Obama's EPA regulations with a rifle to his support for abortion restrictions to his backing of a (monumentally idiotic) balanced budget amendment. And now he says he's going to vote to confirm President Trump's nominee to the Supreme Court, Neil Gorsuch. Great.
The American left is feeling frisky lately, and leftists have thus been floating the idea of mounting a primary challenge to Manchin, as he is up for re-election next year. This has prompted a storm of incredulous guffaws from sundry political reporters, who point to the fact that West Virginia has been trending heavily Republican for years and years. All primarying Manchin would do is hand the seat to the GOP, they say.
It would unquestionably be quite a risk to run some Bernie Sanders-style Democrat in West Virginia. But the anti-primary case also rests on one of the modern Democratic Party's most irritating and self-defeating assumptions: that regional political trends are set in stone. It may well be that a more left-wing Democrat would lose handily — but we can't know for sure until one tries. And there are reasons to think success is not out of the question.
Subscribe to The Week
Escape your echo chamber. Get the facts behind the news, plus analysis from multiple perspectives.
SUBSCRIBE & SAVE
Sign up for The Week's Free Newsletters
From our morning news briefing to a weekly Good News Newsletter, get the best of The Week delivered directly to your inbox.
From our morning news briefing to a weekly Good News Newsletter, get the best of The Week delivered directly to your inbox.
Now, the political reporters do make a pretty good case, by their own lights at least. As Harry Enten argues, President Trump won West Virginia by 46 percentage points, his greatest margin of victory anywhere. The last Democrat who ran for Senate in West Virginia, Natalie Tennant (another conservative-lite coal stooge), lost by 28 points in 2014. Enten cites a complicated regression predicting that any non-incumbent Democrat would have only a 1-2 percent chance of victory.
It would seem foolish to bet on a non-Manchin Democratic winning in West Virginia in 2018. But the great potential error in this sort of analysis is how it implicitly holds constant the political facts on the ground — and rules out the possibility of any sudden political sea change.
West Virginia is basically a petro-state, but for coal instead of oil. Since the demolition of the union movement decades ago, the entire political establishment of the state has been in bed with the coal industry, and Manchin more than most. Much of West Virginia is also extremely racist; in 2012 a mentally unbalanced white man in a Texas prison got 40 percent of the vote against President Obama in the Democratic primary there.
West Virginia is practically the poster boy for politicians working hand-in-glove to help business executives bleed wealth from a community, and pulling the wool over the voters' eyes with appeals to social conservatism, race resentment, and the lousy jobs the local industry does produce. That is the basic structure of Manchin's political support. He's just somewhat less blatant about it than a Republican would be.
But Manchin's political structure is looking quite wobbly. The coal industry is on its deathbed, out-competed by natural gas and ever-cheaper renewables, and no deregulation President Trump proposes can change that. The few remaining coal jobs — which were terribly dangerous at the best of times — are going fast and never coming back. As a result, West Virginia is one of the lowest-income, highest-poverty states in the nation. As such, it is objectively horribly served by Republican economic policy, written by and for the rich. What West Virginia needs is universal social insurance — above all to help deal with the nation's worst opioid overdose epidemic, which killed 818 people in the state in 2016 — and anti-trust and industrial policy to help the state stand up new industries and create new jobs. It's a promising candidate for renewable energy, for instance, and also could greatly expand its tourism industry, given its staggering natural beauty.
On paper, that makes it an excellent testing ground for a strategy of folding downscale white voters into a multi-ethnic, anti-bigotry coalition by appealing to their class interest. This would, in effect, demolish the old political structure and replace it with something comprehensively different. And in fact, Bernie Sanders — who was white, of course, but whose record on racial justice and gender rights was far to the left of Hillary Clinton's — swept the Democratic primary in West Virginia by a huge margin. That was only a primary, but it's also the only test of that political strategy we have — aside from 40 years ago, when mass unionization made this state a Democratic stronghold, even when the party turned decisively towards civil rights.
Now, it could be that race resentment and social conservatism will make such a strategy a flop, and conservative-lite corporatist Blue Dogism is the best that can be done in the state. It is harder to sell people on something new and untested than it is by promising to resurrect the past.
But only a serious effort can really probe the bounds of the possible. Backwards-looking regressions or other extrapolations from past events simply have no way to comment on the likelihood of such a political sea change. In my view, whether that comes in the form of primarying Manchin or starting smaller, it is certainly worth exploring.
Only one thing is for sure: It is pretty rich to see political reporters making any sort of confident prediction about anything. Virtually the entire profession spent all of 2015 insisting that Donald Trump could not possibly win the Republican primary, and then all of 2016 insisting that Hillary Clinton was a lock to win in November. Notably, several data whiz teams predicted Trump had that same 1-2 percent chance of winning the presidency that a non-incumbent Democrat supposedly does of winning a Senate race in West Virginia. It would be hard to imagine a two-year period better designed to finally instill some humility in the political prognosticator class (myself very much included). But overconfident pundits always we shall have with us.
Continue reading for free
We hope you're enjoying The Week's refreshingly open-minded journalism.
Subscribed to The Week? Register your account with the same email as your subscription.
Sign up to our 10 Things You Need to Know Today newsletter
A free daily digest of the biggest news stories of the day - and the best features from our website
Ryan Cooper is a national correspondent at TheWeek.com. His work has appeared in the Washington Monthly, The New Republic, and the Washington Post.