Louis CK's new special is called 2017. So why does it feel so old?
Why the schlubby comedy innovator's first stand-up act in the age of Trump falls flat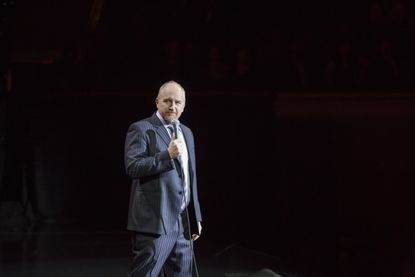 (Image credit: Netflix/Cara Howe)
For a special named 2017, Louis CK's first stand-up act in the age of Trump is surprisingly stripped of contemporary references — either to the election or to the White House's latest inhabitant. It's weird. The hour embraces plenty that's controversial — it opens with a "Here's what I think about abortion" bit and moves on to topics like suicide and the impossibility of lasting love — but there's a giant elephant in the room, which the comic chooses not to name. The hour's silence on that point (and that person) is arguably as political as any bit about him could be. Then again, it might be Louis CK once again refusing to take the easy way out; in comedy, Trump laughs are the new crowd work, and while there's good crowd work, a lot of it is hacky filler.
Either way, it scans as a principled choice. The question is: What principle is being served? When everything is about Trump, what does leaving him out mean? Tacit approval? Tacit condemnation? If the answer is "neither," has Louis CK actually managed to opt out of the biggest conversation America has had in years? If this was the aim, why call his special 2017? Isn't calling particular attention to the year in which your special aired begging the public to connect it to the larger concerns of the moment?
The election has done interesting things to comedy. Some comedians are doing their best work covering Trump (and outperforming journalists when dealing with Trump surrogates like Kellyanne Conway). There's also been a spate of comedy specials seizing this reactionary moment to punch back at "political correctness." Some comics grew harsher in response to Trump, while others grew increasingly avoidant. So what about Louis CK, the "comedians' comedian"? How, if at all, has he changed in response to Trump?
Subscribe to The Week
Escape your echo chamber. Get the facts behind the news, plus analysis from multiple perspectives.
SUBSCRIBE & SAVE
Sign up for The Week's Free Newsletters
From our morning news briefing to a weekly Good News Newsletter, get the best of The Week delivered directly to your inbox.
From our morning news briefing to a weekly Good News Newsletter, get the best of The Week delivered directly to your inbox.
Well, for one thing, he's wearing a suit.
Seeing Louis CK in a suit instead of a hoodie or T-shirt and jeans was such a marked departure, it gave me pause. Maybe it shouldn't have. After all, the comic has been "private-jet" wealthy for some time — Amy Schumer fondly recalls his offer to share his chartered plane with her in her memoir — but he's always maintained a schlubby aesthetic in his comedy and on his shows that seemed aimed at bridging the gap between the working-class whites who've dominated post-election news cycles and a fairly progressive style of comedy. So what does it mean for a schlubby comedy innovator like Louis CK to choose this moment and this special to trade in his trademark jeans for a suit?
It feels like a rejection, but of what? Of the working-class white voter? Of his old politics? Of his old aesthetic? Is that all ridiculous, and is the suit just his private evolution toward a more formal adulthood that honestly acknowledges his success — an overdue version of that great three-episode "Late Night" arc in Louie that culminates in David Lynch lecturing a recalcitrant Louie on the merits of dressing well?
I suspect Louis CK would say it's mostly the latter and scoff at the attention I'm giving this. But let's face it: Wardrobe choice matters in stand-up. We tend not to think about male attire much, but a comic's outfit signals a lot about his angle of approach. Louis CK's suit feels conservative compared to his choices in the past. What does that mean for his comedy? In a world gone mad, has Louis CK decided to make America great again?
The short answer is: No. Although he does take the time to sincerely sympathize with pro-life protesters, Louis CK ends by using a gun rights argument to justify abortion. It's a clever pivot and an amusingly terrible rationalization, but this isn't one of Louis CK's funniest or most penetrating bits. It's frankly kind of a lackluster opener that sets up a long, vaguely classist bit on how suicide is a perfectly rational solution to any number of problems — which basically swaps in "suicide" for the "drugs" in this great bit.
That's the problem with the first half of 2017: Much of it echoes older material by repeating certain joke constructions but making the content heavier still. Underpinning the first 30 minutes is the half-serious claim that life just doesn't matter all that much. Louis CK's avuncular delivery can't fix how poorly that works comedically: Stand-up depends so much on neuroses and fine-grained analyses of what humans do — it depends so much on people caring greatly about things that don't actually matter much — that the abandonment of life as a principle just isn't that funny. Not even Louis CK can make suicide and abortion hilarious. The fact that he tries does seem like a nod to this political moment, and to the wave of despair that has therapists across the country struggling to come up with ways to meet an unprecedented population who all have the same issue.
But the second half of the special undoes much of what came before. In fact, it repositions Louis CK — once the self-loathing schlub who gorges himself on whatever's closest and despairs — as something of a persnickety gourmand. There's still plenty there to upend the world views that made Trump possible: Louis CK genially tears apart the cultural obsession with hypermasculinity that ushered in a group of presidential advisers who unironically call their in-house enemies "cucks" by comfortably contemplating the likelihood of his own homosexuality — at length and in amusingly graphic detail. And there's a certain brilliance to responding to Trump's insecurity about his manhood in this way while dressed like a senator himself.
But here's the thing: The extraordinary ease with which Louis CK does this feels as slightly and disappointingly dated as the Magic Mike reference that structures the bit. Usually a brilliant diagnostician of the contemporary, Louis CK's brand of comedy here seems at odds with the reactionary chaos of the times in which we've received it. This is an Obama-era special dressed in a Trump-era suit. It's less personal, less funny, and it looks just a little bit wrong in a tie.
Since his breakout acts, Shameless and Chewed Up, Louis CK's stand-up has relied on the idea that we're getting more progressive as a society. His jokes depend on what you might call post-progressivism — an instinct that we're so far past the problems that made slurs like "fa--ot" objectionable that the word can be recuperated — and not by gay men, but by the very people who once used the word to insult them. Louis CK is skilled at populating that apparently regressive terrain with an apparently progressive politics. "I would never call a gay guy a fa--ot," he says, "unless he's being a fa--ot, but not because he's gay, you understand?" Here's that bit:
A lot of the 2017 special felt old, and like it was refusing to speak to the year for which it's named. If 2017 has a subversive element, it might be that it's responding to these reactionary times by only superficially acceding to them. By dressing well and leaning even harder into a progressive form of comedy that refuses to honor conservative discomfort, by acting as if being gay — or having gay impulses — is somehow easier than it was back before Trump was elected. (The reason he won't consider coming out is time: I'm just too old to be gay, says Louis CK, touting his God-given right to discriminate against himself.)
I would have liked to see Louis CK explore the ways in which things have gotten harder, and not only through these mind-bending subtexts. Maybe he will in his next special — this is the first of two in his agreement with Netflix. But if 2017 isn't quite as funny as Louis CK has been known to be, it is a fascinating exercise in pretending Trump never happened.

Continue reading for free
We hope you're enjoying The Week's refreshingly open-minded journalism.
Subscribed to The Week? Register your account with the same email as your subscription.