Kirsten Gillibrand 2020? Not with her Wall Street problem.
Better start attacking finance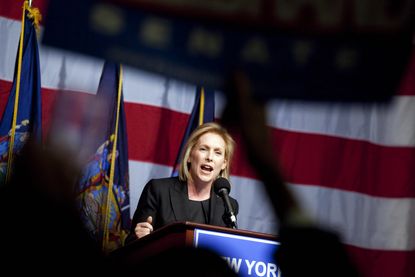 (Image credit: Michael Nagle/Getty Images)
Sign up to our 10 Things You Need to Know Today newsletter
A free daily digest of the biggest news stories of the day - and the best features from our website
Thank you for signing up to TheWeek. You will receive a verification email shortly.
There was a problem. Please refresh the page and try again.
The presidential campaign was always here. Before man was, the campaign waited for him. And President Trump's first 100 days in office are almost up. So you know what that means: idle speculation about who will run in 2020!
Jokes aside, it is obviously too early to actually start running for the presidency, even in this wretchedly dysfunctional country. But it's not too early for ambitious politicos to start thinking about which policies to advocate for and what kind of reputation to cultivate. Laying the groundwork early has always been part of running for national leadership in every democracy.
One obvious proto-candidate is Sen. Kirsten Gillibrand (D-N.Y.). She has a decent national profile, a couple of solid signature policies, and a lot of goodwill with the Democratic base for defying President Trump early. Plus, she would be able to claim that first female president ring that eluded Hillary Clinton. (Better still, she doesn't have one quarter of the baggage that Clinton had.)
Subscribe to The Week
Escape your echo chamber. Get the facts behind the news, plus analysis from multiple perspectives.
SUBSCRIBE & SAVE
Sign up for The Week's Free Newsletters
From our morning news briefing to a weekly Good News Newsletter, get the best of The Week delivered directly to your inbox.
From our morning news briefing to a weekly Good News Newsletter, get the best of The Week delivered directly to your inbox.
There's just one big problem: Wall Street. If she wants to lock up the next Democratic presidential primary, she would be wise to make herself absolutely loathed by the bankster class.
The basic shape of a potential Gillibrand candidacy is outlined reasonably well in a sympathetic profile by Rebecca Traister. Gillibrand started her career in a conservative district in New York, taking office in 2006 as part of the great Democratic wave. She had been a lawyer for Big Tobacco in her early career, and started out as a Blue Dog conservative, holding pro-gun, pro-austerity, and anti-immigration positions.
She was thus thought to be a bad choice to fill Hillary Clinton's Senate seat when Clinton was tapped to serve as secretary of state in 2009. But Gillibrand quickly moved left, reversing course on immigration and gun control, and helping kill Bill Clinton's odious policy on gays in the military. She was easily elected in a 2010 special election and reelected properly in 2012.
She has since been a fairly middle-of-the-road Democrat, but has made a bit of a national name for herself by advocating for paid family leave in the form of the FAMILY Act. As policy and politics, it could stand to be more aggressive, but it's still pretty good by Democratic Party standards. (At least it's not a rotten tax-advantaged savings account.) And since then, Gillibrand has garnered even more attention by consistently opposing President Trump in almost everything he's done — including voting against more of his Cabinet nominees than any other senator.
But her record on Wall Street will haunt her. Gillibrand, as usual for New York senators, has worked assiduously on behalf of the financial industry. In 2010 she briefly suggested filing an amendment making it harder to regulate derivatives trading, though she later backed down after a backlash. In 2011, she complained that derivatives regulation would make U.S. banks uncompetitive. In 2013, she and five other Democratic senators wrote to then-Treasury Secretary Jacob Lew arguing essentially for an indefinite delay of regulations on cross-border derivative trading. As Reid Pilfant wrote in 2012, she has "quietly overcome considerable skepticism about her on Wall Street to become a go-to advocate for the financial services industry in her own right."
Why is this bad? For one, Wall Street is a cancer at the heart of the American economy. Its share of GDP has roughly doubled since the 1950s, and approximately all of that growth has come at the expense of the rest of the economy. It went from about 8 percent of corporate profits to 20-40 percent while becoming less efficient at basic financial tasks.
How? By abusing contracts, tax law, and market power to dominate consumers and productive enterprises so as to extract quick cash. Most "markets" in this country have become monopolies or oligopolies — the deliberate result of mergers and acquisitions coordinated on Wall Street. A generation of pressure from finance means corporations are now mainly expected to think only about the next quarter's profits, and to immediately disgorge them all — or more than all — to shareholders and executives.
Pick some economic abuse disproportionately affecting women or minorities, and it's a safe bet that some finance goons will be up to their neck in it. And that's setting aside actual criminal actions, like systematic document fraud that kicked nine million people out of their homes.
Dodd-Frank was a step in the right direction, but about 1/40th the proper size. We need cricket bat regulation.
Bernie Sanders got tremendous political mileage out of arguing that big banks must be broken up, his signature call to to wrest political power away from the "millionaires and billionaires," and above all from his palpable contempt for the ultra-rich. By necessity, taking a credible populist stand now means a ferocious attack on Wall Street.
If Gillibrand tries to split the difference, and run a Clinton-style campaign of status quo finance plus moderate new social programs, she's likely to be outflanked by a more credible populist. What's more, she will not have Clinton's gigantic head start, nor her total lock on all the party insiders. And with Clinton's astonishing loss to Trump, electability arguments against such a challenger will be far less convincing.
It will be tough — Gillibrand is married to a banker — but a good first step would be to contemptuously refuse all donations from finance for her upcoming reelection campaign. She won in 2012 by 46 points, partly on the strength of gigantic donations from Goldman Sachs. A smaller margin of victory there would pay national electoral dividends.
Continue reading for free
We hope you're enjoying The Week's refreshingly open-minded journalism.
Subscribed to The Week? Register your account with the same email as your subscription.
Sign up to our 10 Things You Need to Know Today newsletter
A free daily digest of the biggest news stories of the day - and the best features from our website
Ryan Cooper is a national correspondent at TheWeek.com. His work has appeared in the Washington Monthly, The New Republic, and the Washington Post.