How do Trump's first 100 days stack up to past presidents?
Let's review their records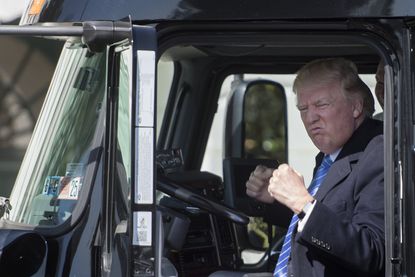 (Image credit: JIM WATSON/AFP/Getty Images)
Sign up to our 10 Things You Need to Know Today newsletter
A free daily digest of the biggest news stories of the day - and the best features from our website
Thank you for signing up to TheWeek. You will receive a verification email shortly.
There was a problem. Please refresh the page and try again.
"The first 100 days constitute a magic number in the life of a new national administration." So begins a 1974 letter from the White House that would go on to list the early accomplishments of President Gerald Ford, who had unexpectedly taken office after the resignation of Richard Nixon. Indeed, it may well have been the grim circumstances of his ascension that made Ford so keenly aware of the "magic" period of time between a new president's inauguration and the fizzling out of the "honeymoon period" at the end of month four.
The symbolic 100-day benchmark actually dates back to Napoleon Bonaparte's return from exile. And it has been used to judge American presidents ever since Franklin Roosevelt's flurry of early activity in 1933. When President Lyndon Johnson entered the White House in 1965, he reportedly told a strategist to "jerk out every damn little bill you can. Put out that propaganda ... that [we've] done more than they did in Roosevelt's 100 days."
With President Trump's first 100 days drawing to a close, Trump has claimed that there has never been "a presidential period of time in the first 100 days where anyone's done nearly what we've been able to do." That might not, strictly speaking, be so true. Here's how his first 100 days stack up against his eight most recent predecessors.
Subscribe to The Week
Escape your echo chamber. Get the facts behind the news, plus analysis from multiple perspectives.
SUBSCRIBE & SAVE
Sign up for The Week's Free Newsletters
From our morning news briefing to a weekly Good News Newsletter, get the best of The Week delivered directly to your inbox.
From our morning news briefing to a weekly Good News Newsletter, get the best of The Week delivered directly to your inbox.
President Donald Trump
Inaugurated: 2017
Laws passed (as of Day 90): 28
Executive orders (as of Day 90): 24
Approval rating (as of Day 90): 43 percent
As Trump's 100th day draws near, his aides have reportedly held emergency brainstorming sessions to try to figure out how exactly to spin his polarizing first few months. Indeed, Trump's term so far might be marked more by its failures than its accomplishments, ranging from Congress' flop trying to repeal and replace ObamaCare, the legal blocks for Trump's travel ban on six majority-Muslim countries, and his unfulfilled vow to get the U.S.-Mexico border wall fully funded with "the full understanding that the country of Mexico will be reimbursing the United States for the full cost."The Washington Post reports that as of April 20, Trump had "not even taken action on 60 percent of the promises [he made] — and he's broken five of them, such as his pledge to label China as a currency manipulator."
On the other hand, Trump has met his promises of rolling back regulations and pushing "clean coal," with his biggest accomplishment to date being the successful appointment to the Supreme Court of Neil Gorsuch. Trump's strike on Syria was widely approved of; he also became the first president to drop the so-called "Mother of All Bombs," on Afghanistan. Unlike many previous presidents, Trump has also not yet traveled abroad.
Overall, his approval rating has been at historic lows for a modern president, dipping as low as 36 percent. Trump has simultaneously bragged that there isn't "a presidential period of time in the first 100 days where anyone's done nearly what we've been able to do" and dismissed the first 100 days as a "ridiculous standard."
President Barack Obama
Inaugurated: 2009
Laws passed: 11
Executive orders: 19
Approval rating: 65 percent
Obama was busy during his first 100 days, although he dismissed the marker, claiming: "The first 100 days is going to be important, but it's probably going to be the first 1,000 days that makes the difference." Obama's early accomplishments include signing a $700 billion stimulus bill, announcing the continued withdrawal from Iraq begun by George W. Bush, releasing torture memos from the Bush administration, banning waterboarding, lifting a ban on embryonic stem cell research, signing the Lilly Ledbetter Fair Pay Act, and beginning to rebuild a relationship with Cuba. Obama also announced he was going to close Guantanamo Bay in his first 100 days, something he failed to do during his entire presidency. Obama also ended the Mexico City Policy, which would be reinstated by President Trump in his first 100 days.
President George W. Bush
Inaugurated: 2001
Laws passed: 7
Executive orders: 11
Approval rating: 62 percent
Bush proposed the No Child Left Behind education reform after just days in office, although it wouldn't be signed into law until nearly a year later. He also began cooperating with Congress on a $1.35 trillion tax cut, and had to oversee a dispute when a U.S. plane crash landed in China and the crew was held for 11 days. Bush also quickly established the Office of Faith-Based and Neighborhood Partnerships through an executive order in his first month, which used federal money to fund religious and local groups' social service programs. Reflecting on his short time in office after his 100 days were up, Bush told CNN: "I feel free and relaxed. I feel comfortable; perhaps that's because I'm on bended knee every morning, asking for guidance and for comfort. Whatever the reasons, I'm enjoying myself."
President Bill Clinton
Inaugurated: 1993
Laws passed: 24
Executive orders: 13
Approval rating: 55 percent
Clinton's first 100 days were difficult, ranging from failed attorney general nominations to his stimulus package being killed by a Republican filibuster. Additionally, the greenhorn president quickly made a reputation for himself as being uncooperative with Congress. "It's clear Clinton jogged past his 100-day mark a weaker president than he was at his inauguration," a scathing Richard Cohen noted in May 1993. Clinton also began walking back Reagan-Bush restrictions on abortion, and ultimately shepherded a $1.5 trillion budget through Congress. "It's still early, and 100 days really don't mean all that much, but one lesson he can learn from his slump in Washington and at the polls is not to confuse motion with progress," summarized The New York Times.
President George H. W. Bush
Inaugurated: 1989
Laws passed: 18
Executive orders: 11
Approval rating: 56 percent
Critics of Bush complained that "there's no agenda … no clear goals and convictions" after his first 100 days, with The New York Times calling the symbolic period a "bumbling baptism." Bush spent much of his first few months doing cleanup required after Reagan left office — smoothing things over with Congress, addressing the savings and loan crisis, allowing debt forgiveness of developing countries, and cutting back on Reagan's enthusiastic demand for increased defense spending. He also managed to start a rift with the National Rifle Association, which had endorsed him, because he placed a temporary ban on the import of some semiautomatic rifles. Bush broke with his predecessor by rushing to address acid rain and smog by degreasing chemical emissions, although he was also criticized for his slow legislative response to the devastating Exxon Valdez oil spill in Alaska. By April, the Times reflected: "This has been an improvisational 100 days."
President Ronald Reagan
Inaugurated: 1981
Laws passed: 9
Executive orders: 18
Approval rating: 68 percent
Reagan started things off with a bang when the Iranian hostage crisis ended on the day of his inauguration. That was followed by a busy week in which Reagan signed executive orders, lifted government regulations, and enacted a federal hiring freeze. Probably the single most significant thing to happen in Reagan's first 100 days, though, was the attempt on his life in March 1981. (He was back at work in a matter of weeks.)
"With a gift for political theater, Mr. Reagan has established his goals faster, communicated a greater sense of economic urgency, and come forward with more comprehensive proposals than any new president since the first 100 days of Franklin D. Roosevelt," The New York Times noted at the end of Reagan's honeymoon period in April 1981. The Times writers concluded: "His first 100 days have shown that he is a president determined to change the tides of history."
President Jimmy Carter
Inaugurated: 1977
Laws passed: 22
Executive orders: 16
Approval rating: 63 percent
"Everybody has warned me not to take on too many projects so early in the administration, but it's almost impossible for me to delay something that I see needs to be done," Carter wrote in his diary a week into his presidency. On his first day in office, Carter notably finished the process to grant amnesty to Vietnam draft dodgers that Ford had started. As a Washington outsider, Carter also tried to take a page from FDR's playbook by implementing a kind of "fireside chat" early on, but his attire earned him the name "Jimmy Cardigan" instead. Generally, Carter's first 100 days are remembered as being overly ambitious: "Carter has no feeling for institutional political necessity and little visible appreciation of the human, folksy, disorderly relationships that are an important feature of political life on the Potomac," wrote one critic in 1977. Carter also faced a major setback with the Russians in an early attempt at arms-control.
President Gerald Ford
Inaugurated: 1974
While Ford is an unusual example of a president's first months due to the circumstances by which he came into office (and thus he isn't typically included in records of laws and executive orders signed), Ford still immediately made moves to fix the economy, including a two-day televised Economic Summit and a 31-point program to bring "balance and vitality to our economy" in 1974. Ford also attempted to address America's dependence on foreign oil, including asking the American people to cut back on their use of gasoline and establishing an energy management team. He met with leaders and ambassadors from many countries and scheduled trips to Japan, South Korea, and the Soviet Union. Ford also launched a program to grant amnesty for draft dodgers (it would later be finalized by Carter), shaped an $11 billion, six-year mass transit bill, and signed the Housing and Community Development Act, which helped boost the housing market. Ford's biggest moment, though, was likely when he pardoned Nixon for Watergate after just a month in office. "Many thought he had been wrong to let Nixon off the hook, and many suspected he and Nixon arranged a deal — the presidency for the pardon," U.S. News writes. "Ford always denied that."
President Richard Nixon
Inaugurated: 1969
Laws passed: 9
Executive orders: 15
Approval rating: 62 percent
Nixon's first 100 days weren't so flashy on the surface, with him telling the press at the time: "I don't count either the days or the hours, really. I never thought in those terms. I plan for a long term." Later it came out that by March of his first term, Nixon had approved the escalation of the secret bombing campaign of the North Vietnamese in Cambodia, called "Operation Menu." Publicly, Nixon made an eight-day trip through Europe a month after being elected and in the spring, NASA executed the Apollo 9 lunar module mission, which performed crucial tests that would later support the Apollo 11 moon landing. Despite his dismissive words to the press, Nixon was conscious about how the period would be viewed, telling his staff in April to make sure that "a number of senators, congressmen, governors, etc. make appropriate statements on the first 100 days." Just as his 100 days came to an end, Nixon would approve the wiretapping of several government officials and reporters in an attempt to learn who was leaking news of the Cambodian bombings to the press.
Continue reading for free
We hope you're enjoying The Week's refreshingly open-minded journalism.
Subscribed to The Week? Register your account with the same email as your subscription.
Sign up to our 10 Things You Need to Know Today newsletter
A free daily digest of the biggest news stories of the day - and the best features from our website
Jeva Lange was the executive editor at TheWeek.com. She formerly served as The Week's deputy editor and culture critic. She is also a contributor to Screen Slate, and her writing has appeared in The New York Daily News, The Awl, Vice, and Gothamist, among other publications. Jeva lives in New York City. Follow her on Twitter.