How Democrats can roar back
Democrats can stomp the GOP. Here's how.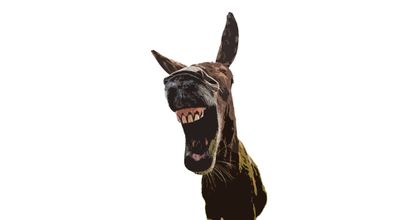 (Image credit: iStock)
Sign up to our 10 Things You Need to Know Today newsletter
A free daily digest of the biggest news stories of the day - and the best features from our website
Thank you for signing up to TheWeek. You will receive a verification email shortly.
There was a problem. Please refresh the page and try again.
The 2018 election is still 543 days away. But already, it seems clear that Democrats are poised to sweep Republicans out of power in the House. And if President Trump keeps up his tripartite trainwreck of monstrous policy, abuse of power, and addle-brained babbling, any sentient being with a D after their name should be able to stomp Trump in 2020.
However, as I argued yesterday:
How can Democrats do that? They can start by learning the proper lessons from their failures in the Obama years.
Subscribe to The Week
Escape your echo chamber. Get the facts behind the news, plus analysis from multiple perspectives.
SUBSCRIBE & SAVE
Sign up for The Week's Free Newsletters
From our morning news briefing to a weekly Good News Newsletter, get the best of The Week delivered directly to your inbox.
From our morning news briefing to a weekly Good News Newsletter, get the best of The Week delivered directly to your inbox.
Many liberals thought that after the disastrous failure of the Bush presidency they were in for a generation of political dominance, like Democrats after the Great Depression or Republicans after the Civil War. But their moment in the sun lasted a mere two years.
They lost in 2010 because they failed to understand both the nature of their political opponents and the nature of the policy problems they faced. In 2008, most Democrats disastrously misread the state of the political terrain, and none more so than Barack Obama. Instead of seeing the obvious truth — that Republicans were increasingly nutty fanatics who hated his guts, and who win elections by basically cheating — he bent over backwards again and again to try to get Republican votes, and only narrowly avoided disaster. Neither he nor the rest of the party even considered very obvious (and perfectly fair) moves to backstop their own power, like making D.C. a state (all but guaranteeing the party one House and two Senate seats in perpetuity), or making voter registration automatic (which just sharply increased turnout among Democratic-leaning demographics in Oregon), or making Election Day a holiday, or a voting rights amendment, or other such ideas. Democrats can't even properly counter-gerrymander states they control.
Similarly, it failed to sink in that being the party in power during an economic calamity you fail to fix is the number one way to get wrecked in the next election. The party did manage to pass a large stimulus package. But it was not nearly big enough. And quickly repossessed by idiotic Beltway nonsense about budget deficits, the party was pivoting to austerity by early 2010, with unemployment still brushing double digits. Instead of breaking up concentrated economic power, the government largely sat back and allowed Wall Street to continue to roll up whole markets into tyrannical oligopolies. Worst of all, Obama by himself could have prevented nearly all of 9 million fraudulent foreclosures. He chose not to enforce the law.
Is it any wonder that Trump was able to marshal the anger of much of America's beleaguered working class?
To this day most Democrats do not grasp that even the pre-2008 economic status quo was awful for a great many Americans. The crisis of economic inequality is still largely treated as a boutique issue, ranked below growth or "equality of opportunity," or other such hoary centrist notions. In reality, inequality means the country is failing to function for much of its citizenry: Millions of people are working many hours for little pay, unable to afford child care or a higher education, or going up to their necks in debt for a worthless degree, or being bankrupted by medical debt despite being insured, and on and on. People are dying by the tens of thousands of diseases of despair — suicide, opioid overdoses, alcoholism, and so forth.
The general wretchedness of American life today has helped create an angry, restless, and bitter population. Many simply give up on politics, while others are increasingly willing to listen to previously fringe voices on the left and right — some, like Trump, horrible bigots. It is not the only factor behind Trump's success, but it is an important one — and one firmly within the grasp of federal policy.
Now Republicans are in charge, and they're doing their level best to make everything worse as fast as they can. Unless they cheat so badly as to erase the last fragments of American democracy altogether, chances are pretty good that they will be knocked out of power in the House in 2018 just like the Democrats were in 2010, for the same reason: They have failed to make the country function on behalf of the people.
But if Democrats are to avoid the same fate once more, they must take steps to restore a decent quality of life to every American, without exception. By all means, the 2018 and 2020 campaigns should include a large measure of railing against Trump's brazen corruption and abuse of power, and if Democrats win they should undoubtedly figure out the truth about Trump and Russia. But as I have outlined before, once they take control, they must do better than fiddly little tax credits and jerry-rigged private insurance markets. America has enormous problems that demand bold, sweeping solutions. Fiddling with the knobs of centrist policy simply will not do.
Continue reading for free
We hope you're enjoying The Week's refreshingly open-minded journalism.
Subscribed to The Week? Register your account with the same email as your subscription.
Sign up to our 10 Things You Need to Know Today newsletter
A free daily digest of the biggest news stories of the day - and the best features from our website
Ryan Cooper is a national correspondent at TheWeek.com. His work has appeared in the Washington Monthly, The New Republic, and the Washington Post.