Do anti-Trump Republicans actually exist?
It's really hard to find these mythical creatures. Are they even real?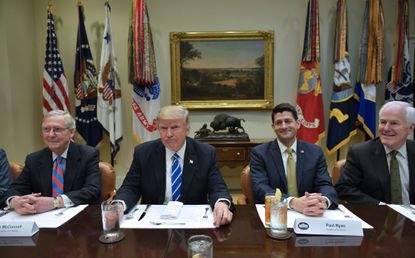 (Image credit: MANDEL NGAN/AFP/Getty Images)
Sign up to our 10 Things You Need to Know Today newsletter
A free daily digest of the biggest news stories of the day - and the best features from our website
Thank you for signing up to TheWeek. You will receive a verification email shortly.
There was a problem. Please refresh the page and try again.
Liberals harbor dreams of a quick and catastrophic end to the Trump nightmare, our bloated man-child of a president going down in flames like the Hindenburg. Impeachment, perhaps — he did just reportedly reveal highly classified information to the Russians, after all — or a presidency so weakened and frustrated that he'll resign in a huff, or at worst a withdrawal, with the president hiding in Mar-a-Lago until 2020 comes and he can slink off to the ignominy he has so richly earned.
It's not impossible. But it could only happen if many Republican lawmakers turn on Trump. And I wouldn't hold my breath for that if I were you.
That's not because there aren't anti-Trump Republicans, because there are. Or we might call them sort-of-anti-Trump Republicans, those hardy few willing to go on record criticizing the president over this decision or that scandal. For instance, shortly after The Washington Post broke the news of Trump's loose lips with Russian officials, South Carolina Sen. Lindsey Graham, who remained critical of Trump throughout 2016, said, "If it's true, it'd be troubling." Tennessee Sen. Bob Corker went a bit farther, calling the allegations "very, very troubling" and conceding that the White House is in "a downward spiral right now." Arizona Sen. John McCain called the report "deeply disturbing." He also supports a select congressional committee to investigate the Russia scandal. Nebraska Sen. Ben Sasse has said that the firing of James Comey "exacerbates the erosion of trust in our institutions." And so on.
Subscribe to The Week
Escape your echo chamber. Get the facts behind the news, plus analysis from multiple perspectives.
SUBSCRIBE & SAVE
Sign up for The Week's Free Newsletters
From our morning news briefing to a weekly Good News Newsletter, get the best of The Week delivered directly to your inbox.
From our morning news briefing to a weekly Good News Newsletter, get the best of The Week delivered directly to your inbox.
But what are these Republicans actually doing to oppose Trump?
Not much. Nearly all of them made a bargain with Trump: We'll support you, and you deliver the goods. Those goods include conservative court nominations, an administration filled with Republicans, and the president's signature on whatever legislation the Republican Congress passes.
Even those Republicans who weren't standing behind Trump at rallies are doing their part. According to a recent tally by FiveThirtyEight, 27 of the 52 Republicans in the Senate have voted with President Trump 100 percent of the time so far, and 23 of the remaining 25 have done so over 90 percent of the time. To take just one illustrative example, the score for notable heretic Ben Sasse is 97.5 percent.
One might counter that the Republicans haven't done very much legislating as of yet, so opportunities to buck the president on bills have been few and far between. And Trump hasn't strayed from the Republican line on legislation anyway, so they had little reason to make a stand against him.
But that itself is revealing. While one can imagine some future GOP bill Trump might veto, or hypothesize a temporary Trump-Democrat alliance on something like an infrastructure bill, the truth is that neither is particularly likely. Trump is indifferent to the details of policy, and will pretty much sign whatever they put in front of him. He doesn't care enough to fight about it. So don't expect any grand legislative showdowns among Republicans.
Even when he makes decisions they disagree with, Republicans' opposition gets muted, for one particular reason: No matter how reckless or dangerous he is, they'll always hate Democrats more. Rand Paul, the libertarian-ish senator from Kentucky, said he voted to confirm Jeff Sessions as attorney general because "the Democrats made it much more certain that I would vote for him, by trying to destroy his character." Paul may be deeply opposed to Sessions' plan for a new War on Drugs, but voting against his confirmation would have brought satisfaction to Democrats, so he really had no choice.
That's anti-anti-Trumpism in a nutshell: the willingness to tolerate even things you can't stand, so long as it'll piss Democrats off. And since Trump does that every day, the time to stand up to Trump will just never seem right.
Anti-anti-Trumpism will continue to run deep and wide through the Republican Party, whose members are united above all by their hatred of Democrats. One Wall Street Journal columnist hopefully proclaimed the coming of "a new American majority, composed of people who may or may not like the president but can't stand his opponents." Or as conservative Charles Sykes wrote recently, "Mr. Trump's base is unlikely to hold him either to promises or tangible achievements, because conservative politics is now less about ideas or accomplishments than it is about making the right enemies cry out in anguish." Hashtag liberal tears!
There's a sense in which this is a perfectly rational approach for Republicans to take. As long as he isn't literally blowing up the world, having Trump in office is better for their substantive goals than any Democrat, no matter how sober and responsible that Democrat might be. Trump may be a petulant, infantile ignoramus, but he's their petulant, infantile ignoramus. Why should they be too critical, when doing so just increases the chances of a Democrat taking the White House in 2020? Is he erratic, unreliable, appalling? Sure. But he was all those things during the campaign when they rallied behind him, and the calculation hasn't changed.
And yet. There is some point, everyone would agree, when party loyalty would have to yield. Republicans found that point in 1974 after Richard Nixon's tapes were discovered and the country learned beyond doubt that he was essentially directing a far-reaching criminal conspiracy from the Oval Office. Have we reached a similar point yet? When Trump admits in a televised interview that he fired the FBI director because of the FBI's investigation into his ties with Russia, is that enough? When he reveals highly classified information to the Russians, is that enough? Will it take some foreign crisis in which Trump's rash and ill-informed decision-making causes actual deaths for it to be enough?
I doubt it. Even if a few Republicans are willing to utter some tempered criticisms of the president, there will always be a reason not to go all the way in opposition. They could be standing on the charred remains of the Earth, and they'd still say, "I'm not saying this isn't bad, but just imagine if Hillary had won."
Continue reading for free
We hope you're enjoying The Week's refreshingly open-minded journalism.
Subscribed to The Week? Register your account with the same email as your subscription.
Sign up to our 10 Things You Need to Know Today newsletter
A free daily digest of the biggest news stories of the day - and the best features from our website
Paul Waldman is a senior writer with The American Prospect magazine and a blogger for The Washington Post. His writing has appeared in dozens of newspapers, magazines, and web sites, and he is the author or co-author of four books on media and politics.