Republicans have a new welfare queen: The sick glutton
The GOP only wants Americans of good moral fiber to get health care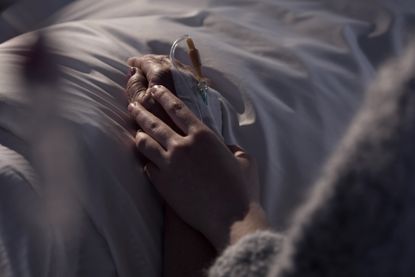 (Image credit: iStock.)
For years, the GOP has waged its health-care fight almost solely in opposition to ObamaCare. But lately, Republicans have been testing a more affirmative case for their American Health Care Act: by dividing people who deserve health care from those who don't.
Take White House budget chief Mick Mulvaney, who recently defended AHCA's watering-down of ObamaCare's protections for pre-existing conditions, assuring that the Republican bill provides "plenty of money" to treat cancer patients, but "[t]hat doesn't mean we should take care of the person who sits at home, eats poorly, and gets diabetes."
Mulvaney tries to drive a wedge between those struck by illness through no fault of their own, and those chided for courting their own plight. This echoes an earlier statement by Rep. Mo Brooks (R-Ala.), who admitted that the benefits — and sympathies — of the AHCA flow to "people who lead good lives, they're healthy, they've done the things to keep their bodies healthy, and right now, those are the people who have done things the right way that are seeing their costs skyrocketing." Brooks' implication, of course, is that people of ill health — who have not led "good lives" — are unworthy of affordable health care.
Subscribe to The Week
Escape your echo chamber. Get the facts behind the news, plus analysis from multiple perspectives.
SUBSCRIBE & SAVE
Sign up for The Week's Free Newsletters
From our morning news briefing to a weekly Good News Newsletter, get the best of The Week delivered directly to your inbox.
From our morning news briefing to a weekly Good News Newsletter, get the best of The Week delivered directly to your inbox.
So to conservatives, only those who blamelessly suffer misfortune are worthy of public support. This is not a new idea. In fact, it dates back to the Elizabethan Poor Laws adopted in 17th-century England. Public assistance was made available to an ad hoc list of groups deemed sympathetic, including widows, children, the blind, the disabled, and the elderly. The so-called "undeserving poor" were cut out of public assistance altogether. This distinction was imported into the United States when state and local governments began crafting their own social assistance programs in the early 1900s. The federal government incorporated traditional categories of desert as it cobbled together a welfare state from the 1930s through the 1960s.
Traditionally, American health-care programs like Medicaid tracked the Elizabethan categories, providing coverage to certain disadvantaged groups. But ObamaCare shed these 17th-century notions and instead provided government assistance solely based on income rather than on the perceived moral status of one's hardship. All poor people now have access to Medicaid (at least in states that cooperated with the law), and working- and middle-class people receive sliding-scale subsidies to help make private coverage affordable.
Part of the conservative rejection of ObamaCare involves restoring some of the old Elizabethan distinctions so that desert, and not income, once again determines who qualifies for government support. That is to say, Republicans would repeal ObamaCare's means test and replace it with a morals test.
Set aside the sheer impracticality of maintaining the GOP's blame-the-sick dichotomy to evaluate who deserves care and who doesn't. Even if you hold some people partly responsible for their own chronic illnesses, denying meaningful access to health care is an incredibly cruel, unforgiving penalty to levy on them.
Of course, the GOP's morals-testing leans heavily on bogeyman fears of the shiftless and self-destructive sick. And conservatives have long questioned the moral desert of those eligible for public benefits in order to weaken the welfare state. To erode public support for social services, conservatives have conjured caricatures like the single mom living large thanks to benefits fraud, or the food stamp recipient splurging on steaks and lobster. Now it's the glutton counting on the public dole to pay for self-inflicted health ailments. Yesterday's welfare queen has become today's health-care king.
Limiting public benefits to those thought to be truly needy is also connected to the conservative obsession with personal responsibility. Conservatives have long fretted that generous social insurance promotes bad behavior and saps people of self-initiative. "We don't want to turn the safety net into a hammock that lulls able-bodied people to lives of dependency and complacency," Ryan famously said in 2012.
This conviction that public benefits are inherently morally hazardous often leaves conservatives skeptical of the needy. That's why Rep. Jason Chaffetz (R-Utah) recently belittled concerns about high health-care costs under AHCA, saying, "Americans have choices [...] [a]nd so maybe, rather than getting that new iPhone that they just love and they want to spend hundreds of dollars on, maybe they should invest in their own health care." Alas, the crisis of health-care affordability would surely vanish if only folks could show some self-restraint around shiny new gadgets.
For a party stirred to outrage by the fever-dream of death panels, Republicans are now awfully comfortable sitting in judgment of who does and does not deserve health care. Only help those who "lead good lives," according to Brooks. And no help for anyone who "eats poorly and gets diabetes," says Mulvaney. And certainly no help for smartphone owners who struggle to pay a medical bill, insists Chaffetz.
Those judgments continue the long conservative tradition of maligning the needy. By refashioning old European social dogma to create a class of the undeserving sick, conservatives attempt to chip away at the burgeoning American belief that health care is a right for all. Times have changed, but conservative instincts have not.

Continue reading for free
We hope you're enjoying The Week's refreshingly open-minded journalism.
Subscribed to The Week? Register your account with the same email as your subscription.