How Johnny Depp became a pirate
The man who once played the gentle, repressed Gilbert Grape has become totally consumed by Captain Jack Sparrow — on and off the screen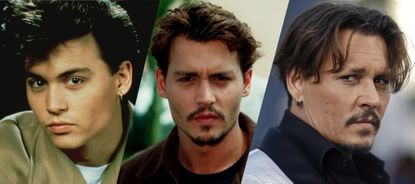 (Image credit: Granamour Weems Collection/Alamy Stock Photo, Allstar Picture Library/Alamy Stock Photo, REUTERS/Mario Anzuoni)
Sign up to our 10 Things You Need to Know Today newsletter
A free daily digest of the biggest news stories of the day - and the best features from our website
Thank you for signing up to TheWeek. You will receive a verification email shortly.
There was a problem. Please refresh the page and try again.
After a rocky few years, Johnny Depp is back in the public eye, promoting the latest Pirates of the Caribbean movie and dodging claims that he's behaved badly. He's regaling his interviewers with thoughtful gifts, kissing Jimmy Kimmel, and talking about the sick children he visits dressed up as Captain Jack Sparrow. This last is something he's done for years — sometimes even getting choked up when he talks about it, thinking about his daughter Lily-Rose's illness. But there's an anxious quality to his promotional work this year, an eagerness that seems new for Depp, who has always tended to approach fame at a slant.
You may or may not recall that Depp once got arrested for threatening a gaggle of paparazzi while wielding a plank of wood. Before that, he had to pay almost $10,000 for ruining a hotel room. Those were good stories of bad boyhood — so good he told the first one to David Letterman twice — but things have changed. His former wife Amber Heard's allegations of abuse, which culminated in divorce, suggested there was another side to the actor.
The man who once played the sensitive, repressed, and gentle Gilbert Grape has seen his reputation drift quite a bit closer to the unfiltered outrageousness that characterizes his most famous character, Captain Jack.
Subscribe to The Week
Escape your echo chamber. Get the facts behind the news, plus analysis from multiple perspectives.
SUBSCRIBE & SAVE
Sign up for The Week's Free Newsletters
From our morning news briefing to a weekly Good News Newsletter, get the best of The Week delivered directly to your inbox.
From our morning news briefing to a weekly Good News Newsletter, get the best of The Week delivered directly to your inbox.
Stream through enough Johnny Depp interviews and you'll stumble on a funny moment in a 1993 appearance with Regis and Kathie Lee in which they grill him about his collection of framed insects. Why? asks a horrified Kathie Lee. "I'm not exactly sure," Johnny says. "I've always like bugs. I've always had this fascination with cockroaches. I grew up with them around south Florida. Also there was this book, this Franz Kafka book called The Metamorphosis, where the guy wakes up and he's become a giant waterbug. It's a great story."
A few things stand out about that appearance. One is Depp's clear, almost performative discomfort with the conventions of stardom. Another is his dry humor — when Kathie Lee asks him whether it was dangerous to wear his Scissorhands to bed, he muttered "depending on the mood you're in, very dangerous." But the third is a proclivity to want to become the things he loves — the bug-lover whose favorite story is about waking up as one.
It's neither wise nor instructive to equate someone's career arc with their life story, but stars exist more for our amusement than our edification. Depp knew that back then: "It's dangerous, those labels they give you," he tells Regis in that interview. "The heartthrob, the new James Dean stuff is a lot of crap. It's really very dangerous, very limiting."
So he built his career on contrarian oddness. He insisted on zaniness until it ossified into a schtick, went so method he based Edward Scissorhands on his dogs. But now — decades later — he's having a very peculiar moment indeed. The sometime freak has become a blockbuster star in a franchise known more for its commercial rather than its artistic merit. His people — few are left — are leaking unintentionally damning stories that he is "taking his work seriously" after a devastating Hollywood Reporter article that paints the actor as a nightmare prone to blaming others for his failures. Depp is in serious financial trouble, having apparently squandered a $650 million fortune. With his personal, financial, and professional reputation in jeopardy, the actor seems to be isolating himself. He has fired his agent (who signed up back when he was doing 21 Jump Street), and is suing his manager, disputing (among other things) several million dollars in loans they made to his sister Christi with whom he had always been close.
On the personal front, his fights with then-wife Amber Heard hit the rumor circuit in Australia, where Pirates 5 was filming. As for his behavior on set, the Reporter piece contends that Depp's lateness was so legendary that a designated production staffer would sit outside his rented home waiting to see a light go on — whether in the morning or afternoon — in order to alert people on set that they could look forward to starting soon.
This is the behavior of a diva. It seriously clashes with Depp's reputation for challenging humility.
Depp, who always seemed to chafe at "Sexiest Man" monikers that made him the heartthrob he feared becoming, has always been charmingly self-deprecating in interviews. Though he's never shied away from effete fashion choices and aesthetic affectations that bespeak a very particular kind of vanity — he wore a blingy woman's engagement ring on Letterman, created Jack Sparrow's look and affect, and developed an odd, vaguely British accent — these read as challenging rejections of what a male movie star was supposed to be. While he was eminently capable of performing ordinary Handsome Man casualness, Depp would groom hard in the service of an unexpected sexiness. The Jack Sparrow option, with its dreads and braids and eyeliner, was a lot more work than just throwing on sneakers and a sportscoat.
In Sparrow, Depp found a beloved bug he could become: odd, louche, impulsive, uncontrollable. The character — whose look and affect Depp famously based on Keith Richards and nearly got fired for insisting on — operates under a different definition of ease. He's relaxed, often drunk, and loopily indifferent to constraints most people take quite seriously. Above all, he trusts his instincts. If Sparrow had $650 million in the bank, he'd no doubt buy a "F-ck-Off Island" or three, a hamlet in France, and shoot a friend's ashes out of a cannon on a 153-foot tower. Of course he'd have a skull-and-crossbones tattoo that says "Death is certain." A painting by Banksy? Why not?
But what makes Sparrow delightful is that he doesn't have the $650 million; he's a character careening from one adventure to the next without dependents or property or power. He's a free radical, totally indifferent to bourgeois considerations and predictable constraints.
Depp, in contrast, has had to actively shape his artistic persona and the story of his indifference. The following exchange with David Letterman illustrates something key about how he goes about it. This is from 2011, and they're talking about his friendship with (and admiration for) Marlon Brando:
"He must have seen your work and enjoyed it?"
"I don't know. I'm not sure."
"You don't like to go to your own films. Why?"
"It makes me feel unpleasant."
This paints a portrait: Depp is the Actor Who Does Not Watch His Films. He dislikes stardom while being grateful for its rewards — like friendship with Brando — but isn't precious about his own talent, or having others worship his ego. He's refreshingly frank about his real feelings about his early work:
"Did you like being on that show?" he says of 21 Jump Street.
"No. I can appreciate what it was, and what it did for me, but no, I didn't."
One can admire his candor, but there's another side to all this — one that Depp's own admissions support. Namely, a real lack of professionalism on set. Take his account of his performance in Charlie and the Chocolate Factory:
Or his account of filming The Lone Ranger: "There's two things I have a problem with," he told Letterman. "One is I never read screen direction, which is the stuff that tells you what to do." Questioned further about how a complicated action sequence can proceed without his reading the screen directions, he says, "Well, I'd rather not know what they want me to do. I'd rather just figure something out."
Then there's his account of Pirates: "They couldn't understand what I was doing. They didn't understand the character. They were contemplating subtitling the film."
"Well, it's worked for you so far," Letterman says, sounding skeptical.
What Letterman is picking up on, of course, is the arrogance Depp's apparent humility conceals. Believing your genius justifies upsetting everyone else's plans might be considered a mite egotistical. And while it sometimes worked (Disney was right to trust Depp with Captain Jack), the "trust your instincts" nostrum can backfire when pushed too far. Sometimes it seems like the actor's chosen roles, rather than liberate him, have stripped him of some useful inhibitions. Believe in your powers too much and you too might end up slurring your speech at the Hollywood Film Awards, joking that you are "not very good at this."
This makes it all the more interesting that Depp has experimented with impersonating President Trump. Among several things the two men share (besides allegations of spousal abuse) is a tendency to follow bad instincts in moments of crisis. Trump's decision to fire former FBI Director James Comey has been disastrous to his presidency; much has been revealed that Trump's camp would prefer the public not know. Depp's recent firing of his manager — whom he's now suing — has produced similar results. It's led to a slow leak of unfavorable "Comey memos" concerning the actor's conduct. Depp's "sense of entitlement is clear and epic," his managers say. He demanded that a sound engineer be kept on retainer to feed him his lines through an earpiece so he wouldn't have to learn them. He spent so much money they call it a disorder. As with Trump, whose dysfunction is best proven by his public statements, they cite Depp's Wall Street Journal interview as evidence.
That earpiece shortcut, by the way, is borrowed from Brando — marking it as another instance of Johnny Depp slowly melding with people he's admired or played. Depp admired Brando's indifference; Depp told Letterman that Brando "basically had the great gift of not really caring." (This version of "not caring" is, let's be clear, a luxury: When Jessica Chastain was asked about Depp's rather extraordinary demands, she rolled her eyes. Asked how she manages to learn her lines, she dryly replies "working hard.")
Pirates have the gift of not really caring. Except about one thing: money.
About this too, Depp has been refreshingly frank. In 1989, when asked to describe his experience on 21 Jump Street in one word, Depp offered three: "Job. Contract. Responsibility." Was Nightmare on Elm Street the moment he got bitten with the acting bug? Regis asks Depp in that 1993 interview. "Not so much," Depp says. "At that point I wanted to survive. I wanted to keep getting paychecks."
Nor did his answers change all that much in the intervening years, even as Depp came to prominence and became known as an artistic oddball with an intriguingly wide range. For all his talent, his real priorities lay elsewhere. Per that damaging Hollywood Reporter story, when Depp was confronted with his ruinous financial situation, his response was to acquire another house. He told his managers he'd tell his people "to make some ludicrous deals to refill the glass and make it f---ing overflow!!!" His range narrowed. One imagines that those "ludicrous deals" might include things like a fifth Pirates movie and an Alice in Wonderland sequel — cash cows that are a little hard to justify on purely artistic grounds.
There are worse things than detaching a little from your artistic legacy. But Depp's recent challenges suggests that there are other factors at work. The actor, whose gentle, off-kilter persona so happily coexisted with stories of bad-boy hijinks because they weren't quite believable, is now reportedly so volatile that his associates have to very carefully time their approach. "In the old days, it was just [a question of] when he was free," one Hollywood Reporter source says, "but now it became [a matter of] finding a time when he was free and clear of mind and in the right mood. He got angry a lot. He'd scream at someone that worked at the house or his security."
Maybe it's not all that hard to believe that the brilliant presence behind Edward Scissorhands or Sweeney Todd had it in him to become a screaming egomaniac, an uglier, more diva-like version of the character that made him the most money with the least amount of effort. Captain Jack Sparrow is a delightful invention and a monumental commercial success, after all, but he translates poorly to real life. He'd make a lackluster coworker, a nightmarish spouse, an infuriating boss, and a catastrophic president. A monstrous vermin indeed.
Depp's greatest fear — that he'd be pigeonholed and flattened into a pretty boy stereotype — might have lured him to a more pernicious trap. Rather than wake up as the perfect bug he loves, he's stuck in the frame he created, mugging and pretending he doesn't care. Here's hoping he finds a way to break out.
Continue reading for free
We hope you're enjoying The Week's refreshingly open-minded journalism.
Subscribed to The Week? Register your account with the same email as your subscription.
Sign up to our 10 Things You Need to Know Today newsletter
A free daily digest of the biggest news stories of the day - and the best features from our website
Lili Loofbourow is the culture critic at TheWeek.com. She's also a special correspondent for the Los Angeles Review of Books and an editor for Beyond Criticism, a Bloomsbury Academic series dedicated to formally experimental criticism. Her writing has appeared in a variety of venues including The Guardian, Salon, The New York Times Magazine, The New Republic, and Slate.