Washington's secret Doomsday plans
For six decades, U.S. officials have been developing top-secret plans to keep the government functioning in the event of a catastrophic nuclear attack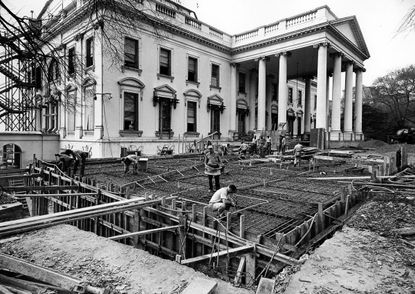 (Image credit: National Archives)
Sign up to our 10 Things You Need to Know Today newsletter
A free daily digest of the biggest news stories of the day - and the best features from our website
Thank you for signing up to TheWeek. You will receive a verification email shortly.
There was a problem. Please refresh the page and try again.
Attorney General Ed Meese arrived at Andrews Air Force Base before dawn on June 18, 1986, one of dozens of officials and staff from the Pentagon, State Department, White House, and intelligence community streaming onto the base in the Maryland suburbs, ready for nuclear war. Those meeting Meese knew the attorney general was stressed that morning, since Chief Justice Warren Burger had announced his resignation the day before. One official at Andrews looked at Meese and joked, "First a Supreme Court resignation, and now America's in a nuclear war. You're having a bad day."
War, though, wasn't actually imminent. Officials were gathering instead for one of Ronald Reagan's most secret initiatives as president: the effort to ready the nation to rebuild after nuclear war, part of a sprawling classified set of plans known as "continuity of government," or "COG" for short.
During the Cold War, the government secretly invested billions of dollars in a complicated set of plans that would determine what activities and processes would be needed following a nuclear attack — and even what totems of American culture should be saved.
Subscribe to The Week
Escape your echo chamber. Get the facts behind the news, plus analysis from multiple perspectives.
SUBSCRIBE & SAVE
Sign up for The Week's Free Newsletters
From our morning news briefing to a weekly Good News Newsletter, get the best of The Week delivered directly to your inbox.
From our morning news briefing to a weekly Good News Newsletter, get the best of The Week delivered directly to your inbox.
Once assembled, the officials at Andrews Air Force Base were shuttled to a relocation facility, one of more than 100 bunkers and special sites built around the country through the Cold War, as well as other more mobile locations that the administration was hurriedly preparing to help maximize the chance of avoiding a Soviet decapitation strike — armored command trains and convoys of lead-lined tractor trailers that could spread out across the country.
The main evacuation facilities would be the two mountain bunkers that had served as the government's insurance policy since the beginning of the Cold War: Mount Weather in Berryville, Virginia, about 80 minutes west of Washington, and Raven Rock, in Waynesboro, Pennsylvania, just over the Maryland border from Camp David. The two hollowed-out mountains — Mount Weather for the civilian government, Raven Rock for the military — had freestanding cities built inside of them, capable of providing thousands of personnel with workspace and living facilities in three-story office buildings built inside the caverns.
Protected by bunker doors the size of a small house, the facilities contained fire departments, police departments, medical facilities, cafeterias, command posts, and lake-size reservoirs for drinking water — everything you might need to lead a nuclear war while living underground for a month at a time. "It's kind of mind-boggling," said Buford Macklin, Housing and Urban Development's Reagan-era emergency-planning coordinator, after visiting Mount Weather. "It's otherworldly — just the size and weight and massiveness of the doors. It's a mini city — like a space station."
Through the Reagan-era exercises, the participants would work out of these and other facilities, held completely incommunicado — reachable only in an emergency by an unlabeled telephone number they left behind with their wives. Over the coming days, three different "continuity-of-government teams" would take turns leading the country, each working from a different secret relocation facility for three or four days before being "nuked" and then handing off responsibility to the next team.
The relocation teams consisted of 40 to 60 staffers, a Cabinet member like Meese who would be the designated successor, and a senior team leader like Dick Cheney or Donald Rumsfeld who could step in as White House chief of staff.
Much of the administration's planning fell to a Marine officer on the National Security Council named Oliver North. Early in his White House tenure, in 1982, North helped draft Reagan's National Security Decision Directive 55, titled "Enduring National Leadership," and coordinated with FEMA's National Preparedness Directorate and two new agencies focused on COG planning, known by their innocuous cover names: the National Program Office and the Defense Mobilization Systems Planning Activity. Together, they represented a vast bureaucracy hidden in plain sight: For every dollar that FEMA spent preparing for natural disasters, the agency's public purpose, it spent $12 preparing for nuclear war and running continuity-of-government programs. Nearly a third of FEMA's entire workforce existed in the secret black budget, known to only 20 members of Congress.
The National Program Office, run by Vice President George H.W. Bush, gobbled up billions of dollars in classified funds planning for Doomsday. Building off an Eisenhower-era plan to appoint private-sector czars to oversee post-disaster response, the National Program Office established a top-secret list of former public officials who would be called upon in the event key office-holders were killed. Known as TREETOP, the plan outlined the military aides, war plans, and procedures that would make up the "Presidential Successor Support System," or PS3 for short.
The five PS3 teams each consisted of veteran officials who could fill almost every top job in government. Respected former officials like Howard H. Baker Jr., the onetime Senate Republican leader; former CIA Director Richard Helms; former United Nations ambassador Jeane J. Kirkpatrick; and former Cabinet secretary James R. Schlesinger were all readied to return to government following a decapitation attack. In an emergency, the PS3 teams of retired officials and government managers would each deploy to different bunkers, command posts, and secret facilities to be ready in case a presidential successor needed them.
Picked without regard to normal government operations or peacetime organizational charts, the PS3 teams were rooted in the assumption that following a massive attack the presidential successor would likely be a minor and inexperienced Cabinet official. Such a figurehead president would need to rely heavily — and quickly — upon more experienced staff to reconstitute a government, defend the nation, and begin to rebuild. Thus, when someone like the Commerce secretary or Agriculture secretary found themselves newly appointed president and arrived at an emergency site, they would find a White House staff-in-waiting, including an experienced leader like Rumsfeld or Cheney who would serve as a chief-of-staff designee.
Theoretically, even as the nation lay in ruins following a nuclear attack, the government had carefully considered how the United States itself — how the idea of the United States — would continue forward. It turned out to be a more existential question than planners originally imagined: What would it mean to preserve America? Is America its president, is it three branches of government, is it the Constitution? Officials gave deep thought to what activities and processes would be needed following a nuclear attack or widespread national emergency — and even what totems of America should be saved and which would be sacrificed.
Throughout the secret Reagan-era exercises, participants tried to mimic the stress and conditions of an attack as best they could, living at the relocation facilities, eating MREs, and hotly debating the best responses to an unfolding attack. "One of the awkward questions we faced was whether to reconstitute Congress after a nuclear attack," a participant recalled years later. "It was decided that no, it would be easier to operate without them."
As those Reagan administration personnel explored the nation's Doomsday bunkers, they were amazed at the scope and sophistication of the government-in-hiding, a secret apparatus built up since the days of Harry Truman and Dwight Eisenhower. Inside the facilities, though, there was plenty of updating to do. Richard Clarke, who worked in the State Department during the Reagan and Bush years, recalled arriving at the department's assigned building inside Mount Weather for an exercise, only to find on his desk a phone book labeled "Secretary of State Christian A. Herter." He'd never heard the name before, so when he later returned to his office in Foggy Bottom, he looked it up and discovered that Herter had served more than two decades earlier under Eisenhower. The dusty pencils carefully positioned on Clarke's assigned desk lay untouched, sharpened 20 years before.
Pre-written presidential executive orders sat in office safes across Washington, as did secret draft legislation known as the "Defense Resources Act," ready to be filled in Mad Libs–style with dates and emergencies, laying out an entirely new structure for how the government would function during a national emergency — effectively suspending the Constitution and Bill of Rights. The presidential football is well-known, but less well-known is how the attorney general was accompanied through the darkest days of the Cold War by an "emergency briefcase" outlining FBI plans to sweep up thousands of Americans deemed a security threat.
Long before Barack Obama made the Washington title "czar" popular, Eisenhower had imagined an expansive set of secret powers, pre-selecting nine men — mostly private citizens — who would be real czars, stepping in during an emergency to remake the private sector, seize assets coast-to-coast, and create new bureaucracies that would control nearly every aspect of American life until peace could be restored.
The Post Office would be in charge of registering the nation's dead; the National Park Service would run the refugee camps; the Department of Agriculture would distribute rationed food. Congress would retreat to a special bunker at a West Virginia resort; the Supreme Court would relocate to another resort in the North Carolina mountains; the Department of the Interior would move to the grounds of a former college in Harpers Ferry, West Virginia. The Federal Reserve kept an underground bunker stocked with billions in cash inside Mount Pony, 70 miles south of Washington. FEMA would help the nation rebuild from regional bunkers in places like Denton, Texas, and Maynard, Massachusetts. A state-of-the-art NORAD air defense headquarters was carved under Colorado's Cheyenne Mountain, with plans inspired by Raven Rock and Mount Weather.
Government officials sat down and carefully considered before deciding that at the National Archives, in the event of a nuclear attack, the Declaration of Independence would be saved before the Constitution. At the National Gallery of Art, Leonardo da Vinci's Florentine masterpiece Ginevra de' Benci would be saved before Rogier van der Weyden's Renaissance masterpiece Saint George and the Dragon. The Library of Congress knew it would save the Gettysburg Address before George Washington's military commission. In Philadelphia, a specially trained team of Park Rangers stood ready to evacuate the Liberty Bell into the mountains of Appalachia if the Soviets attacked.
For nearly 50 years, the inner workings of the nation's continuity-of-government protocols were some of the government's best-kept secrets. Even colleagues in the same office didn't know the scope of the plans. When Aaron Sorkin was researching what would become The American President and The West Wing, Clinton aide George Stephanopoulos pulled out of his wallet what the Hollywood director first thought was a bus pass — it actually was the little card explaining how Stephanopoulos would be evacuated in the event of a nuclear attack. Sorkin incorporated that card into a later West Wing episode, where character Josh Lyman received such a card from the National Security Council and felt guilty because his co-workers wouldn't be saved. While shooting the scene, set consultant Dee Dee Myers, the former Clinton press secretary, pulled Sorkin aside to tell him that the scene was unrealistic because those cards didn't actually exist. Sorkin was shocked: Even as a top aide, she'd never realized that her co-workers had exactly those cards — and she never did.
Today, another generation of Doomsday planners are settling into life inside these bunkers, which are still staffed 24 hours a day, 365 days a year. While some new facilities have been built in the past two decades, the majority of the government's plans to preserve itself and our nation during an attack in the 21st century still rely upon facilities built with slide rules.
Excerpted from Raven Rock: The Story of the U.S. Government's Secret Plan to Save Itself — While the Rest of Us Die (Simon & Schuster, 2017). Reprinted with permission.
Continue reading for free
We hope you're enjoying The Week's refreshingly open-minded journalism.
Subscribed to The Week? Register your account with the same email as your subscription.
Sign up to our 10 Things You Need to Know Today newsletter
A free daily digest of the biggest news stories of the day - and the best features from our website