Democrats are being staggeringly reckless with Obama's greatest diplomatic achievement
Why are Democrats so cavalier about Obama's Iran deal?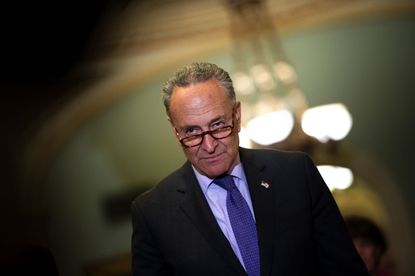 (Image credit: BRENDAN SMIALOWSKI/AFP/Getty Images)
Sign up to our 10 Things You Need to Know Today newsletter
A free daily digest of the biggest news stories of the day - and the best features from our website
Thank you for signing up to TheWeek. You will receive a verification email shortly.
There was a problem. Please refresh the page and try again.
Senate Democrats voted overwhelmingly last Thursday for new sanctions on Russia, Iran, and North Korea, days after their House counterparts had also done so. The bill now goes to President Trump — though the margins were so gigantic that any veto could be quickly overridden.
The case for sanctioning Russia for meddling in the 2016 election is a strong one. But there is no comprehensible reason for sanctioning Iran. Democrats are putting the greatest diplomatic legacy of President Obama — the nuclear bargain with Iran — at extreme risk for no reason whatsoever.
Let's review some background. The United States is now engaged in its longest period of continuous warfare in its history. With some minor exceptions, this fighting has been a strategic disaster from start to finish. No matter the level of aggressiveness, each military intervention has failed in its stated objectives. The invasion of Iraq was a bloody catastrophe, wasting trillions of dollars, killing hundreds of thousands, leading directly to the creation of ISIS, and leaving a corrupt, barely functioning state in thrall to Iran — indeed, dependent on that neighbor for its very existence.
Subscribe to The Week
Escape your echo chamber. Get the facts behind the news, plus analysis from multiple perspectives.
SUBSCRIBE & SAVE
Sign up for The Week's Free Newsletters
From our morning news briefing to a weekly Good News Newsletter, get the best of The Week delivered directly to your inbox.
From our morning news briefing to a weekly Good News Newsletter, get the best of The Week delivered directly to your inbox.
The intervention in Libya helped create a chaotic, murderous hellscape. Various interventions in the Syrian civil war mostly just prolonged the conflict. American enabling of the Saudi intervention in Yemen (not to mention years of drone assassinations there) is creating famine and the worst cholera epidemic in history.
The invasion of Afghanistan bears careful attention, as it's the longest-running war and also the last formal occupation. Eight years ago President Obama announced he was going to try President Bush's surge strategy in Afghanistan. By the military's own accounting, it was a dismal failure — indeed, the Taliban is stronger today than they were when Obama first took office. Recently the military has been ramping up deployments there, and President Trump recently announced that pillaging Afghanistan's mineral resources would be a good reason to stay. It won't work.
From all this we can draw two conclusions: First, the modern American state is extremely eager to get into wars, and second, these wars have deeply harmed any possible conception of the American national interest. Trump's possible foray into British Empire-style looting may be odious in the extreme, but any possible stolen mineral wealth will not come remotely close to paying the tremendous bill for the occupation.
This brings me back to Iran. Before the invasion of Iraq turned out to be a blood-soaked nightmare, neoconservatives and belligerent liberals were eagerly hoping Iran could be next. Many of them are stomping their feet to this day that Obama's nuclear deal with Iran put that next war of aggression seemingly out of reach.
It's clear that this desire is one major factor behind the drive for more sanctions. The Iranians did recently launch a missile into space (notably, after the House voted for sanctions), prompting new minor sanctions from the Trump administration. However, such launches are not forbidden under the nuclear deal. The International Atomic Energy Agency has consistently certified that Iran is following through with its side of the bargain; it has also been strongly confirmed by the Iranian public, which overwhelmingly re-elected the moderate President Hassan Rouhani who helped guide it to fruition.
Only Sens. Bernie Sanders (I-Vt.) and Rand Paul (R-Ky.) voted against sanctions. Sanders explicitly referenced the danger to the Iran deal, particularly given that President Trump has to re-certify Iran's compliance every 90 days:
Barely anyone even addressed this argument, let alone gave it the close attention it deserves. Neither did Democrats much care that European allies who are also party to the deal are furious.
At any rate, not only could more sanctions blow up the deal, as noted above, they could easily slide into open conflict. War with Iran — a much larger and much more formidable opponent than Iraq — could be a disaster many times worse than any of our recent wars. And yet, many in the foreign policy establishment have never stopped pushing for it. Simply forestalling disaster counts as a major victory in these degenerate times.
It is staggering how cavalierly Democrats are behaving towards President Obama's greatest diplomatic achievement.
Continue reading for free
We hope you're enjoying The Week's refreshingly open-minded journalism.
Subscribed to The Week? Register your account with the same email as your subscription.
Sign up to our 10 Things You Need to Know Today newsletter
A free daily digest of the biggest news stories of the day - and the best features from our website
Ryan Cooper is a national correspondent at TheWeek.com. His work has appeared in the Washington Monthly, The New Republic, and the Washington Post.